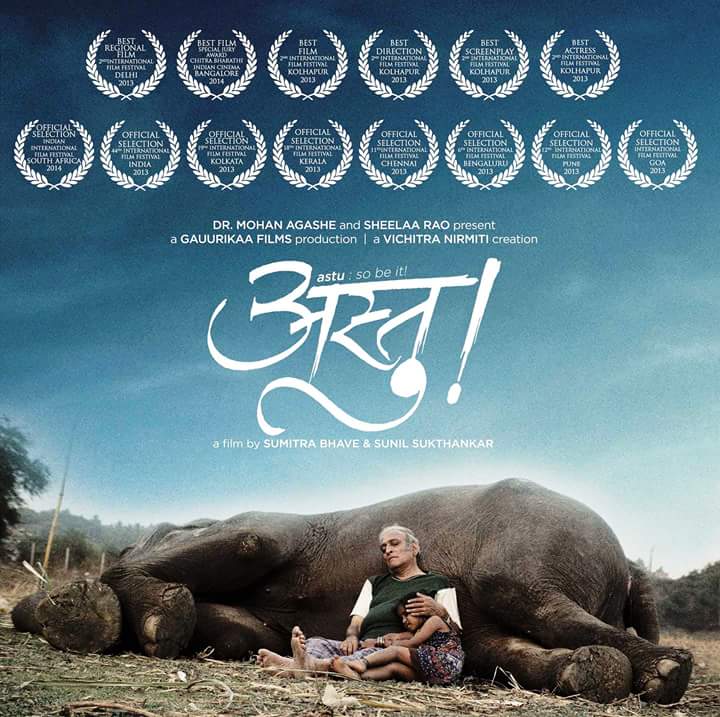 Till now Astu has won more than 27 National & International film awards and now it is set to release on 15th Jul, all over Maharashtra.
The story is about a Sanskrit scholar Chakrapani Shastri who suffers from Alzheimer's disease and he lives in his own world far away from the present and then starts the turmoil of the family who has to look after him. The relationship between the father and his daughter is the theme of the film and it has been essayed very beautifully in the film. The film stars veteran Dr. Mohan Agashe, Amruta Subhash, Iravati Harshe, Devika Daftardar & Milind Soman amongst others. The film has been written & directed by Sumitra Bhave & Sunil Sukhthankar and the music is by Dhanajay Kharvindikar & Saket Kanetkar.
The performance of the crippled protagonist Appa played by Dr. Mohan Agashe has been appreciated all over and the performance of the Mahta's wife played by Amruta Subhash has also been appreciated a lot and she has won the National Award too for her role.
The film has been produced by Sheela Rao & Dr. Mohan Agashe and that the dictum that Marathi films have a lot of good content is proved more evident from this film. The film has won many prestigious awards till now. The film was supposed to have a limited release but now it will have a big release to reach more audiences and that's why the film is being re – released as revealed by the producer Sheela Rao.