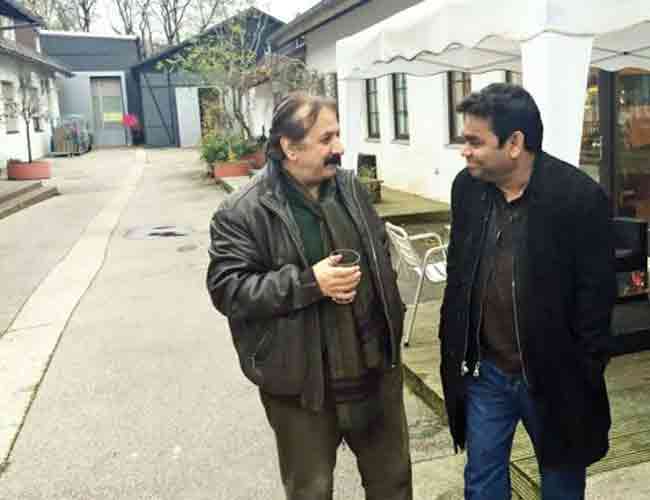 Majid Majidi & A R Rahman Face Ire For Working On Prophet Mohammed Film
Seeking a ban on renowned Iranian filmmaker Majid Majidi's film 'Mohammed: Messenger of God', which opened the Montreal World Film Festival this month, an Indian Muslim group has also issued a fatwa against Majidi and the film's music composer A R Rahman. The Mumbai based Raza Academy, a Sunni Muslim group, demanded that Muslims reject the film, which is the 1st of the trilogy on the life of Prophet Mohammad. Last week, the group had written to Home Minister Rajnath Singh & Maharashtra Chief Minister Devendra Fadnavis, seeking a ban on Majidi's film. They have also sought a meeting with the Home Minister & External Affairs Minister Sushma Swaraj. "We are against the title. People may use it in a bad manner if they don't like the film, which will mean an insult to the Prophet. The actors have charged money to act in the film and they may have dubious character in real life. How can we Muslims allow such things to happen?" asked Raza Academy chief Saeed Noorie. The fatwa was issued by Muhammad Akhtar – The chief mufti of Mumbai.
Sikh Organizations Invited Home By Akshay Kumar
It seems no Bollywood film showing the hero in a turban can get away without frowns & disapproval from Sikh organizations. When Akshay Kumar had donned the turban to play a Sardarji in 'Singh Is Kinng' in 2008 he had to appease organizations which objected to the length of his beard and the way his turban was tied. Now on the basis of just the trailer & songs, Sikh organizations have raised objections to Akshay's turbaned act in Prabhu Dheva's 'Singh Is Bliing'. In a bid to pacify the premature protests Akshay Kumar called leaders & prominent members of various Sikh organizations from Punjab & Delhi to Mumbai for a private screening of 'Singh Is Bliing'. Rather than face protests a week before release Akshay wisely decided to take Sikh organizations into confidence now itself. He flew down the members at his own cost and showed them the film.
'Island City' Bags Fedeora Awards
Tannishtha Chatterjee who was in Venice recently to attend the 72nd Venice International Film Festival looked stunning in an Anita Dongre gown. The actress had gone to the festival with Ruchika Oberoi's debut film 'Island City' which won the 1st time "Best Director" award called the Fedeora award. In the film she plays the protagonist, a simple girl, whose life changes one day when she receives an anonymous letter.
Tannishtha's films were also part of the special screening at the Torronto International Film Festival.
Arnold To Receive Golden Icon Award
Veteran Hollywood action star Arnold Schwarzenegger will be receiving the Golden Icon Award at the Zurich Film Festival. The 11th edition of the Festival will be held from 24th Sept, 2015 to 4 Oct, 2015. The actor will receive the award on 30th Sept, 2015 after which he will present his new zombie thriller 'Maggie' at the festival. Schwarzenegger, who is famous for the "Terminator" franchise, has twice been Governor of California. His latest in the "Terminator" series is 'Terminator: Genisys'. On the other hand, 'Maggie' is directed by Henry Hobson. Schwarzenegger plays a Midwestern father who stays by his daughter's side even after she is infected by a virus that will turn her into a zombie. Schwarzenegger will also discuss his life & body of work in a Q & A session.
PVR Pictures' 9 movies At Toronto International Film Festival
PVR Pictures' 9 films will be among other critically acclaimed international films at the Toronto International Film Festival (TIFF) this year. The movies includes: 'Sicario', 'Legend', 'The Program', 'Equals', 'Demolition', 'The Idol', 'About Ray' (Three Generations), 'Youth' & 'Trumbo'. These movies will be released in India over the next few months. The 40th edition of the festival will be held from 10th Sept, 2015 to 20th Sept, 2015.
Viacom 18's "Cine Shorts" Returns
With an aim to provide a platform to budding film makers with an opportunity to showcase their talent through a 5 minute short film, Viacom 18 had launched the 2nd season of "Cine Shorts" on 7th Sept, 2015.
Viacom 18 has also brought on board Inox as a partner on the "Cine Shorts" initiative. The jury comprising director – producer David Dhawan, director Sriram Raghavan, Viacom18 Motion Pictures COO Ajit Andhare & cinematographer Ayananka Bose amongst others, will be evaluating the entries.
India's Only Traveling Film Festival Returns To Mumbai
Touted to be India's only travelling film festival, the 6th Jagran Film Festival will celebrate its last leg in Mumbai from 28th Sept, 2015 to 4th Oct, 2015. With Fun Cinemas as its screening partner, the festival's theme this year is 'Happiness.' The gala opening of the 7 day festival in Mumbai will bring together films under competitive categories such as 'Indian Showcase,' 'Jagran Shorts' (an international competition for short films), 'Cinema of the Sellers' & 'Debut Directors.' The festival will also pay tribute to the films of the golden era in the 'Retrospective' section. In its quest to showcase the best of international cinema, this edition will present a collection of 10 Best International Short films under a special section 'Top Shorts.'
Shoojit Sircar's 3 Movies Screened
The Indian Film Festival in Russia (IFFR) screen 3 of director Shoojit Sircar's movies namely 'Vicky Donor', 'Piku' & 'Madras Café'. The film festival of Indian Films in Moscow was held from 3rd Sept, 2015 to 6th Sept, 2015.
Actor & singer Ayushmann Khurrana accompanied Sircar for the screening of their much appreciated movie 'Vicky Donor' on the 2nd day of the festival. IFFR is aimed at bridging the gap between the 2 entertainment industries in the world namely Russia & India. The festival also included top Bollywood blockbusters & celebrities from the Indian film fraternity. The choice of movies was intended to showcase the very wide range of cinema that emerges from Mumbai, the heart of the Indian film industry.
'Pyaasa' A Timeless Masterpiece By Guru Dutt Restored
'Pyaasa' a timeless masterpiece by Guru Dutt becomes the only Indian film to be restored by an Indian company for a world premiere in the competition section at the 72nd Venice Film Festival. In a significant moment for the Indian film industry, Ultra Media & Entertainment Presentation 'Pyaasa', a timeless Indian cult classic of 1957 starring Guru Dutt, Waheeda Rehman & Mala Sinha has become the only Indian film restored by an Indian company to be officially selected in the prestigious "Venice Classics" section at the forthcoming Venice Film Festival in Sept, 2015. Ultra Media & Entertainment, who are the negative rights owners of 'Pyaasa', have restored this film completely for the grand occasion with an objective of preserving & presenting it in its original quality to the global audience. 'Pyaasa' will be screened on 11th Sept, 2015 at 2 pm & on 12th Sept, 2015 at 9 am in "Sala Volpi" auditorium at Venice Film Festival.
Now Unauthorized Downloading Of Songs & Contents Without Requisite License Is No More
On a complaint filed by Super Cassettes Industries Pvt Ltd (T -Series) Delhi Police have conducted the raid at Maa Sharda Communication, Kapashera, Delhi (P. S. KAPASHERA) for illegal downloading of T – Series contents & recovered CPU, Pen Drive et al. The accused person Shashi Nath has been arrested & a Case under Section 63 & 65 of the Copyright Act, 1957 has been registered against him by the Police. M/s Super Cassettes Industries Pvt Ltd is conducting the raid(s) nationwide against the person(s) involved in unauthorized and illegal downloading the digital contents of T – Series through Memory Cards, SD Cards, Pen Drive, Hard Drive, et al without the downloading license.
'Tara' Makes Waves Internationally
Producer & Director Kumar Raj's Tara makes waves internationally. It has been line produced by Vinod Harisingani & stars Rekha Rana. In
Fog film festival at San Francisco in USA 2015 Awards. 'Tara's heroine Rekha bagged "Best Actress Award". That apart Tara became the 1st film to be screened at New York film academy at Los Angles in USA recently. Besides 'Tara' was officially selected & screened at the fog film festival at San Francisco in USA.