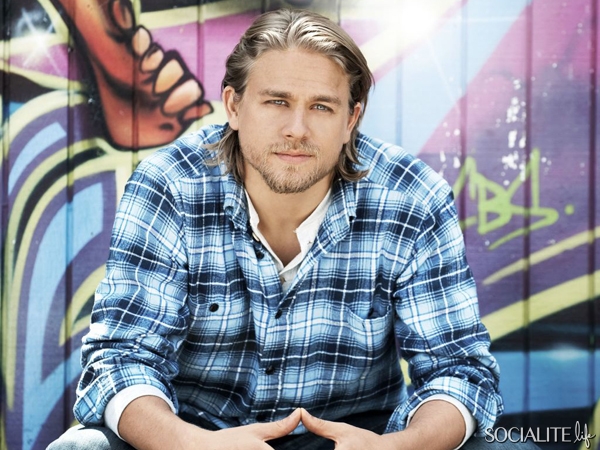 Charlie Hunnam Was Not The 1st Choice
Director Guy Ritchie avers that Charlie Hunnam wasn't even in his "top 10 list of actors" for his film King Arthur: Legend Of The Sword. Says Guy Ritchie, "Charlie wasn't on my top 10 list of actors for the role. But he insisted he was going to get himself in the room, and he was established enough to finagle his way into that room."
Gal Gadot Is Thankful To Her Mother
Gal Gadot is extremely thankful to her mother and thinks that her mother brought her up to be a confident woman, who is capable of making her dreams come true. The Wonder Woman' actress believes that gender should not be a barrier to achievement. She avers, "My mom raised my sister & me to be a confident women with aspirations. And I always felt capable. I'm not saying that I'm stronger than most men…..But we all have the same brains and we can achieve the same things."
Johnny Depp To Star In Richard Says Goodbye
Johnny Depp is all set to take a leap from "pirate" world to the "college" world. Johnny Depp is teaming up with filmmaker Wayne Roberts for Richard Says Goodbye. In the movie, Alice Through The Looking Glass star will be playing a college professor that receives a life – changing diagnosis that causes him to throw every previously held caution to the wind.
Robert De Niro Slams Donald Trump
Robert De Niro has slammed US President Donald Trump, pointing out how the administration's budget proposal is targeting the arts. While accepting the Film Society of Lincoln Center's Chaplin Award, Robert De Niro said the administration is targeting the arts and potentially depriving the US of great artistes "for their own divisive political purposes,".
David Oyelowo To Star In "Arc Of Justice"
David Oyelowo is all set to star in a court room drama Arc Of Justice. Oscar – winner Russell Crowe is also in talks to co – star with Oyelowo for the Mark Gordon Company. Based on Kevin Boyle's book Arc Of Justice: A Saga of Race, Civil Rights, and Murder in the Jazz Age, the true story centers on a racial incident in 1925 Detroit that put African American doctor Ossian Sweet (Oyelowo) on the stand for murder.
Hellboy Reboot In Works With David Harbour
A new "Hellboy" movie is in the works but, without its original star Ron Perlman & director Guillermo Del Toro. Millennium is in negotiations with producers Larry Gordon & Lloyd Levin for a new installment that would reboot & relaunch the franchise. Stranger Things actor David Harbour is in talks to play Hellboy, while Neil Marshall, who won raves for his work on Game Of Thrones, is circling to direct the project.
Ridley Scott Wants To Make Many More Movies
Filmmaker Ridley Scott stated that he wishes he could be as productive as actors and could make more than 1 movie a year. The director further averred that he gets frustrated by the fact that 1 film takes such a long time to complete. "It drives me crazy that an actor can do 4 movies in a year and I can't. I was saying that to Michael Fassbender." Ridley Scott averred.
Emma Stone Shooting In Oxford
Oscar – winner Emma Stone is currently filming in Oxford for her upcoming British -Irish biographical historical drama The Favourite. The film, which follows the political machinations behind the scenes during the reign of Queen Anne, the last monarch of the House of Stuarts, also stars Olivia Coleman & Rachel Weisz.
Ray Winstone Makes A Revelation
The Noah actor Ray Winstone revealed that he was too lazy as a child and that he did not learn to read until he was 11. He also admitted that he never used to take his school seriously. "I could not read personally until I was 11. It was laziness, And at the time. It was just being behind,". "When I moved to North London I was 2 years behind in education." He concluded.
Tom Holland Channels Rihanna
Spider-Man star Tom Holland emulated singer Rihanna as he lip – synced to her 2007 hit number "Umbrella". He channeled his inner diva for the TV showLip Sync Battle on 7th May, 2017.
Reese Witherspoon Hints The Possibility!!!!!
While it's still unclear if a Big Little Lies Season 2 is happening, looks like Reese Witherspoon has just hinted at its possibility. She recently shared a photo with her fellow co – stars Nicole Kidman & Laura
Dern and wrote that she's "working on some new lies.
Emily Blunt To Star In A Sequel
Director Doug Liman has confirmed that Emily Blunt will return for the sequel of Edge Of Tomorrow, along with Hollywood star Tom Cruise. Emily Blunt will reprise her role of Special Forces warrior Rita Vrataski in the 2nd installment of the action franchise.
Sienna Miller's Naked Pics Leak Online
Sienna Miller has become the latest celebrity whose naked photos have allegedly been leaked online by hackers. The photos include a topless picture of the British actress with a mask over her face.
Mara Lane Feels That Jonathan Rhys Meyers Is The Best Father
Jonathan Rhys Meyers' partner, Mara Lane, has praised him on how well he has adapted to parenthood. Jonathan Rhys Meyers & Mara Lane welcomed their baby boy Wolf – their 1st ever child together – into the world in Dec last year.
Gal Gadot Could Not Breathe
Gal Gadot recently averred that her Wonder Woman costume was so tight in the beginning that she found it difficult to breathe. Gal Gadot added that it was when she worked out wearing the outfit at the gym, that she felt a little comfortable.
James Gunn Opens Up
Guardians Of The Galaxy Vol 2 director
James Gunn has revealed that he struggled in his youth to find himself, even considering ending his life. In a lengthy message on Facebook, the filmmaker stated that he had an "incredibly difficult time connecting to other people".
Jason Momoa States That Will Ferrell Is Like A God To Me
Will Ferrell & Jason Momoa are teaming up for a new comedy film and the Game Of Thrones star is super excited to collaborate with the popular actor – comedian. Jason Momoa, took to Instagram to share the news of the film by writing that working with
Will Ferrell has always been on his wishlist and that the Elf star is like a God to him.
Diane Keaton To Be Honored
Diane Keaton will be honoured with
American Film Institute's lifetime achievement award next month. The Oscar -winning Annie Hall actress will accept the honour at a gala event in Jun, 2017.
Paris Hilton Hints At Engagement With Chris Zylka
Paris Hilton has hinted at getting engaged to boyfriend Chris Zylka and averred, "My mom loves him and definitely approves." Paris Hilton the socialite attended the Race to Erase MS Gala at the Beverly Hilton here with her actor beau and the couple could not stop gushing about their romance.
Dave Bautista Thinks That Marvel Will Regain Rights
Actor cum wrestler Dave Bautista thinks that Marvel Studios could regain the film rights of Spider – Man, which they had sold off to
Sony Pictures Entertainment in 1985. The Guardians Of The Galaxy actor believes the motion picture studio, which has teamed up with Sony for the upcoming film Spider – Man: Homecoming, could "re – acquire" the rights 1 day.
Will Ferrell & Jason Momoa To Star In A Comedy Film
Will Ferrell & Jasonm Momoa have been roped in for a yet – to – be – titled comedy film. Distribution & production house Paramount Pictures has acquired an untitled pitch for a comedy that would feature the 2 actors with Andy Mogel & Jarrad Paul as writers.
Debra Messing Bags An Award
Debra Messing was honoured at the 28th GLAAD Media Awards that recognizes the most inclusive & accurately portrayed representations of the Lesbian, Gay, Bisexual, Transgender, Queer (LGBTQ) community in film, television and other platforms. Moonlight was previously named the year's outstanding film while Transparent was selected as outstanding TV comedy.
Emma Roberts Sells House To Sarah Paulson
Sarah Paulson, who has bought Emma
Roberts' house, averred that the latter could have charged so much more for the property. Sarah Paulson bought the 3 – bedroom abode situated in the Hollywood Hills from her American Horror Story co-star for $1.65 million.
Leonardo DiCaprio Joins Sean Penn
Leonardo DiCaprio attended an annual gala for Haiti Takes Root a 10 – year long initiative dedicated to the reforestation & development of the Caribbean country along with his friend Sean Penn. The Oscar -winning actor turned up to support Sean Penn, who founded J / P Haitian Relief Organisation, the non – profit one that put on the event.
Drew Barrymore Feels That She Is Much More Conservative Now
Drew Barrymore avers that she has become more conservative after she has grown – up but still likes the innocence of the youth. The actress, who was emancipated from her parents at the age of 14, said that being young has its own charm.