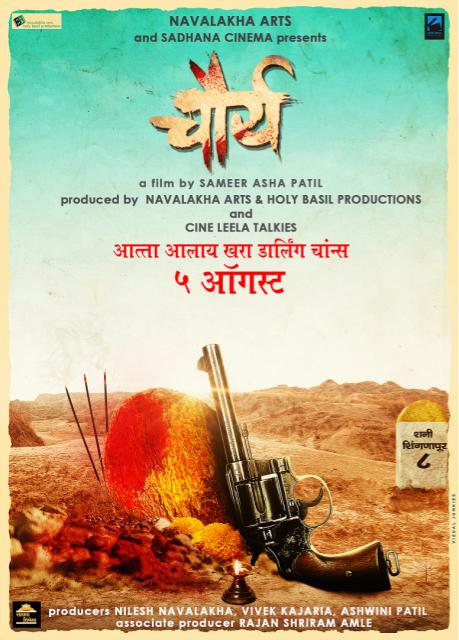 Chaurya, a film based on Shani Shingnapur is now all set to be released in Aug, 2016. An upcoming film called Chaurya is about this faith of villagers in their God to protect their village from robbery of any kind. In the film, despite the villagers strong faith a robbery takes place and that too in the temple itself! We then see an investigation into the strange matter. This suspense thriller has been directed by debutant Samir Asha Patil and stars Kishor Kadam, Ganesh Yadav, Milind Shinde, Pradeep Velankar, Digvijay Rohidas, Dinesh Lata Shetty, Teertha Murbadkar & Shruti Kulkarni in pivotal roles.
Barad Special Screening Held
A special screening of Barad was held recently for distinguished guests. Writer & producer Devendra Kapadnis, actors Bharat Ganeshpure & Suhas Palshikar, Director Tanaji Ghadge, Sanjay Kulkarni attended at special screening of Barad. Producer Devendra Kapadnis & Pramod Gore of Atharva Movies kept a special screening of their film Barad at Sangli & Akluj where actors Bharat Ganeshpure, Suhas Palshikar, Sanjay Kulkarni went specially to see the film & promote it. Director Tanaji Ghadge received all the guest & cast for the screening. Sunil Phadtare who had earlier produced Katyar Kaljat Ghusali organised the show at Sangli. The show was organised in presence of the Honourable Prakash Bapu Patil & Shreelekha Patil at Akluj. The film has got good opening in all the centres.
Smita Thackeray Praises Her Son Rahul For Fulfulling Her Dream
Smita Thackeray recently stated that she is proud of her son Rahul Thackeray for fulfilling her dream of launching the film Saheb. Recently the powerful political party, Shiv Sena, celebrated its golden jubilee of completing 50 glorious years of reigning the territory of the Marathas on 19th Jun, 2016. On this occasion, the eminent Thackeray Bahu, Smita Thackeray and her son Rahul Thackeray shared some fond memories of their beloved Balasaheb Thackeray, who was lovingly addressed as "Saheb", and confirmed the news of making a biopic on the latter's life. The strong social activist & producer Smita Thackeray will be producing the biopic and will be directed by her elder son Rahul Thackeray. The doting bahu had a dream to write a biography on "Saheb" which unfortunately didn't materialise but she feels blessed to have a son like Rahul Thackeray who willingly took forward her dream of bringing forth the interesting journey of the charismatic man – Balasaheb Thackeray. The film Saheb will be going on the floor this year in Oct, and will depict the life of the "Roaring Tiger" Balasaheb Thackeray with the vision of his grandson Rahul Thackeray. The cast of the film is yet to be been finalised but we wait to learn who will be the one to portray the character of the powerful man. Saheb will be releasing mid – year of 2017.
To Aani Me Ready For Release
To Aani Me is now ready for release. To Aani Mee, a love story directed by Mukesh Malik has completed its post production work and gearing up for its release. The film stars Subodh Bhave & Girija Joshi in lead roles. The credits of the film are produced by Ankush Sutar under the banner of Yash Creations, written by Sunil Harishchandra, editing by Chhatrapal Ninave, music by Aslam Keyi, choreography by Rajesh Gamre & cinematography by Anil Chandel. The film also stars Shweta Shinde, Prasad Oak, Prasad Pandit, Jyoti Mhalse, Madhav Vaze, Deep Sutar et al.
Chhand Priticha Shooting complete
The entire shooting of Chhand Priticha has been completed recently Chhand Priticha, a film based on Tamasha (Marathi folk theatre) has completed its shooting schedule and is ready for the post production work. The credits of the film are banner is Premala Productions from Kolhapur, written & directed by N Relekar, music by Pravin Kunwar & cinematography by Jitendra Acharekar. As the film is dance based, the songs have been choreographed by Sujith kumar & Dipali Vichare. The film stars Harsh Kulkarni, Subodh Bhave, Suvarna Kale, Sharad Ponkshe, Vikas Samudre, Suhasini Deshpande, Ganesh Yadav et al.