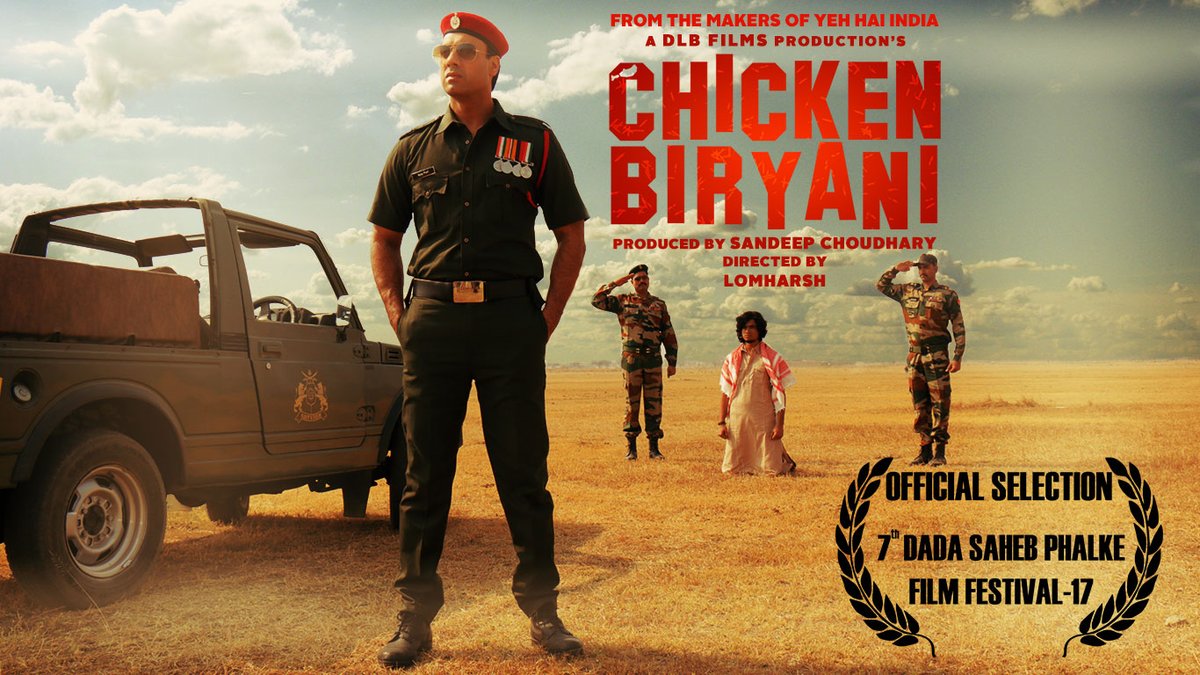 'CHICKEN BIRYANI' MAKES IT TO THE DADA SAHEB PHALKE FILM FESTIVAL 2017
A short film titled CHICKEN BIRYANI, dedicated to the Indian Army has made it to the nomination list of Dada Saheb Phalke in the short film category, alongside other international films. This is what the ecstatic Gavie Chahal who played the lead in the film has to say, "I'm glad to know about the official selection of our film at Dada Saheb Phalke Awards 2017. Many congratulations to the team and specially our Director and writer Mr. Lom Harsh for this achievement" "Feeling immense pleasure & joy for CHICKEN BIRYANI selection. What else a Director can expect and that too out of his very first project." said the rising director Lom Harsh. CHICKEN BIRYANI is a precursor to the upcoming movie YEH HAI INDIA, which also stars Gavie, and has been directed by LomHarsh.
ALIA BHATT HAS MADE IT TO THE FORBES UNDER 30 ASIA LIST
After sifting through thousands of nominations and then convening the best panel of judges ever – from Kaifu Lee & Jean Liu to Jimmy Choo & Sonny Bill Williams, STUDENT OF THE YEAR Alia Bhatt has made it to the Forbes 30 Under 30 Asia list – Class of 2017. It is official now.
SABA QAMAR LEARNS THE DELHI DIALECT FOR 'HINDI MEDIUM'
Saba Qamar who will soon be seen opposite Irrfan Khan in HINDI MEDIUM did everything to convince the audience she's a Delhi girl. She took special lessons to learn the Delhi dialect for her role in the film. There was a coach present with her all the time on set. She even used her free time to perfect the accent & pronunciation of words. Also, Saba went street shopping in the most famous Delhi streets & visited social places where most youngsters go to hangout to observe them and try & get a hang of their body language, attitude & behavior. Saba says, "It wasn't easy for me to learn the dialect, simply because I usually speak in a typical Urdu lehja, like aap, hum, and tum. Also, the way Delhi girls are so bold & confident in themselves was a really nice thing to see. I enjoyed playing a North Indian girl in HINDI MEDIUM. HINDI MEDIUM is produced by Dinesh Vijan & Bhushan Kumar.
HINDI MEDIUM is a slice of life comedy based in the heartland of our country. The film is all set to release on 12th May, 2017.
IRRFAN KHAN TURNS PHOTOGRAPHER ON THE SETS OF 'HINDI MEDIUM'
Irrfan Khan who will soon be seen in Saket Chaudhary's HINDI MEDIUM is on a photography spree. Recently, Irrfan Khan flew down to Georgia with co – star Saba Qamar to shoot for their promotional songs. Both Irrfan & Saba were blown away by the beauty of Georgia and posed for a lot of pictures. Irrfan turned photographer by reason of the untouched beauty of the locales of Georgia and captured the allure of every location. Not only did he click the scenery, he also made Saba his muse for certain pictures and made her pose every now & then.
JOHN ABRAHAM CHOOSES 1998'S POKHRAN NUKE TEST AS SUBJECT FOR HIS NEXT
After the riveting success of VICKY DONOR & MADRAS CAFE, John Abraham is all set to don the producer's hat again with a film, based on the nuclear test conducted at Pokhran in 1998. Produced under his banner JA Entertainment & RUSTOM makers KriArj Entertainment, the untitled film will also star John in the lead role. Directed by Abhishek Sharma, the script has been co – written by Saiwyn Quadros & Sanyuktha Chawla Shaikh, who were part of the NEERJA team. Says John Abraham, "I have never been in a hurry to produce films and have been searching for subjects that are engaging and stories that resonate with the current socio – political & economic mood of the country. This film fits in perfectly with my pursuit, and I am also happy to start my association with Prernaa & Arjun." "This story is about the resilience & gumption shown by our national agencies to achieve such a significant goal. This will be our tribute to those men & women who selflessly serve the country without expecting any accolades in return. The film, will go on floors soon and is scheduled to release on 8th Dec, 2017, says Abhishek Sharma.
VIVEK OBEROI TO SPEND TIME WITH FAMILY IN SERBIA!
Vivek Oberoi who is currently stationed in Belgrade, Serbian capital for the shooting of his upcoming Tamil film, VIVEGAM, since last week, will be spending time with his dearest family members who will be leaving for the exotic destination this weekend. During his 5 – day break, Vivek's family will join him in Serbia to spend some time with him since the actor will be busy with BANK CHOR movie promotions once he is back in Mumbai. The actor – philanthropist will explore Serbia during their stay together by visiting scenic & historic locations including the Roman Well and the old & new palaces – Star Dvor & Novi Dvor and indulge in local delicacies including Baklava & Ajvar.
HARSHVARDHAN KAPOOR GOES SHORT FOR 'BHAVESH JOSHI' !
Harshvardhan Kapoor who is fast becoming quite the style icon, like his sister Sonam Kapoor recently chopped his long hair for the next schedule of BHAVESH JOSHI. Harsh, who had grown quite fond of his long tresses, had to cut them off after painstakingly looking after them , for Vikramaditya Motwane's vigilante drama. And while most would be relieved about going short in the summer, not to mention the look trending over social media with his fans raving, the actor reiterates that he never follows trends. Says Harsh, "I am not really into trends. I don't go looking for them. I really liked the long hair. The look was quite unique & different. I don't think about it so much though. The haircut is for my role in the upcoming film. I go with my directors' vision."
DIANA PENTY HAS BEEN FEATURED IN THE LATEST TELEVISION COMMERCIAL OF MAKEMY TRIP
Diana Penty has been featured in the latest television ccommercial of MakeMy Trip alongside the other 2 brand ambassadors Ranveer Singh & Alia Bhatt. The gorgeous & talented actress who came together with Ranveer & Alia for the 1st time ever in the commercial for a leading online travel company has received humongous response on the social media, with her fans complimenting about her glamorous avatar and the fun chemistry with Ranveer & Alia. Interestingly, considering their cool chemistry, Diana's fans have also expressed their desire to see her in a movie along with Ranveer & Alia.
THE SECRET BEHIND ADITI RAO HYDARI'S FLAWLESS SKIN IS HER BEAUTY REGIME
Aditi Rao Hydari who is constantly plagued with questions on the secret behind her luminous & flawless skin, reveals that a simple childhood regime can be completely credited for it. Says Aditi, "Mom would have a lady come in every week and apply an ubtan with gram flour, milk, oil & turmeric on my skin. I owe my healthy skin to that regime as a child. I don't do that often, but the skin regime & nutrition you follow as a kid is something that stands by you — at least that's what I've seen! " Apart from following her mother's beauty routine, the actress also drinks a lot of coconut water throughout the day to retain the suppleness of her skin and keep herself hydrated.
"GOLMAAL" KEEPS ITS DATE WITH DIWALI
"GOLMAAL", now in its 4th part is one of Bollywood most successful franchises and has a huge demand with audiences across segments, especially children. Naturally, Rohit has been inundated with messages from the distribution & exhibition circles on whether the film was keeping its date with the festival of lights again. The 4th instalment has Ajay being joined by Parineeti Chopra, Tabu, Neil Nitin Mukesh, Arshad Warsi, Tusshar Kapoor, Shreyas Talpade & Kunal Kemmu — there has been a palpable excitement in the trade and the audience about the film. Part 2 & 3, i.e. GOLMAAL RETURNS & GOLMAAL 3 were both Diwali releases and they rocked the box – office. When Rohit mounted the film on the floors this March, he knew he was going to keep his date with Diwali. ''There has been constant speculation on whether it made sense for GOLMAAL AGAiN to clash with the Rajinikanth – Akshay Kumar starrer 2:0. The box – office window is becoming over -crowded because Aamir Khan has decided to push his next home – production Secret Superstar to Oct, 2017. However, the people, who are associated with "GOLMAAL", were the 1st to announce that they were coming and in their minds, they never did doubt whether they would stake their claim to the festival weekend or not.
CHUNKY PANDEY IS THE QUINTESSENTIAL TOURIST GUIDE IN 'HANUMAN DA DAMDAAR'
Chunky Pandey has become the quintessential tourist guide, ever since his portrayal of Akhri Pasta in a Bollywood comedy. "Lanka could easily be the New York of the yore, given the fact that it is the city of gold, I believed that itself called for a tourist guide. And who better, you tell me? You see Chunky and you think he will be so good at being a tourist guide. Believe me, it might be on my subconscious cause I couldn't think of anyone other than him to play the tourist guide in our film," confessed Ruchi who has directed the animation film HANUMAN DA DAMDAAR. When asked about his character, "Chunky himself described his character as soft, after all he is a half – half… if you know what we mean! Half Srilankan & half Indian, what were you thinking?" teased Ruchi who had us in splits discussing the method in madness, that is HANUMAN DA DAMDAAR! The Damdaar
trailer of India's superhero, Hanuman will be released on 18th Apr, 2017. R.A.T films are all set to release HANUMAN DA DAMDAAR on 19th May, 2017.
FIRST LOOK POSTER OF 'UDANCHHOO' LAUNCHED
Vipin Parashar's UDANCHHOO features an exciting star cast comprising of Prem Chopra, Ashutosh Rana, Rajnish Duggal, Anil George, Bijendra Kala, Prashant along with Bruna Abdullah and newcomer Saisha Sehgal. Produced by Ravinder Singh, UDANCHHOO will tickle your funny bone. The film is a con comedy, set in the city of Mumbai & Delhi. UDANCHHOO essentially highlights corruption & black money. The venture is a thrilling ride that tells the story of a spiritual guru, a businessman and his spoilt daughter, a money launderer and a young man who is suspected to carry out the biggest heist in history! Bollywood has seen many con comedy films before such as BUNTY AUR BABLI, BLUFFMASTER & KHOSLA KA GHOSLA et al, that have clicked commercially. UDANCHHOO promises to be a step ahead with its impeccable comic timing & satirical set up. Interestingly, this is the 1st time ever that Ashutosh & Prem, who have mostly played negative roles, will be seen attempting comedy, alongside Rajnish, who is also trying out this genre for the 1st time ever. UDANCHHOO is a film that the public can relate to with utmost ease as it covers the topic of demonetization as well as the bane of black money. What's interesting is that this venture was made 2 years ago, much before Modi came up with his master stroke!
JAVED AKHTAR AS VALMIKI IN HANUMAN DA DAMDAAR
HANUMAN DA DAMDAAR'S Valmiki might just be the hot attraction for it is none other than Javed Akhtar the master – story teller playing Valmiki, the narrator."The era in which the story is set, it had to have someone who would be narrating the story, there wasn't much written & documented then. People travelled around telling stories and passed it on. We believed it would be a nice build up alongside. Given Ramayana is written by Valmiki it made sense to have Valmiki as the narrator. And once we decided to have a narrator, it had to be Javed Akhtar for he is the best," shared Ruchi Narain who makes her animation debut with directing HANUMAN DA DAMDAAR, also written by her. "There is a joke in the industry that even if the script is not that great, if the narrator is good the film sells. And there hasn't been a better narrator than Javed Akhtar so we were thrilled when he agreed to be a part of the film," added Narain. Under the production of R.A.T. films, HANUMAN DA DAMDAAR is slated to release on the 19th of May, 2017.
'MUJHE BHI DUNIYA DEKHNI HAIN' ALL SET FOR RELEASE ON 16TH JUN 2017
Genuine Entertainment Corps' MUJHE BHI DUNIYA DEKHNI HAIN will be releasing on 16th Jun, 2017 all over. The film is written & directed by Satyaprakash Mangtani. DoP: Rajan Lyallpuri. Cast: Avinash, Mrunalini, Manoj Anand, Komal Dhillon, Baby Muskaan, Shailesh Pitambare, Jayshri T, Viju Khote & Mukesh Khanna.
DEANA UPPAL IS LEADING LADY OF PUNJABI FILM 'HARD KAUR'
Miss India UK actress, Deana was spotted in Patiala where she is shooting her movie HARD KAUR, directed by Ajit Rampal. Deana is playing the role of Sirat a simple Punjabi village girl, and how every day she has to deal with harassment of men and how she handles the situations. HARD KAUR is the 1st Punjabi female oriented Punjabi movie. Alongside Deana, as the main lead instead of the norm of having a male lead, there is award winner veteran actress Nirmal Rishi. Deana Uppal said, " I am enjoying playing the role of Sirat as I feel I have connected with her situations. She is a simple girl but the people around her have bad intentions. The movie shows how 5 different Kaur's deal with the situations differently". HARD KAUR will play a role in encouraging the women of Punjab for standing tall for their rights, always. The film stars Nirmal Rishi, Aman Grewal, Raj Ninjer, Tanvir Singh, Swati Bakshi & Neet Kaur.