ZEE5 Launched 'Chitra Vichitram'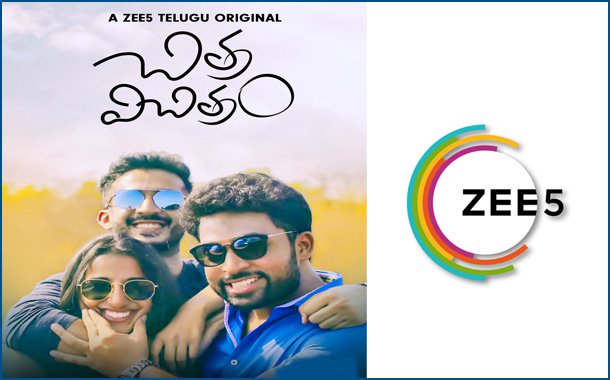 Riding on the recent success of its 1st ever Telugu original Nanna Koochi, ZEE5, launched its 2nd Telugu original, Chitra Vichitram which translates as It's a surprise on 4th Oct, 2018. The light-hearted web-series featuring Anchor Ravi, Manoj Tanneru & Apoorva Srinivasan in the lead. Chitra Vichitram revolves around childhood buddies, Abhi & Gopi, who reunite years later for a passion project, a movie, in the process of which they experience a nostalgic ride of their college journey. The story of Chitra Vichitram is engaging & relatable. AnchorRavi said, "Shooting for Chitra Vichitram was almost like going back to college, complete nostalgia!. Manoj Tanneru said, "The thematic story of the show & its association with ZEE5 made me take it up without any second thoughts."
Sony Hits Back At Tata Sky Over Removal Of Channels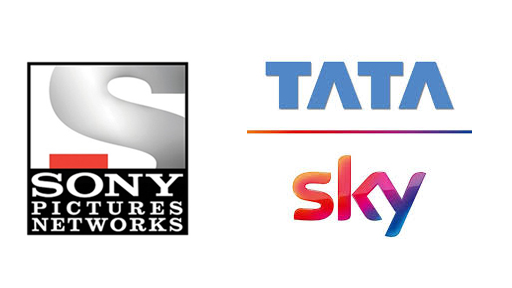 Hitting back at direct to home (DTH) operator Tata Sky, broadcaster Sony Pictures Networks India (SPNI) has condemned the removal of its channels by the DTH operator. Tata Sky removed 27 channels of SPNI & TV Today Network from 1st Oct, 2018. Sony is the official distributor TV Today Network channels. The removal of channels was preceded by a disconnection notice issued by Tata Sky against SPNI & TV Today Network on 16th Sept, 2018. The DTH operator's notice was in response to the one issued by SPNI & TV Today Network. Both the disconnection notices were issued due to non-renewal of agreement. Sony has alleged that Tata Sky has unilaterally dropped the channels even though the rates of the channels have remained unchanged. "It is unfortunate that Tata Sky has unilaterally chosen to drop 22 SPN channels from its subscription, even though SPN has not increased the rates of its channels," the broadcaster said in a statement. "By unilaterally dropping the channels, Tata Sky is depriving its viewers of the opportunity to watch world-class entertainment & live sporting action. Tata Sky is not acting in consumer interest. Tata Sky has claimed that the negotiations with Sony broke down since the demand by the broadcaster would have forced it to hike the price of its pack. "Tata Sky has dropped 27 channels & services from its platform from 1st Oct. 2018. Commercial negotiations with broadcasters broke down because what they were seeking would have forced us to hike our prices. Hence, we have had to drop a few channels while keeping the popular ones on." the DTH operator has stated.
Southside Beauty Megha Akash To Romance Sooraj Pancholi In Satellite Shankar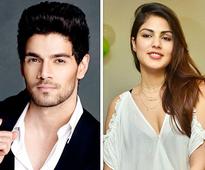 Produced by Bhushan Kumar, Krishan Kumar, Murad Khetani & Ashwin Varde, Satellite Shankar is the 1st ever Hindi film to be shot across more than 10 states in India. Everyone has been wondering who the leading lady opposite Sooraj Pancholi would be, since the makers had kept it rather hush-hush. Now, the secret is finally out. Megha Akash is the one who will be making her Hindi debut opposite Sooraj Pancholi in Satellite Shankar. Megha is one of the most promising talents in both Tamil & Telugu cinema. Megha had been waiting for the right break in Bollywood and has a massive buzz around her in the South, as she has bagged two of the biggest films in Tamil. She is doing a film opposite Dhanush (Enai Noki Paayum Thota) and she is also a part of Rajnikant's next, Petta. "There were a lot of offers in Hindi but Satellite Shankar is just something special," she says. "It's a very different film and the scale of the film is also so huge." Director Irfan Kamal is also extremely happy to have Megha on board. "She is exactly what we were looking for," he says. "From the time we saw her, we knew she was the one." The film is currently being shot in North India.
'Smoke' To Be Premiered At Mipcom 2018 In Cannes Film Fest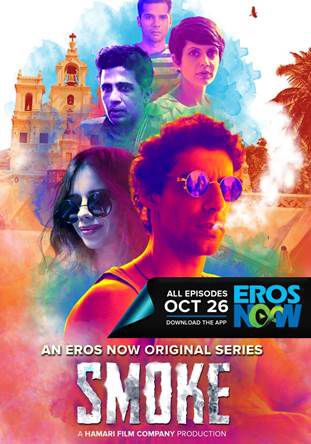 Eros International has recently announced that Eros Now will premiere its original series Smoke at Mipcom 2018,being held at Cannes in France on in Oct, 2018 under Made in India Originals category. The only Indian web series to be showcased in Cannes Film Fest this year, Smoke is a crime drama that will take audiences on a thrilling & eye opening journey set in the underbelly of Goa. The teaser of the show was launched recently which stars Kalki Koechlin, Mandira Bedi, Jim Sarbh, Amit Sial, Gulshan Devaiah, Satyadeep Mishra, Neal Bhoopalam, Prakash Belawadi & late Tom Alter. All episodes of Smoke will be available for binge-viewing from 26th Oct, 2018 exclusively on Eros Now. This 11 episode binge worthy series, directed by Neel Guha is a game of smoke & mirror, shifting loyalties & brutal cover-ups all against the backdrop of Goa, a state as glamorous as it is unsuspecting of the menace that lurks underneath its surface. The sound track for the series has been composed by well-known musician Karsh Kale, who has redefined the Asian Underground genre of music.
Animation International India Signs Charlie Chaplin For Licensing & Merchandising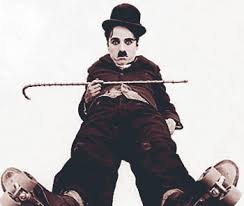 The iconic superstar of comedy, Charlie Chaplin will soon be available to his fans through a range of products, thanks to Animation International India signing the licensing & merchandising rights of the icon. We all have known Charlie Chaplin for his humor, bowler hat, mustache & cane but there is a lot more to it. Often outfitted in tattered baggy pants, a cutaway coat & vest, impossibly large, worn-out shoes & a battered derby hat, Charlie Chaplin is arguably one of the best actors the entertainment industry has ever seen. Animation International India, part of the 4 decade old Animation International Limited (Hong Kong) has been instrumental in launching the licensing programs for Marvel, Hello Kitty, WWE & many iconic brands in India over the last 14 years of its journey in India. At present the company successfully manages licensing of brands like Doraemon, Shin Chan, Garfield, Archie Comics, Hallmark Design Collection, Albert Einstein & now Charlie Chaplin.
Trailer Of 'Chal Jaa Bapu' Launched On Gandhi Jayanti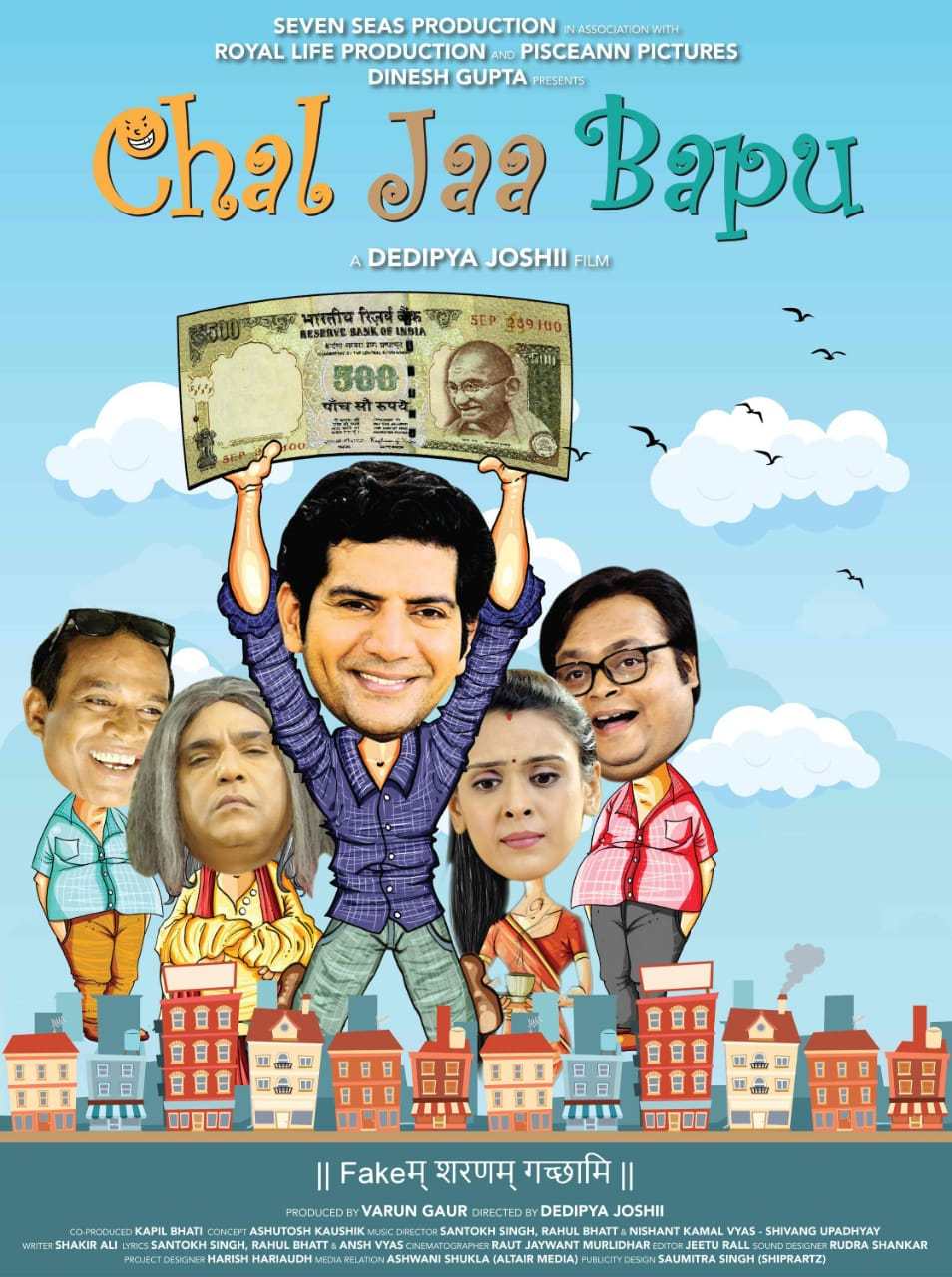 The trailer of director Dedipya Joshi's film Chal Jaa Bapu, a comedy drama film based on the scandal of fake Notes (Fake Currency) in the country, was launched in Mumbai. Chal Jaa Bapu stars the winner of Bigg Boss Season 2 winner Ashutosh Kaushik, with Hrishita Bhatt, Zakir Hussain, Aryan Vaid, Harish Hariaudh, Himani Shivpuri, Raju Kher et al. Ashutosh Kaushik, Hrishita Bhatt, Harish Hariaudh, Producer Varun Gaur, director Dedipya Joshi et al were present on the occasion. The concept of the film is by Ashutosh Kaushik & written by Shakir Ali. The music is by Santokh Singh, Rahul Bhatt, Nishant Kumar Vyas & Shivang Upadhyay. The film is shot on different locales in Saharanpur Uttar Pradesh. The film represents the evil effects of the fake currency in a very humorous & drama style, in fact, the film concept came in the form of an incident that took place with Ashutosdh Kaoshik.
Mrunal Jain & Kunal Thakkur's Tennis Premier League's Talent Hunt Day!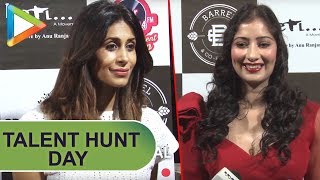 Mrunal Jani & Kunal Thakkur are devoting their time & energy on Tennis Premiere league which has become a talking point amongst the TV fraternity. To promote Tennis as a sport is a very noble cause. The talent hunt day got an overwhelming response last Sunday. Aishwariya Sakuja & Nidhi Taylor represented 2 different teams who interacted with everyone in spite of the heat. Other actors who graced the occasion included Aanand Goradiya, Sneha Wagh, Prerna Wanwari, Arun Mandola, Himanshu Malhotra & Heital Puniwala. Kunal Thakkur & Mrunal Jain attended all the guests personally & sincerity was flowing in their attitude besides the love for the sports. Sneha Wagh & Aishwarya Sakuja added to the glamour quotient of the event. Prerna Wanwari came specifically to support her friend Kunal Thakkur. Aanand Goradiya was seen chatting animatedly with Mrunal Thakkur & Sneha Wagh. Kunal Thakkur says, "It was great to see people of all ages coming from all over India to participate in the league. There were more than 350 participants who had come to just impress the mentors & the celebrities so that they get selected to play in the league". Mrunal Jain adds, "It was nice on the part of Sneha Wagh, Prerna Wanwari, Aanand Goradiya, Arun Mandola, Heital Puniwala & Himanshu Malhotra to come & grace the special occasion. Tennis is one sport which surely needs more & more support"
Evening Shadows Bags Top Award At Chicago South Asian Film Fest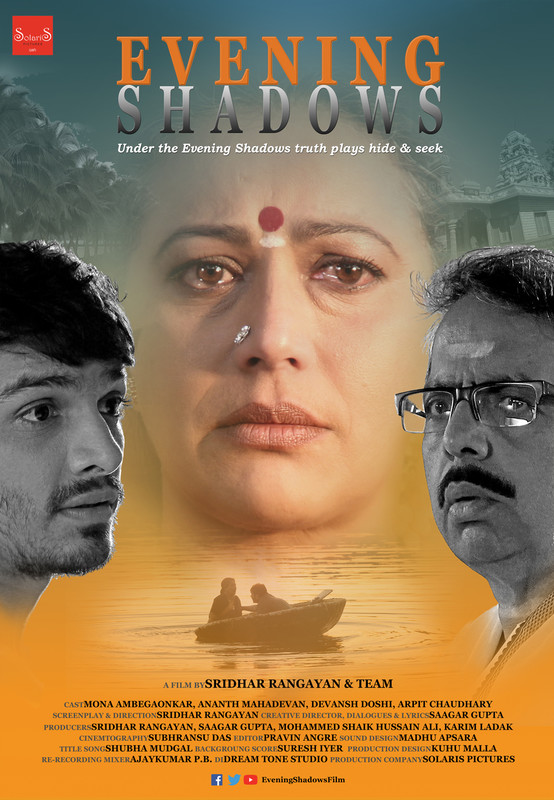 Indian feature film Evening Shadows bagged the audience award for "Best Feature Film" at the recently concluded Chicago South Asian Film Fest in USA."We are happy that our film Evening Shadows is being awarded & appreciated even at mainstream film fest's, apart from LGBTQ film fest's. This fulfills one of the objectives of the film, to reach out a mass audiences with the message of acceptance. Now we push for the 2nd objective, of releasing the film commercially, in theaters & television, in India", said director Sridhar Rangayan, being elated at this win, which is the 4th award the film has garnered. Chicago South Asian Film Festival presented an eclectic slate of 70+ films over the course of 4 days which included amazing award winning LGBTQ films. The participating filmmakers represented a wide diverse contemporary queer word cinema representing true South Asian Diaspora. Evening Shadows emerged as a winner of Chicago South Asian Film Fest & the fest could become a platform to spotlight the lives of LGBTQ community. The producers of Evening Shadows are delighted that the film is gaining a lot of acclaim across the world with official selection at around 38 international film fests, and at many fest's being the opening, closing or centerpiece film. Sridhar Rangayan, director of the film, will be on a 15 day Evening Shadows Grand European Tour' from Oct 9th @018 to 24th Oct 2018 presenting 7 screenings in 5 cities across 4 countries. Recently eminent actor Shabana Azmi who saw the film at the 3rd Lonavala Film Fest one day after the 377 verdict had said, "After watching Evening Shadows I really feel that it has made me a better human being. I feel that all families, especially in our country, should see this film. I hope that a big studio or a big producer will embrace this film and presents it. I have full trust that this film will be a hit at the box office turnstiles." The film has received a UA certificate by the censor board.
Chitrangda Singh To Judge Ultimate Cook Off –The Marriott Challenge On Axn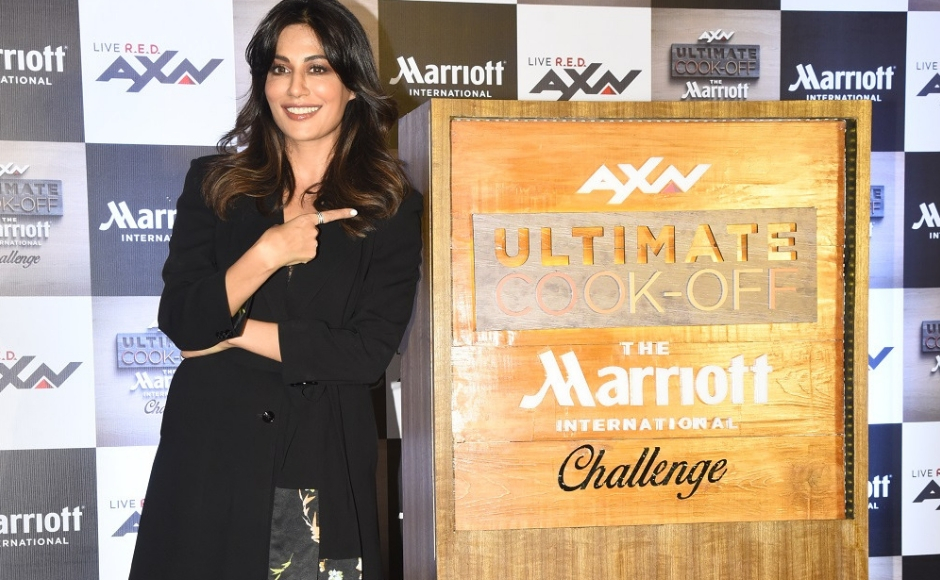 Marriott International Inc. & AXN have joined hands for a one-of-its kind association. Together, they are curating a unique culinary show "AXN Ultimate Cook-Off – The Marriott Challenge", which promises a thrilling, action packed & never-seen-before gastronomic experience for viewers. AXN will exclusively Premiere this cook-off soon enough. The show will be a nail-biting, high-stakes, head-to-head faceoff between 4 celebrated chefs from varied brands within Marriott portfolio. The contestants will display their skills through different culinary challenges and will be scored on their versatility, proficiency & creativity. The winning dish will make it to the menu of more than 100 Marriott International hotels across India. Chef Toine Hoeksel, Senior Culinary Director, Asia Pacific, Marriott International Inc., who leads more than 30 brands under the Marriott family, visited India to judge the cook-off. Other judges included Chef Himanshu Taneja, Culinary Director, India, Marriott International & famed actor-cum-producer, Chitrangda Singh. Marriott International Inc. & AXN's partnership will bring to life innovative content as well as memorable guest experiences. Viewers will also get to know 5 celebrated Marriott chefs through vignettes aired on AXN showcasing their expertise & passion for food. Additionally, Marriott International Inc. will be the presenting sponsor for the much-awaited Top Chef Season 14, scheduled to air this month on AXN – Mon-Fri, 9 pm. Says Chitrangda Singh, Actor & Judge, "I am honored to associate with Marriott International & AXN, 2 highly-respected names in the country & world over. This association gives me a chance to truly explore my passion for food, as the chefs whip up their magic & produce sensorial delights. I also look forward to making my very 1st ever tie-up with AXN a memorable one."
Amaan Ali Bangash, Ayaan Ali Bangash & Karencitta's Musical Ode To Mahatma Gandhi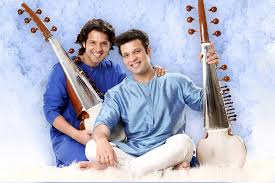 Sarod Masters Amaan Ali Bangash & Ayaan Ali Bangash, sons of Padma Vibhushan Ustad Amjad Ali Khan, have teamed up with international vocal sensation Karencitta for their latest collaboration, 1Love, released on 2nd Oct, 2018, i.e. on the occasion of Gandhi Jayanti on digital platforms. "The one man, who we owe a lot to unquestionably, is Mahatma Gandhi. A man far ahead of his time, a man with a vision, and a man spiritually uplifted. From the Satyagraha Movement to the Non-Violence Movement, we discovered who we are from his voice & vision. Whenever I am asked, within India or abroad, what Gandhi means to me, I am filled with joy & pride,'' expresses Amaan Ali Bangash. "Gandhi's enlightened patriotism & nationalism are what India & the world greatly need today. To recall & wholeheartedly adopt, they are to rid themselves of the evils of communal massacres & terrorism of varied brands which plague them in varied parts at present. We all need to make our respective contributions in this as Gandhi had insisted each of us must be the change we wish to see in this world", says Ayaan Ali Bangash, "therefore, let us all work together to recreate, and be soulfully motivated by his enthralling symphony of truth, love, non-violence & peace." "World peace has always been my main advocacy. Hence this collaboration." adds Karencitta. Amaan & Ayaan represent the 7th generation of the Senia Bangash School. Their father, Sarod Maestro Ustad Amjad Ali Khan shoulders the 6th generation of inheritance in this legendary lineage. Karencitta 1st rose to popularity with her hit song "Cebuana" which reached over 1 million views in 24 hours. Based in Los Angeles, Karencitta 1st joined a talent search when she was only 4 years old. She stayed in the entertainment business since then. A collaboration of the 2, therefore, is something to really look forward to.
Hollywood Star Alec Baldwin & Bollywood Actress Dia Mirza Hosts UN's Champions Of The Earth Awards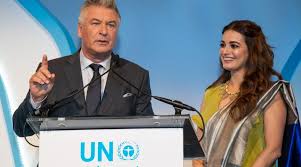 At this year's United Nations' annual flagship awards, "Champions of the Earth 2018", Indians were seen as an integral part of the ecology conversation, moving a step closer to a more environment friendly living. Hosting these awards along with actor Alec Baldwin was UN Environment Goodwill Ambassador Dia Mirza, who is known to crusade for and lend her voice to ecological protection. This year's laureates are recognized for a combination of bold, innovative, and tireless efforts to tackle some of the most urgent environmental issues of our times. Hoisting the Indian flag higher globally, young champion Arpit Dhupar was recognized & Prime Minister Narendra Modi & Cochin Airport won the award along with Joan Carling, French President Emmanuel Macron, China's Zhejiang's Green Rural Revival Programme and Beyond Meat & Impossible Foods. Emmanuel Macron, President of France and Narendra Modi, Prime Minister of India, are recognized in the Policy Leadership category for their pioneering work in championing the International Solar Alliance & promoting new areas of levels of cooperation on environmental action, including Macron's work on the Global Pact for the Environment and PM Modi's unprecedented pledge to eliminate all single-use plastic in India by 2022. The awards were presented during the Champions of the Earth Gala in New York City, on the sidelines of the 73rd UN General Assembly. This is the 2nd consecutive year, since being appointed UN Environment Goodwill Ambassador for India, that Dia was seen hosting the awards.
Make Up Artiste Preetisheel Singh Looks Forward To Andhadhun, Raw & Thackeray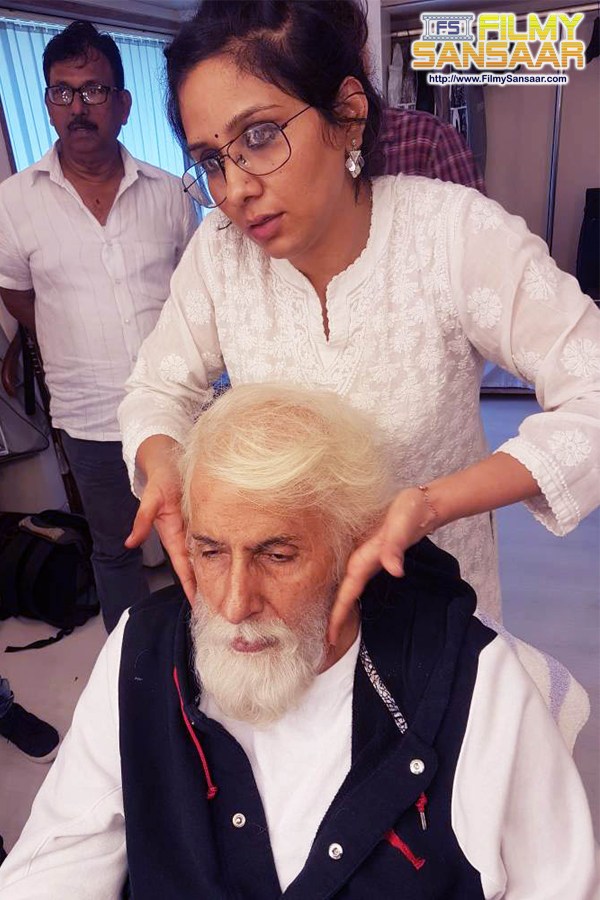 This year has been a great one for National Award-winning make-up, hair & prosthetic designer Preetisheel Singh. Starting out with the blockbuster success of Sanjay Leela Bhansali's Padmaavat, where she created the looks for Shahid Kapoor, DeepikaPadukone & Ranveer Singh as the wicked Alauddin Khilji, she also designed the endearing looks of Amitabh Bachchan and Rishi Kapoor for Umesh Shukla's runaway hit 102 Not Out. Last month, the makeover wiz had her hat trick clincher with Anubhav Sinha's Mulk; a gripping take on Muslim patriotism in a Hindu-majority India. The film not only made an indelible mark at the box-office, but managed to effectively send out a fabulous message of equality & brotherhood. The lady is excited about the Ayushmann Khurrana-starrer Andha Dhun next. "I've got a chance to work with Sriram Raghavan for the first time. It's a cool flick & I'm proud to be the makeup designer for it," says Preetisheel, who has also just finished her work for Romeo Akbar Walter (RAW) with John Abraham donning multiple looks. But she quips that RAW is gonna be a "surprise package" so she can't reveal about the looks as of now. And finally there is Thackeray, where Nawazuddin Siddiqui plays the role of Shiv Sena supremo BalasahebThackeray.
Varun Dhawan's Connect With India Vs Pakistan Cricket Match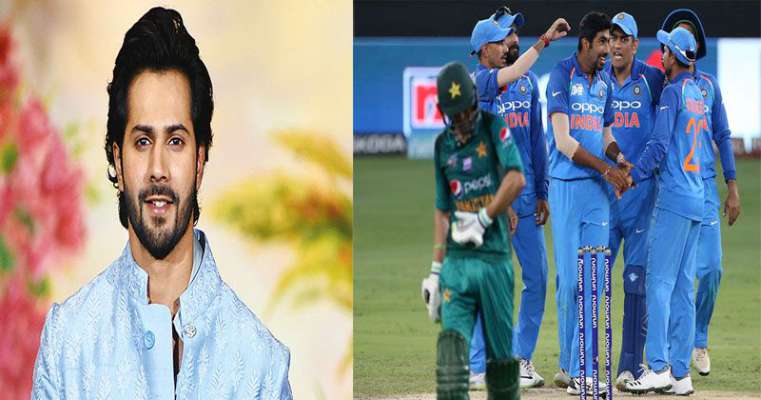 2 things that Indians love the most is Bollywood & Cricket. Varun Dhawan who's latest release is Sui Dhaga has one such connect with cricket. The connect is linked with the India Vs Pakistan match in the Asia Cup. The last time this young star had a movie releasing on the same time as an Indo-Pak was when Main Tera Hero (MTH) opened in cinemas. That time, India defeated Pakistan and Varun's Main Tera Hero also became a hit. This would make the actor quite optimistic as this time too India defeated Pakistan to enter the Asia Cup finals. Now, we can only hope that Sui Dhaga also is able to repeat the same fate as Main Tera Hero.
Trailer Of 'Dassehra' Starring Neil Nitin Mukesh & Tina Desai Out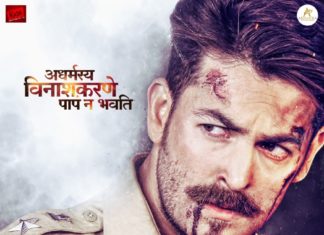 The Trailer of Dassehra is finally out. The 1st ever glimpse of the film gives out clear indication of a stellar performance from Neil Nitin Mukesh. The fight sequences look brutal & exhilarating. Dassehra certainly seems to be an action movie of 2018, all credits to its emotional maturity, dark story & well-crafted action sequences. Neil Nitin Mukesh will be playing the role of a police officer for the 1st time ever in his 11 year career in Manish Vatsalya's Dassehra. The film also stars Tina Desai, Govind Namdeo. The story has written by Saurabh Choudhary & produced by Aparana S. Hosing. Sporting a moustache, Niel Nitin Mukesh, wearing Khakhi Wardi ridding on Bullet absolutely look Dabangg Cop. The cop hero in Dassehra knows how to win people's confidence & tackle goons. These movies can motivate the state police to work for the people. Despite being corrupt to an extent, the cops in these films protect the law & destroy criminals & their gangs. Dassehra is a political thriller story of crime & politics. The film evolves from the backdrop of a politically destabilized state, places which symbolizes politician mafia network, a place of heinous crimes, cunning politicians, reckless criminals, the film Dassehra is dedicated to bureaucrats of India. Dassehra is a story of a genuine cop who gets stuck in adverse circumstances.
Poonam Pandey Ditches Shakti Kapoor For The 2nd Time In Succession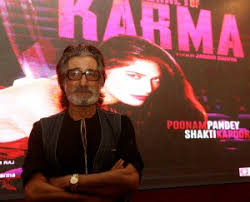 For the 2nd time in succession, Poonam Pandey developed cold feet and did not turn up at the trailer cum music launch of her film The Journey Of Karma in which Shakti Kapoor will be seen in a different role. The film has been produced & directed by Jagbir Dahiya of Surya Entertainment. Music Director Omkar Minhas & Danish Alfaz along with singer Lyla Sharma & Amrita, Shravani Goswami who plays the mother of Poonam Pandey in the film & Yogesh Lakhani of Bright Outdoor were also seen at the event in Mumbai. Shivender Dahiya will be seen in a promotional song Parinda sung by Sukhwinder Singh. Jagbir Dahiya also launched his music label Surya Entertainment Music. Going with the tagline Karma has no deadline, The Journey Of Karma is about a girl (Poonam Pandey) who is financially very poor and stays with her mother (Shravani Goswami). Then comes a guy (Shakti Kapoor) who loves her but because of age difference between the two, he is not able to express his feelings. The whole movie is about the poor girl & the problems she faces in life to achieve her dreams & the people who wanted to take advantage of her situation as well as there is a guy who loves her but can't say. The film also stars Shakti Kapoor in an extremely different avatar. It is learnt that the veteran actor didn't color his hair or trim his beard for as long as 3 months just to get the right look for this movie slated for release on 26th Oct, 2018 all over.
Varun Dhawan – The Hit Machine Of Bollywood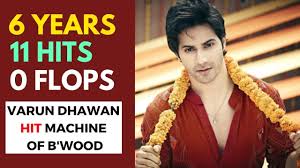 From Student Of The Year to Sui Dhaga, Varun Dhawan has given consistent hits at the box office turnstiles. It has been 6 years since he has entered Bollywood and is already one of the most successful actors of his generation. Having acted in 11 films till now, Varun has never given a flop. All his films have performed well at the box-office turnstiles and the actor has been praised by the critics & the audiences for his performance. Over the course of his career, he has played different roles. From playing a romantic hero in the "Dulhania" series to playing angry revengeful husband in Badlapur, he has played it all. Recently, he has earned critical acclaim for his role of an emotional boy Dan in Shoojit Sircar's new age tale October. His films ABCD 2, Dilwale, Dishoom, Badrinath Ki Dulhania & Judwaa 2 went on to enter the 100 crore club. The actor continues to rule the box-office turnstiles & receive rave reviews for his lastest release Sui Dhaga. The film has already garnered Rs. 36.60 crore over the weekend and is expected to grow over the week.
Late Vinod Mehra's Rohan Mehra Gets Candid On How He Bagged 'Baazaar'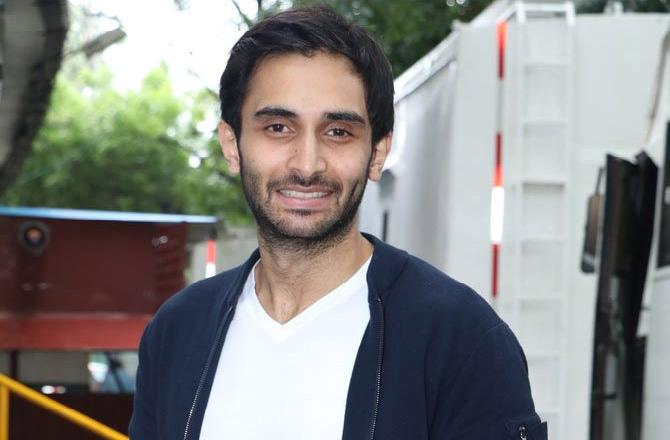 Baazaar, an upcoming drama on stocks, money & crime marks the debut of Rohan Mehra son of ysteryear's actor the late Vinod Mehra & also stars Saif Ali Khan, Chitrangda Singh & Radhika Apte. Rohan Mehra who works on vying for attention, is also leading the show independently and in the eyes of his boss as the plot progresses and he has definitely got all our attention! The road to Bollywood was not easy for Rohan. Rohan Mehra recalls, "I heard about the film, in fact, I read about the film and was very intrigued by the storyline. When I learnt that Nikkhil Sir was making this film, I thought of auditioning for it. Initially the film was supposed to have only established actors and they were not even planning on taking newcomers. Eventually, they were convinced and had to audition a few rounds. Following which, I had to wait for months before I got a confirmation call. It was not something which was offered because I was a star kid, but I had to really work hard for it." The film, Baazaar has opened & exposed the game of stock markets widely since the trailer launch and we cannot stop talking about it. Rohan Mehra has impressed one and all and judging by the response he has been receiving, the talented actor is here to stay for good.
Twinkle Khanna Joins Save The Children As Artist Ambassador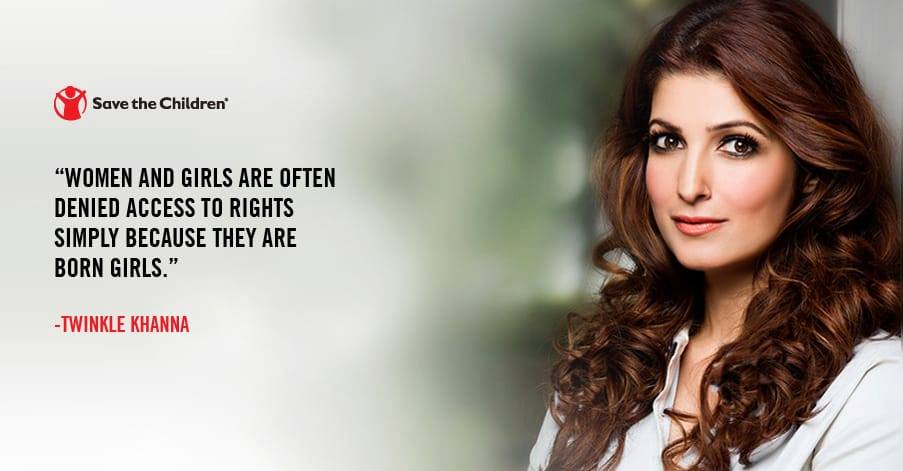 Twinkle Khanna, has joined Save the Children as the Artist Ambassador to promote adolescent health & right to menstrual hygiene. Twinkle Khanna exults, "Even today, one half of the population in our country continues to struggle for their fair share. Women & girls are often denied access to rights simply because they are born girls. And this discrimination begins right from the womb & the cycle continues. And they continue to lose out on the most basic of the rights, whether we talk of health, education and on it goes. Access to basic health & hygiene should not be a matter of chance but choice & rights. Taboos & lack of awareness around something as natural as menstruation push more than 50% of women to most unhygienic practices. We need to push boundaries, and we need to have more open, honest conversations around menstruation to begin with. I, Twinkle Khanna, am excited to join Save the Children as their artist ambassador to champion the cause of adolescent health & menstrual hygiene". Save the Children priorities include social behavior change communication to overcome the social taboos, misconceptions & misbelieves on menstrual hygiene, empowerment of adolescent girls to take appropriate decisions on management of menstruation, improving the targeting of influencers, improving the reach & quality of low-cost pads, improving access to sanitation (toilets) at schools & in communities, inculcating hygiene & sanitation behaviors & practices for better management of menstruation in schools & communities.
ZEE5 To Globally Premiere 'Mulk' On Digital Platform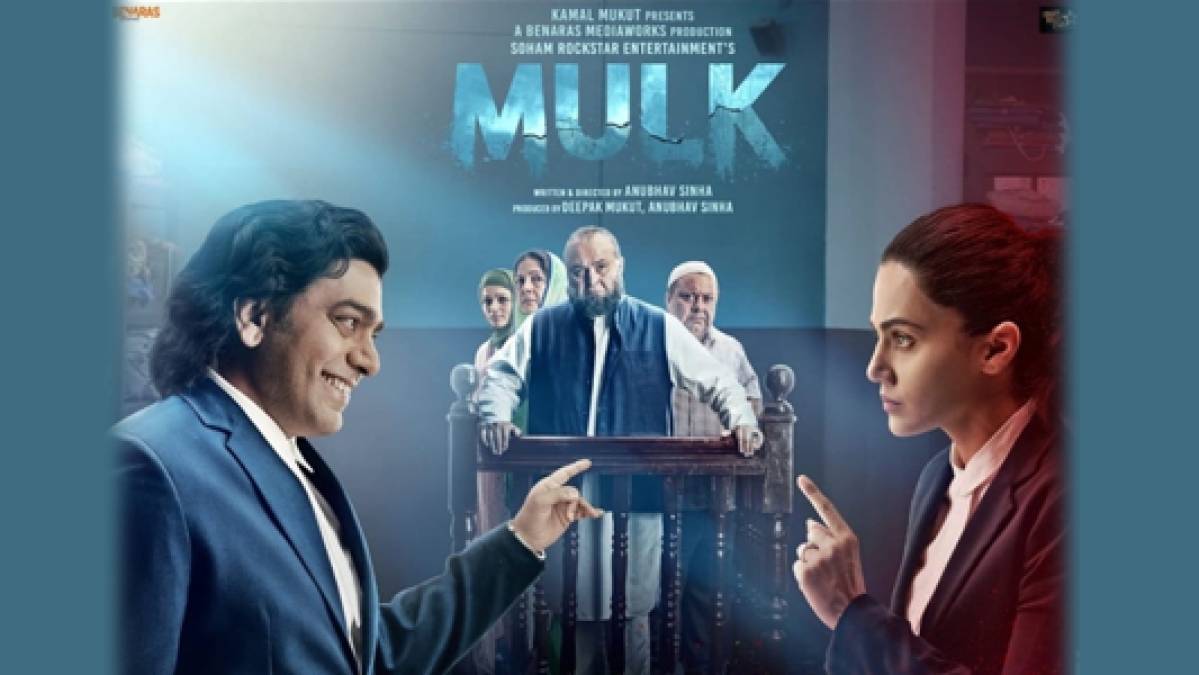 ZEE5 is all set to strengthen its movies catalogue with the global digital premiere of Mulk. Featuring award-winning actors Rishi Kapoor & Taapsee Pannu, Mulk will premiere exclusively for ZEE5 subscribers. Mulk is an intense drama based on a true story where a Muslim joint family from a small city in India is trapped in a dark controversy and trying to reclaim their honor. The movie focuses on some hard-hitting issues & other faces of terrorism which are often hushed about. Directed by Anubhav Sinha, the movie sets out to uncover the prejudice that seeds people's perception for the Muslim community in our country. The movie also features a well-known star cast including Prateik Babbar, Rajat Kapoor, Ashutosh Rana, Neena Gupta etc. Manish Aggarwal, Business Head, ZEE5 India, said, "We have been receiving a great response to our exclusive digital premieres & global premiere of Mulk will further drive engagement with the viewers. We will continue to have interesting additions to our movies catalogue with latest blockbuster releases straight after the theatre release providing unlimited entertainment options to our viewers combined with quality content." Anubhav Sinha comments, "We are delighted to associate with ZEE5 for the global digital premiere of Mulk. While we received a fabulous response on the theatre release, I've been inundated with enquiries from people who missed it in the theaters for its digital release. ZEE5 with its wide global reach will help that audience watch the film. We hope for a similar feedback & support from consumers for the digital release as well."
'Sajjan Singh Rangroot' To Be Dubbed In Russian Language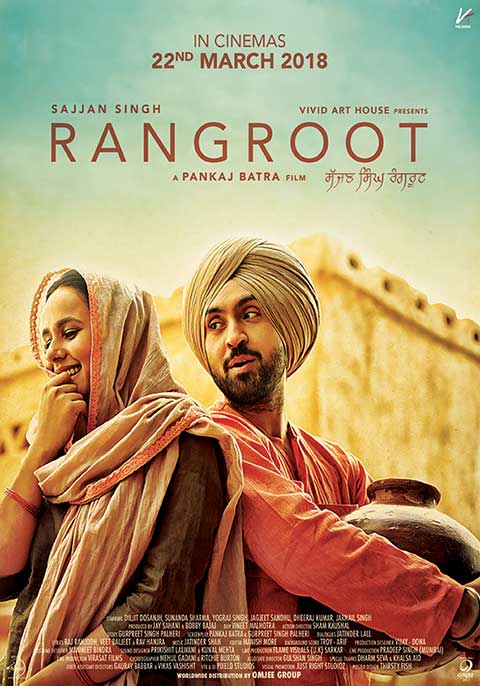 Alex Reece, who played the main villain in the Diljit Dosanjh-starrer Sajjan Singh Rangroot this year, has predicted that the next James Bond villain could be based on Russian president Vladimir Putin. In the casting call for Bond 25, the casting execs are reported to have advertised that they are looking for a Russian male, who needs to be "charismatic, powerful, innovative, cold & vindictive" & a female character described as "intelligent, brave, fierce & charming." "I don't know about the female character, but the description of the male one sure sounds like a certain Russian president to me," says Alex with a wicked smile. The British actor who has worked in Hollywood flicks, is also known for his appearance in a mega-budget James Bond commercial starring Daniel Craig. Alex points out, "Many of the initial Bond movies were made during the Cold War, but since Daniel Craig took over, that Russian element has been missing.""Now with allegations about Russian interference in American elections, Russia is back in the picture. Having a negative character with comparisons to Putin or his KGB secret service past, can work new wonders for the Bond series," analyses the Rangroot villain. Meanwhile, Alex is himself going to have a Russian connection soon. His villainy act in Sajjan Singh Rangroot is heading to Russia, with the film's dubbed version all set to release there in the last week of Oct, 2018.
Curtains Doen For The 9th Jagran Film Festival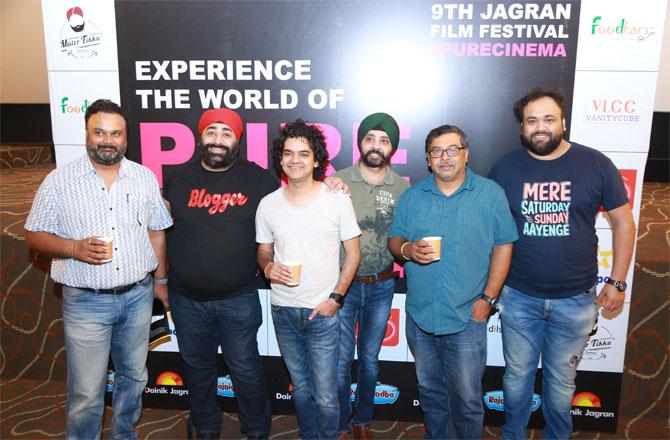 The 9th edition of Jagran Film Festival on its culminating day glittered with renowned stars from the Bollywood circuit. Celebrities like Zoya Hussain, Varun Dhawan, Imtiaz Ali, Pankaj Kapoor, Supriya Pathak, Tabu, Abbas Mustan, Ankit Tiwari, Amit Trivedi, Pooja Bhatt, Ira Bhaskar, Swara Bhaskar, Vineet Singh & Anurag Kashyap, graced the event, making the Award Ceremony absolutely scintillating. Legendary Actor, Pankaj Kapoor was honored with "Icon of Indian Cinema" title, while Kamlesh Pandey received the award for "Special Contribution to Cinematic Art" & Imtiaz Ali was thrilled to get the Achiever Award. Tabu was conferred with the Jagran Film Festival "Retrospective Award". Varun Dhawan received the "Best Actor" for the film, October, whereas, Zoya Hussain won the "Best Actress" Award for her impressive performance in Mukkabaaz. Victor's History was regarded as the "Best Foreign Feature Film" and Village Rockstars as the "Best Indian Feature Film". Mukkabaaz again won the award for "Best Director" and "Best Writing", which was given to Anurag Kashyap and Team Mukkabaaz respectively. The Special Jury Awards for "Best Film" in Indian Language was given to Ee. Ma. Yau and in the Short Film Category, Counterfeit Kunkoo and Lakshya were bestowed with the admiration. Jagran Film Festival, the grand content curating event in the field of Cinema & Music, has had a successful ride for its 9th edition, which commenced in Jun, 2018 in Delhi & culminated in Mumbai In between, JFF mapped & interacted with diverse film buffs across 16 more cities including Kanpur, Lucknow, Allahabad, Varanasi, Patna, Dehradun, Ranchi, Jamshedpur, Bhopal, Indore, Gorakhpur, Agra, Ludhiana, Hissar, Meerut & Raipur. Traversing nationwide, Jagran Film Festival became the biggest ever show to generate inspiring content across regions, cultures, languages, themes & subjects.
Ajaz Khan's Philanthropic Side!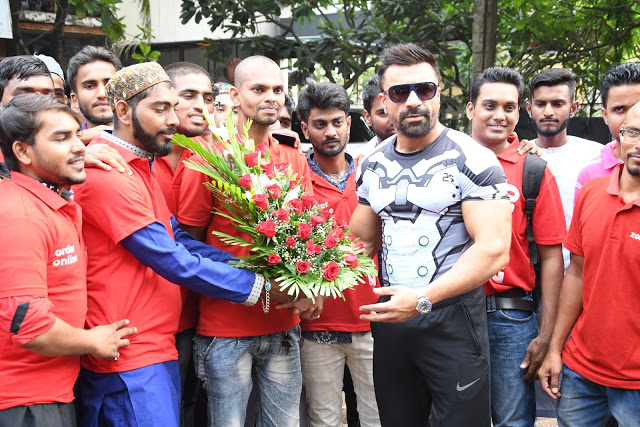 With such power & position comes a responsibility towards the society. However, this responsibility is realized only by few. Ajaz Khan well known for his humanitarian initiatives was approached by hundreds of employees of popular food delivery. Companies Zomato & Food Panda. Because of his charitable acts, the actor has earned the title of the "voice of poor". In a recent incident Ajaz Khan, stood up for 250 Zomato & Food Panda employees. Employees of Zomanto & Food Panda face major crisis in regards to their salary. In the video (on Ajaz Khan's Face Book) the employees share their problems with Ajaz Khan. Stating that despite their full attendance & dedication towards the company, they are not paid the amount they were promised. They also revealed the kind of disrespect & rude behavior of their senior & bosses at their workplace which is as a result devastating company morale & creating a toxic working environment. The troubled employees also disclosed that the attitude of Maharashtra Police was "ignorant" & dismissed their case by calling it a "system problem" & were scared off. Ajaz Khan, who has always believed that injustice anywhere is a threat to justice everywhere, helped them resolve their issues to not just handle the genuine outrage of hundreds of Zomato & Food Panda employees but also put an end to their long standing grief's "I request Maharashtra Govt. & Police to resolve the issue as soon as possible. I humbly request Maharashtra Govt. & Police to look into this matter"
Manikarnika: The Queen Of Jhansi Teaser Released On Gandhi Jayanti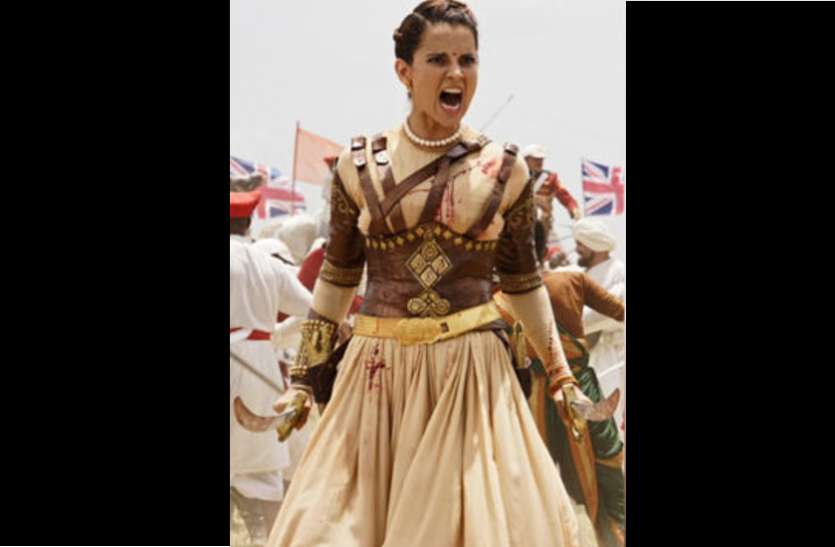 The teaser of Manikarnika: The Queen Of Jhansi was released on Gandhi Jayanti, a day when we celebrate the indomitable spirit of freedom fighters like Mahatma Gandhi; Rani Laxmi Bai has been one of the first, fiercest warrior queens, who fought for independence against the British army, the makers felt this would be the apt day to launch the teaser of the film that captures the historic life story of Rani Lakshmi Bai. Produced by Zee Studios & Kamal Jain, Manikarnika-The Queen of Jhansi, directed by Radha Krishna Jagarlamudi, is slated to release on January 25, 2019.
Kalki Koechlin Interacts With Audience At Jagran Film Festival!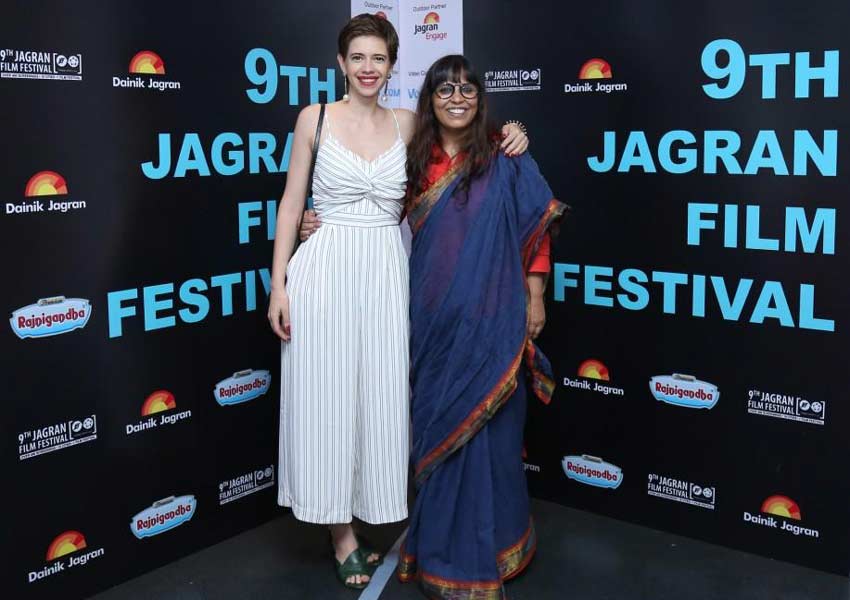 Jagran Film Festival continued to spread & woo its audiences on the 3rd day of the Mumbai Chapter. A splendid event which commenced in Delhi, touched 18 cities before coming to Mumbai, the 2nd last day of the film Carnival witnessed Kalki Koechlin interact with the audience, while sharing her unusual experiences while shooting her film Ribbon, which was released last year & screened on the second day of 9th Jagran Film Festival. Mumbai Premier of Sadho directed by Danish Iqbal, a film in Chhattisgarhi & Hindi, entertained the audiences. Post its screening, a conversation between the directors engaged everyone, who enthusiastically participated. A special screening of the documentary Aamo Akha Ek Se, directed by Prathiba Sharma, followed by a chat with the viewers, explored prospects in such themed movies. Also showcased on the 3rd day were gems like Poomaram, Sudani From Nigeria, Aedan; Garden of Desire & Aalorukkam, all in Malayalam, besides the action packed thriller Ferrous, directed by Shaurya Singh. Kalki Koechlin, spoke about her experience on motherhood post & pre – pregnancy with the film Ribbon and also shared her thoughts about how regional cinema has to struggle a lot in our nation! The conversation by Ram Subramanian on "Master Class by Cinema Of Sellers", involved people who soaked the knowledge beams with immense interest. JFF recommended, Malayalam Film Ee. Ma. Yau., directed by Lijo Jose Pelissery, had the audience rapt & seated. International film in Japanese, Eriko Pretended, directed by Akiyo Fujimura, in 2017, had the onlookers engage in cross culture cinema with developing curiosity in Japanese Motion Pictures. Jagran Film Festival generated some great movie content while connected people from across arena The last day of Jagran Film Fest saw a swarm of celebrities coming to connect with likeminded people, as well as to witness the glittering award ceremony on the final day of the film fiesta. With hours away from closing, Mumbai chapter on Day 4 showcased the impressive Oscar Awards nominated film, Village Rockstar.
Siddharth Roy Kapur Unanimously Re-Elected As The President Of The Producers Guild Of India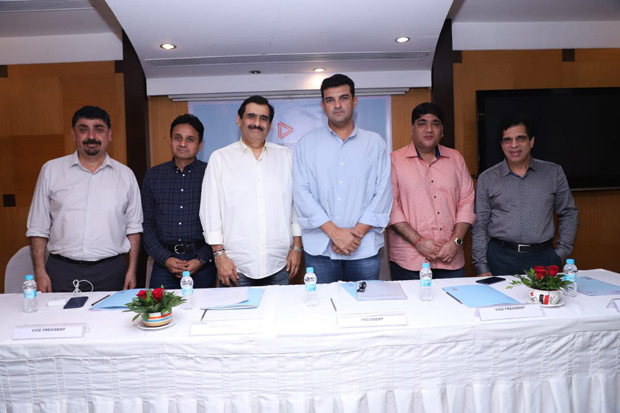 Siddharth Roy Kapur has been re-elected as the President of the Producers Guild of India. He has previously served as the President since Jan, 2017. It was a unanimous decision taken at the 1st ever meeting of newly appointed Guild Council on 28th Sept, 2018. In addition, Sunjoy Waddhwa has also been elected as the Vice President . Priti Shahani & Fazila Allana have been nominated to the Guild Council of Management along with Milan Luthria & Akshaye Widhani who have been included in the Guild Council as Special Invitees. Vijay Singh, Manish Goswami & Apoorva Mehta continues to be part of the Guild Management team as Vice Presidents in addition to Ashim Samanta who will also continue as the Treasurer. As the President, Siddharth Roy Kapur has been the leading voice of the industry over the past 2 years. The Guild has recently signed key strategic alliances such as the one with United Kingdom's Producers Alliance for Cinema & Television and has engaged with key industry & Government stakeholders successfully. Siddharth Roy Kapur founded his own film & digital media production house Roy Kapur Films after a long & successful stint at Disney & UTV.