'Jack And Dil' Slated For Release On 21st Sept 2018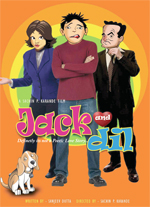 Director Sachin Karande's film Jack & Dil starring Amit Sadh, Arbaaz Khan, Sonal Chauhan & Evelyn Sharma is slated for release on 21stSept.2018. Produced by Sachin Shringare & Sagar Shingare, Jack And Dil is a romantic comedy that features lovable characters of our day to day life. Jack And Dil is a modern day story of new age man Jack (Amit Sadh) carefree, with little materialistic ambitions, the rich businessman (Arbaaz Khan) the effervescent painter wife (Sonal Chauhan) & the model (Evelyn Sharma). The story revolves around the neglected wife, the carefree young wannabe detective novelist his model girlfriend. Their stories intertwine to create humorous romantic entanglements. Jack & Dil also stars Rajdeep Chaudhari, Rajeev Mehra, & Sachin Parikh and has been shot extensively in Goa & Mumbai.

 

 Writer

 

 is Sanjeev Dutta & Music is by Arko  Mukherjee, Ramji Gulati & Argha Banerjee.
Trailer Launch Of 'When Obama Loved Osama'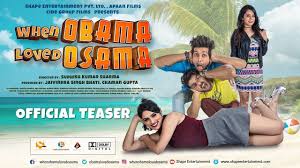 The trailer of upcoming comedy film When Obama Loved Osama was launched recently at The View, a state – of – the – art theatre in Mumbai. Present at the launch were the cast & the crew of the film including lead actors Mousam Sharma, Swati Bakshi, Rahul Avana & Amrita Acharya, producer Jaivindra Singh Bhati & director Sudhish Kumar Sharma. The title of the film had made people in the media curious and they had different ideas & notions about the content of the film. The rib – tickling trailer of the film left everybody in splits and impressed. The cast & the crew, then, went about discussing the film & how the quirky title came about. The film, set in Uttar Pradesh, tracks the journey of its 2 protagonists Aman and Joy who get into a lot of misadventure as they maneuver   their way through split personality disorder, inter – faith romance & political fight. The film has been directed by Sudhish Kumar Sharma who has an experience of 27 years as an editor & a cinematographer. Sudhish had also made Hum Hai Teen Khurafati released in the year 2014. Produced by Shape Entertainment Pvt. Ltd & Apaan Films, When Obama Loved Osama releases on 

July 20, 2018

.
Sushant Singh Is Literally Over The Moon
Sushant Singh Rajput's name has become synonymous with science & technology, esp. vis – a – vis space exploration.

 

 Sushant loves to respond to geeks who can match him on a wide range of topics ranging from science, technology, space exploration, mindfulness, to continental philosophy. It's no secret that Sushant is going to star in India's 1st ever space film. To help bring honesty & authenticity to his character in Chanda Mama, Sushant attended a grueling training camp at NASA involving neutral buoyancy, spacewalk drills, moon walks & zero gravity. Sushant owns one of the world's most advanced civilian telescopes, Meade 14" LX600, through which he attains a closer connection with the stars and enjoys exploring the universe in a way that the naked eye cannot.  Just like Neil Armstrong made his mark on the moon by walking on the "Sea of Tranquility", Sushant has just bought land on the far side of the moon, in a region called the Mare Muscoviense, or the "Sea of Muscovy".   
Pooja Misra Turns Singer
Pooja Misra
 is all prepped up to unveil her debut dance track, "

Hotter Than You

", with a sizzling hot music video. Along with this song she will launch her limited edition perfume in snazzy skull shaped bottles declaring an end of an era of frigidity. Not many know that Pooja has been singing for the jingles of her web series, TV shows, and will debut with a full -fledged dance track as a singer called, "

Hotter Than You

". When she was making her Lovesutra, a sexy & humorous webseries that airs on hungama play app, she managed to conceptualize, create & put together the jingle for the show within a span of 15 minutes, which she penned down herself. However her 2nd jingle for her lifestyle magazine format TV show 

Abhi To Party Shuru Hui Hai

, which aired on e24 bollywood news channel, has been shot in exotic locales and she almost took 6 months to daily fine tune her vocal chords to sing the 1 minute long jingle. The jingle was written by Pooja & Kunwar while the music was arranged by Viplove & DJ Shezwood. Pooja went on to launch her reality show

Spare Me The Crab Mentality

 jingle. The jingle is written by Pooja Misra partnered by composer 

Rahul Tripathi

. Pooja will launch her limited edition perfume in snazzy skull shaped bottles declaring an end of an era of frigidity. 
Shiivam Tiwari's & Rahul Dev Bringing Romantic Suspense Drama '22 Days'
Indian cinema may be churning out blockbusters that set the box office turnstiles on fire but it will need many more movies like Ashique 2 stars Aditya Roy Kapoor & Shradha Kapoor. Now Indian Shiivam Tiwari is bringing another romantic suspense drama 22days starring Rahul Dev &  Shiivam Tiwari. The film has been produced by Mauritius based business man Adhir Gunness, the 1stever Mauritian Producer to produce a Bollywood movie. Shiivam Tiwari hails from Ghazipur and had acted in many regional films, also assisted many known directors, now he is on cloud 9 as he is making his Bollywood debut as a director & actor. The songs have been penned by Sagar Lahori & rendered by Aditya Narayan, Ankit Tiwari, Palak Muchhal, Dipali Sathe & Shaan. The film was shot at beautiful locations of Mauritius.
Kriti Kharbanda Has Started Watching Hollywood Comedies!
Kriti Kharbanda who is eagerly awaiting the release of her family entertainer, Yamla Pagla Deewana Phir Se, has recently signed Sajid Nadiadwala's successful franchise, Housefull 4 to be helmed by Sajid Khan. With the movie being a multi -starrer, Kriti wants to leave no stone unturned in delivering an impactful performance and has started watching popular American comedy series to prep for her role. Housefull 4 is a huge franchise featuring crazy characters. It's a fast comedy & gives the audience less time to get the humor. So one needs to get the timing right. Accordingly, Kriti has started watching popular American comedy series including Crazy Stupid Love, This Is The End & The Big Bang Theory etc during her free time.