Dulquer Salmaan Gets Candid Talking About Irrfan Khan & His Film 'Karwaan'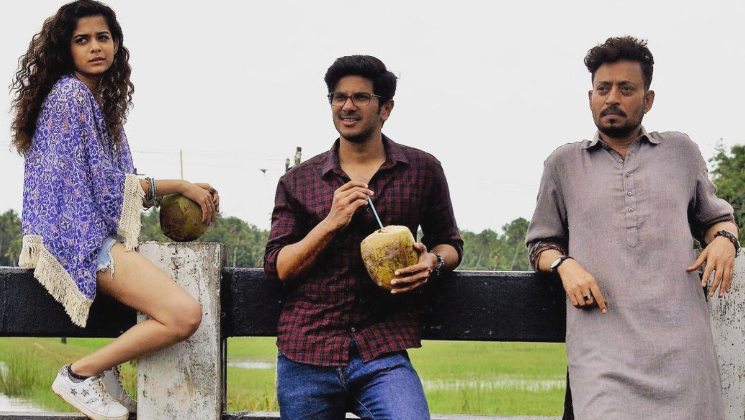 Malayalam superstar Dulquer Samaan made his Bollywood debut with Karwaan released last Fri. The actor essays the role of Avinash who lands up in a most uncomfortable situation surrounded by 2 eccentric characters; Irrfan Khan & Mithila Palkar. Talking about his chemistry with Irrfan Khan, Dulquer Salmaan averred, "Irrfan sir is unbelievably versatile. He adapts & lives the character completely. The way to think, perceive & react at any scene gets adjusted in a flick of time flawlessly. There was so much to learn from him that everyday Mithila Parker & I used to rehearse our scenes rigorously thinking of how Irrfan sir would do." Talking at length, Dulquer opened up stating, "I remember when Akarsh Khurana approached me for the film and told me that I was to share screen space with Irrfan sir, I couldn't believe my ears. I literally took the script to re-check & validate his words." Produced by Ronnie Screwvala, Directed by Akarsh Khurana starring Irrfan Khan, Dulquer Salmaan & Mithila Palkar, Kaarwaan was released on Fri, 3rd Aug, 2018.
Shahid Kapoor Starrer 'Arjun Reddy' Telugu Remake To Launched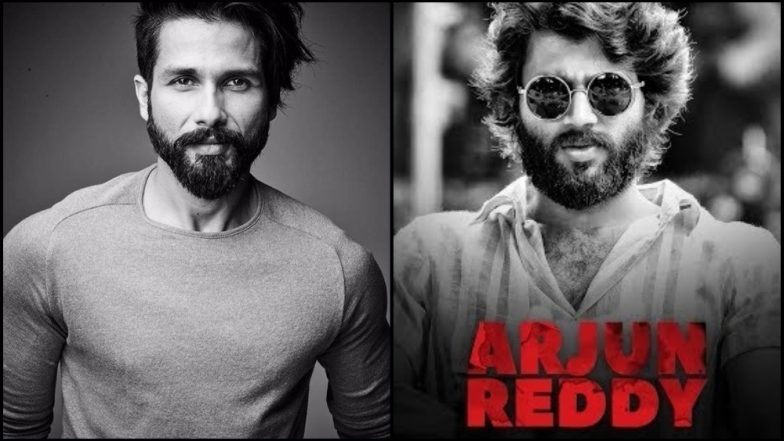 The remake of Telugu hit movie Arjun Reddy starring Shahid Kapoor was launched recently and will go on the floors soon and is all set to be released on 21st Jun, 2019. The movie is directed by Sandeep Vanga & produced by Bhushan Kumar, Murad Khetani, Krishan Kumar & Ashwin Varde.
'Stree' All Set To Take Your Breath Away On 31st Aug 2018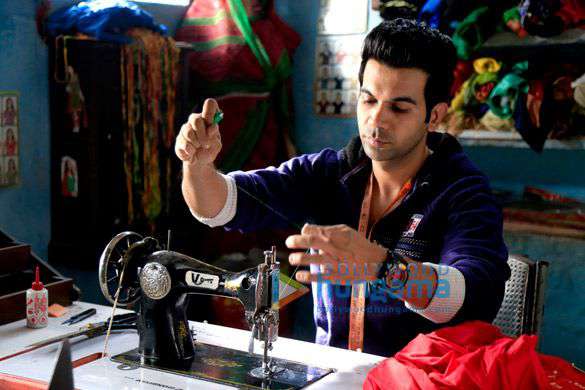 Dinesh Vijan is all set to give a rarely made genre of Horror Comedy with his next film Stree. The film which is made on a true phenomenon had its grand trailer launch recently along with the entire star cast of the film which includes Rajkummar Rao, Shraddha Kapoor, Pankaj Tripathi, Aparshakti Khurana & Abhishek Banerjee. Also, present at the event were director Amar Kaushik, producers Dinesh Vijan, Raj & DK & music composer Sachin-Jigar. The trailer received an outstanding response for the funny yet horror elements which were showcased. Shraddha Kapoor & Rajkummar Rao also taught a few journalists ways of being safe from Stree & draping special Chanderi saree on them. The day was special for Dinesh Vijan who also celebrated his birthday along with the cast & the crew. Stree, a horror comedy has been directed by Amar Kaushik & is all set to release on 31stAug, 2018.
Kangana Ranaut Is The Brand Ambassador For Platinum Corp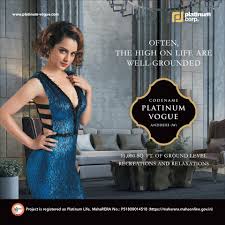 Platinum Corp an established award-winning realty brand from the city, known for delivering contemporary & yet affordable high tech homes, announced the exclusive launch of its premium lifestyle housing project named "Platinum Vogue". Kangana Ranaut who has been named a brand ambassador of the project, unveiled the project at a glittering function followed by a fashion show held at the city's prominent hotel. Self-made, independent &, strong Kangana Ranaut also represents the perfect lifestyle of a fashionista & the enjoyment of all the benefits "Platinum Vogue" has to offer. Kangana Ranaut averred, "It is my pleasure to be associated with Platinum Corp. as their Brand Ambassador! They have been pioneers in smart & affordable housing projects. I understand the importance of owning a house in Mumbai and I am happy that "Platinum Corp' is fulfilling the dreams for many. "Platinum Vogue" is a very promising project with all the modern amenities & high design anyone could ask for. The launch event was anchored by actor emcee Mona Singh, while the performances of stand-up comic Nitin Mirani & choreographer Sandeep Soparkar enthralled the audiences. The star attraction of the launch event "Vogue fashion show" by ace designer Asif Merchant was followed by the appearance of Kangana Ranaut.
Evelyn Sharma Unveils "Millionaires Club"


Country Club is known to build everlasting family clubbing, holiday, fitness & leisure entertainment industry benchmarks. At the launch of the new the Millionaire Membership with actress Evelyn Sharma along with CMD Country Club Y Rajeev Reddy. It's a historic milestone for Country Club. With this new launch they look forward to extend their reach & help grow the country club family. Y. Rajeev Reddy averred, "The Millionaire Membership comes as a boon to many people who want to spend quality time with their families & enjoy all the varied facilities offered by Country club". Y Rajeev Reddy also said that starting from one club in Hyderabad with 400 members in 1989 to 4 Lacs Members today, Country Club today is spread over 50 locales spanning across India, Asia & Middle East, putting Country Club in the global map. Evelyn Sharma speaking on the occasion averred, "I was always astonished about the brand Country Club, one brand more than 50 properties across India & Middle East & over 4 lakh families is something unheard of. This is my 1st association with them & looking forward to be a part of their success stories in future too."
MS Dhonil Bats For Road Safety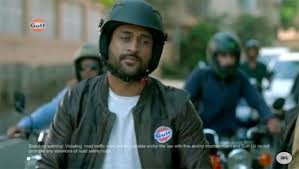 MS Dhoni, walks onto a new field, as Brand ambassador of "Gulf Oil" to create awareness about road safety which today causes major fatalities due to basic flouting of regulations. In day-to-day life, the major reason people break traffic rules is to reach their destination faster. The campaign showcases how Gulf Pride 4T Plus resolves this tension of reaching the destination faster by providing instant pick-up that helps one stay always ahead. This campaign with M S Dhoni is all set to be aired on multidisciplinary channels including online, all the GEC, news, music channels & extending to movie halls activations.The narrative of the campaign is simple, yet tasteful. It's light-hearted, yet highly engaging. It's conversational, yet potent in messaging. The ad highlights the quirky yet annoying road habits that riders often indulge in to reach their destinations faster. MS Dhoni plays the role of the "ideal rider" who is calm & composed on the road, much like his persona on the pitch. With his road etiquette, he is bound to influence young & passionate riders. The campaign is aimed at enhancing brand familiarity leading to strong brand affinity for Gulf Pride 4T plus amongst bikers, and to educate the prospective buyers on the benefits.
Vikram Bhatt Turns Brand Ambassador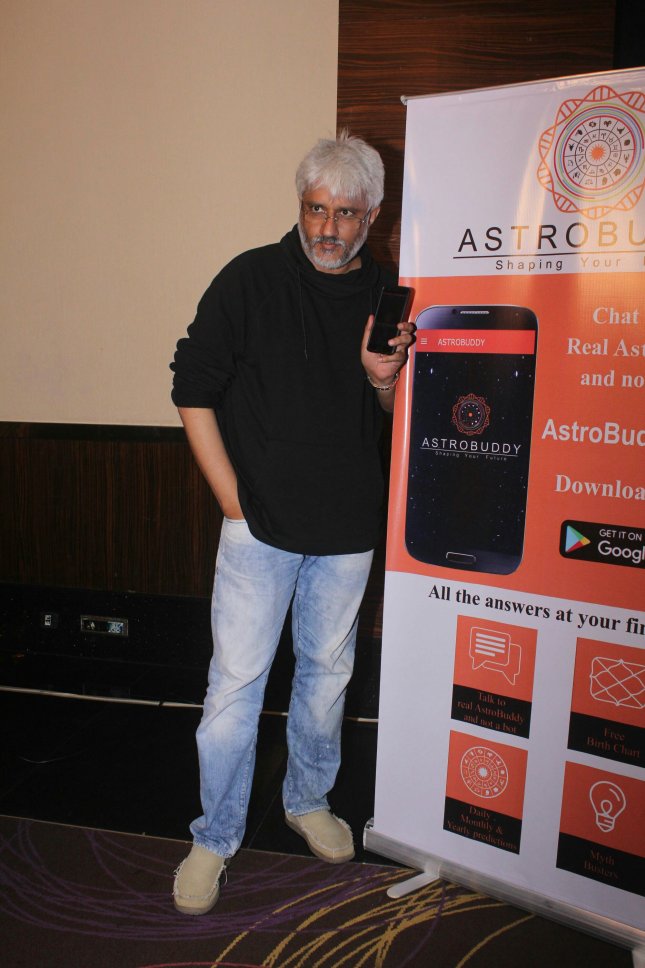 Vikram Bhatt who is synonymous with making thrillers & horror movies, is all set to add one more feather to his cap! He recently became the brand ambassador for an astrology app, Astrobuddy, which is founded by Bhupesh Sharma with a vision to make genuine astrology available to every household on the globe in its truest & most logical form. Astrobuddy is a brand of Nyassa AstroCorp and is a content & service provider for Astrology powering digital & voice astrology products globally. With over 30 million customers they understand diverse audiences sets & content consumption preferences. The app is world's 1st ever Astrology application that facilitates live text chat for the users to seek advice from AstroBuddies. AstroBuddy is a unique service where focus is more on counseling & scientific analysis of birth charts. No religious overtures or age old superstitions are involved in this service. Very soon the live voice service will also be launched for customers in USA, Canada & UK. The objective of setting up AstroBuddy is to dispel the way astrology has been misinterpreted & showcased over & over again. "We work on people's strengths & potential, with the objective of turning their fears into smiles," says Bhupesh Sharma.
Vinay Anand Bags The "Most Versatile Actor" Award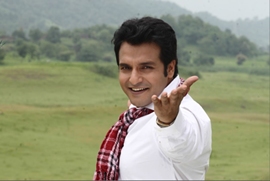 Dishum International Bhojpuri Film Awards (IBFA) 2017 created history last year by being the 1st ever regional entertainment show held in London on 30th Jul, 2017. This year, it spread the power of Bhojpuri culture in Malaysia at the 2nd Dishum IBFA Awards 2018. Adding a touch of Bollywood charm & to grace the occasion present were Kumar Sanu, Dino Morea. Krishna Abhishek, Ragini Khanna, Payal Rohatgi. Apart from them, the Dishum channel owner Vishal Gurnani, producer Abhay Sinha, Durga Prasad, Ramesh Nayyar, Partha Dey, COO, Dishum Broadcasting Pvt Ltd & Aparna Shah, Founder Director, Dishum Broadcasting Pvt Ltd. Vinay Anand got the "most versatile actor award'. The prestigious awards were given away in front of a packed audiences consisting of Manoj Tiwari, Pawan Singh, Nirahua, Ravi Kishan, Krushna Abhishek as well as popular Bhojpuri celebrities including Amprapali Dubey, Madhu Sharma, Akanksha Awasthi, Sambhavna Seth, Rashmi Desai, Payal Rohatgi, who rocked the stage in a glitzy event held in Kuala Lumpur on 21st Jul, 2018.
Mrunal Thakur On Working With Tabrez Noorani & More In 'Love Sonia'



Mrunal Thakur turned a year older on 1st Aug, 2018 and on this wonderful occasion, she got talking about Love Sonia and more. She is playing a phenomenal role in Love Sonia, directed by Tabrez Noorani. The film that is based on child trafficking reunited Tabrez Noorani who is also the Indian producer of Slumdog Millionaire with reel life Latika, Freida Pinto, while simultaneously featuring Hollywood actress, Demi Moore. Mrunal Thakur took the role of Sonia, a young girl from a small Indian village, after a year-long search of a good film that really connected to her. Mrunal Thakur recollects, "Demi Moore shared stories of working with an organization called Thorn (that works towards curbing circulation of child sexual abuse material and stands up to traffickers. I went to Sonagachi, the red light area in Kolkata, and lived there for a couple of days, studying the body language of the girls there." Inspired by true events, Love Sonia is the shocking story of a young Indian village girl whose life is tumultuously & irrevocably changed when she gets entrapped in the global sex trade while trying to save the one person she is closest to, her sister. The film has been shot in Jaipur, Mumbai, Hong Kong & Los Angeles, and will be released in India this Sept. The film has a cast comprising of Hollywood as well as Bollywood actors, including Freida Pinto, Manoj Bajpayee, Rajkummar Rao, Richa Chadha, Anupam Kher, Adil Hussain, Sai Tamhankar, Sunny Parwar, Demi Moore, Mark Duplass & Riya Sisodiya.
Vidyut Jammwal Brings Global Recognition To "Kalaripayattu"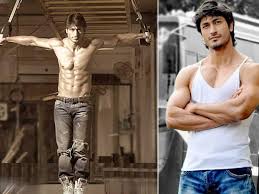 Looper, a highly coveted platform in US has recently released a list of top martial artists across the globe and Vidyut Jammwal is the only Indian to have made it to this prestigious list. Speaking on the achievement, Vidyut Jammwal averred, "This is indeed an honor. Recognition like this inspires me to work harder and this moment makes me feel like a proud Indian". Vidyuit Jammwal whose dream has been to bring "Kalaripayattu" to the world seems to be succeeding and has given Indians another reason to celebrate. Vidyut Jammwal has recently finished shooting for his upcoming family adventure film, Junglee, with renowned film maker Chuck Russell (director of The Mask, Scorpion King & The Eraser). Chuck Russell appreciated Vidyut Jammwal saying, "It's great to see Vidyut Jammwal being noted as the rising star in action films across the world. He has a rare combination of cinematic charm & killer moves that will make him unstoppable after this film. What really distinguishes Vidyut Jammwal is his deep knowledge of the martial art "Kalaripayattu" and his understanding of its philosophy to not only protect & fight, but also use it to heal. I had the pleasure of creating his role in Junglee to play his style of action supporting a positive message. I can't wait for audiences to see it on the big screen." Speaking about the appreciation he received from Chuck Russell, Vidyut Jammwal adds, "Chuck Russel's kind words are like an icing on the cake. Working with him on Junglee was like a dream come true. He pushed me to extract one of my best performances so far." Other martial artists in the list include Ilram Choi, Scott Adkins, Marko Zaror, Lateef Crowder, Wu Jing & Johnny Nguyen.
Akshay Kumar Launches "Peeping Moon"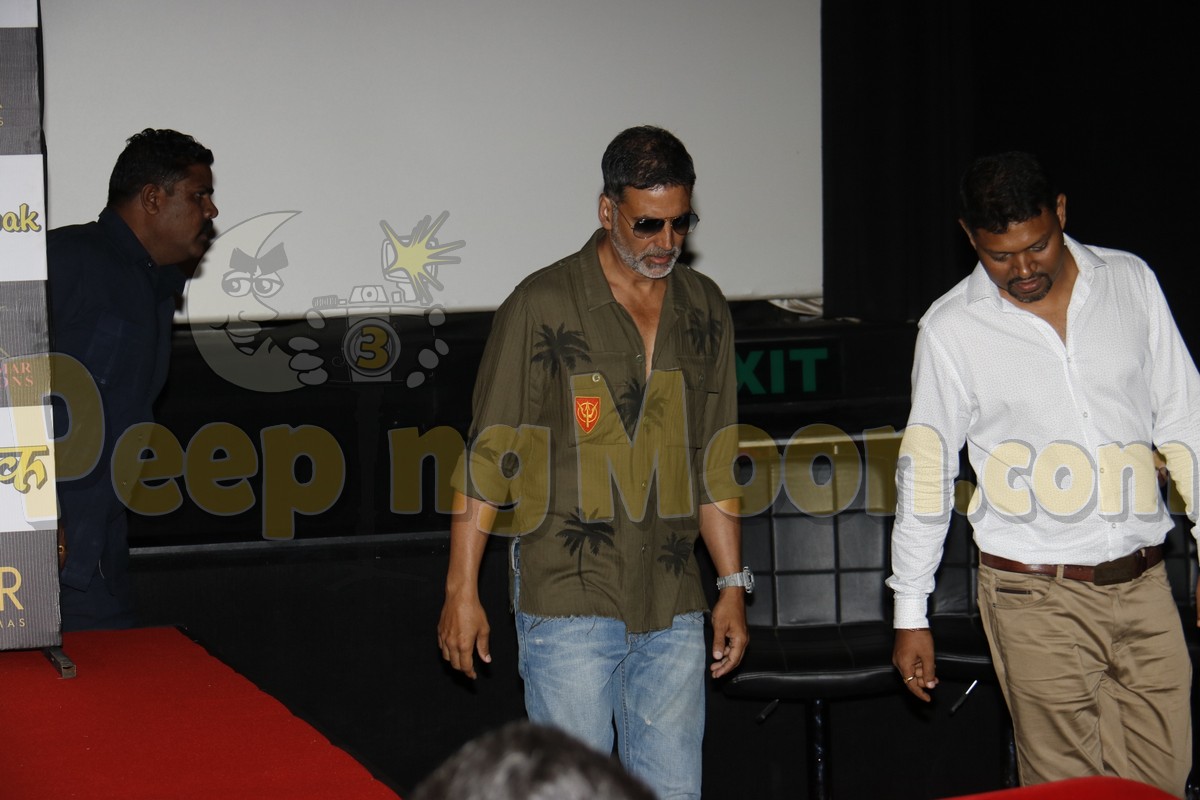 Akshay Kumar launched Clapping Hands Private Limited's new website in Marathi namely Peeping Moon.com. With actor-writer Swanand Kirkire, Akshay Kumar visited the Mumbai office of Marathi Website. Peeping Moon.com. Over a traditional Maharashtrian breakfast of Poha, Batata Vada, Sheera, Missal Pav & Piyush drink, Akshay Kumar did his 1stever Marathi web interview with Swanand. Marathi. Peeping Moon.com, a subsidiary of Bollywood's popular & fast growing digital platform Marathi. Peeping Moon.com, will exclusively cover content of Marathi cinema, TV & theatre including film reviews, stories, gossip, interviews, previews, on-the-sets & behind-the-scenes news, film awards shows, et al. in video & written format. Peeping Moon.com was started in Sept, 2017 by Mark Manuel & Nishant A Bhuse. "After the start of our Bollywood website in English & Hindi a year ago at the back of our minds we always intended to start a Marathi entertainment website seeing how Marathi cinema was growing and leading Bollywood actors were getting involved in it." Akshay Kumar added, "For Bollywood news, there are several online entertainment sites, but for a person like me who admires Marathi cinema, drama & TV, there is now also Marathi. Peeping Moon.com. I congratulate the team."
Nandita Das Heads The Jury For The 2018 Edition Of Unesco-Madanjeet Singh Prize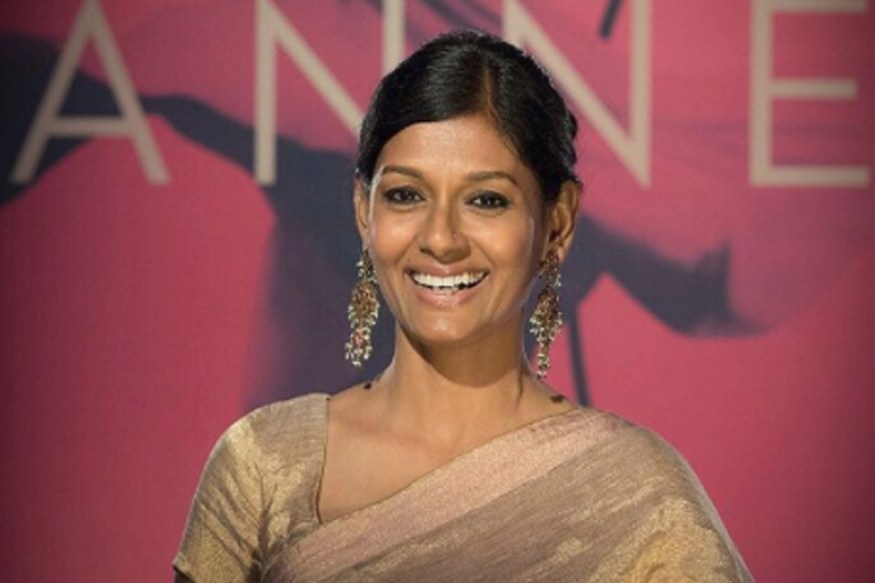 Nandita Das – actor, director & social advocate, along with Professor Nadia Bernoussi, celebrated academic & legal expert from Morocco, and Abdoulaye Konaté, prominent artist & cultural voice in Mali, comprised the Jury for the 2018 edition of UNESCO-Madanjeet Singh Prize. This prize awards a hundred thousand US dollars to individuals, institutions, other entities & non-Governmental organizations that have made exceptional contributions & demonstrated leadership in the promotion of tolerance & non-violence. Nandita Das was unanimously elected President of the jury by her fellow jurors. Says Nandita Das, "As I am in the midst of a gruelling schedule, working towards the India release of Manto and its participation in international film festivals, to suddenly get this invite to participate in a meaningful initiative was truly rejuvenating. I have always enjoyed the deliberation process. The last time was in 2016 for BBC World in London. They had asked me to be on a similar jury for a programme called Outlook Inspirations. Having been caught up with Manto, it was actually refreshing and brought back a certain sense of hope. Having said that, it was not an easy process. To take out time from a hectic schedule, to review profiles of the candidates from all over the world that were nominated, and then deliberate extensively in order to arrive at a consensus during the meeting in Paris".
Hollywood Actress Tammy Barataia Was Saved From Drowning In The Ganges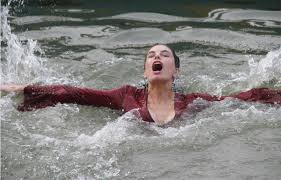 Recently, Hollywood actress Tammy Bartaia survived a fatal accident in Varanasi. The team of The Legend Of Peacock had come to shoot for the film under the direction of Atul Garg. One of the important scenes of the movie was to be shot in the Ganges River. The Director & the cameraman were shooting well for this scene, but then suddenly Atul Garg saw Tammy Barataia drowning in the river. Atul avers, "My assistant immediately jumped into the river to save her from this life threatening incident." Atul Garg has confirmed the incident related to Tammy Barataia. The Legend Of Peacock is Atul Garg's 1st ever Hollywood movie. The movie, being made in Hinglish, is to be shot in many countries including India. In Varanasi, 45% of the shooting has been done. Besides India, the film will also be shot in US & Turkey. The shooting of The Legend Of Peacock in Varanasi has been done on ghats like Asshi Ghat, Manikarnika Ghat. Apart from Hollywood actors like Tammy Bartaia, Tim Bruce, Brent, Bollywood actors like Asima Sharma, Manish Wadhwa, Abbas Khan will also be seen in the movie.
Bhushan Kumar To Join Hands With Ajay Devgn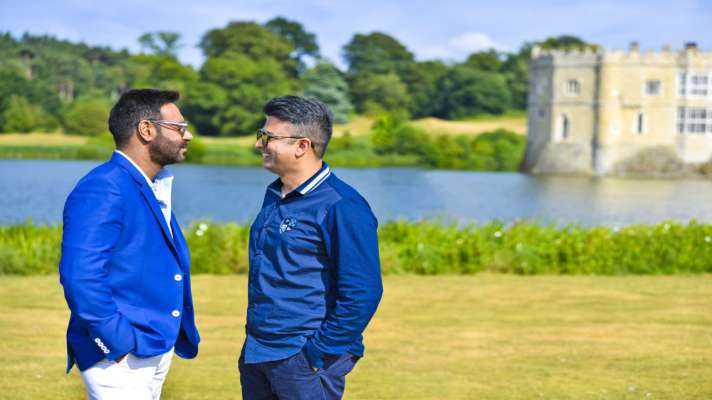 Bhushan Kumar the music baron turned film producer of T-Series is all set to now produce a much-awaited costume drama, Taanaji along with Ajay Devgn. Both Bhushan Kumar & Ajay Devgn have had a very successful association in the past, Raid being their recent blockbuster. Bhushan Kumar had recently flown to London to meet Ajay Devgn for a discussion over Taanaji, which will mark Bhushan Kumar's 1st ever venture into costume drama. The film is all set to go on the floors by the end of Sept, 2018, after Ajay Devgn finishes the shoot of Akiv Ali's next which is being produced by Bhushan Kumar & Luv Ranjan & Indra Kumar's Total Dhamaal. The movie Taanaji will showcase the life of this unsung warrior of glorious Indian history, who fought for his People, his soil & his King Chhatrapati Shivaji. The film will be directed by Om Raut, who has to his credit Lokmanya Ek Yugpurush (2015), the Marathi biopic on Bal Gangadhar Tilak.
'Girl In The City' Will Give People A Lot Of Courage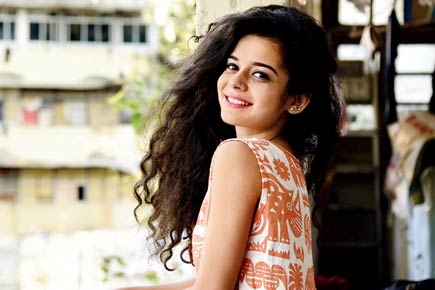 Bindass Originals Channel's Girl In The City – Chapter 3, has been receiving all the love & the accolades from the fans. The show has already crossed the esteemed 10 million views mark on social media, within just a couple of weeks into the show. The lead actress Mithila Palkar is extremely happy that the show has entered its 3rd season as she has been associated with the show since its inception. Says Mithila Parkar, who is also seen in the film Kaarwaan with Dulqar Salmaan & Irrfan Khan, "Girl In The City is a very relatable show and we all are relatable characters. Meera, represents all of those who have moved from the smallest towns to a bigger city to achieve their dreams and the struggle is real. The show will give people a lot of courage and they will feel there are more people like Meera and like themselves. It will give them hope." While her on-screen character is fashion designer, Mithila Parkar wishes if she adopted her traits, she would have a better sense of fashion as she prefers to wear pajamas' always. Girl In the City – Chapter 3 also features Rajat Barmecha & Swati Vatssa in pivotal roles.
Sonu Sood Champions The Cause Of Drug Free Punjab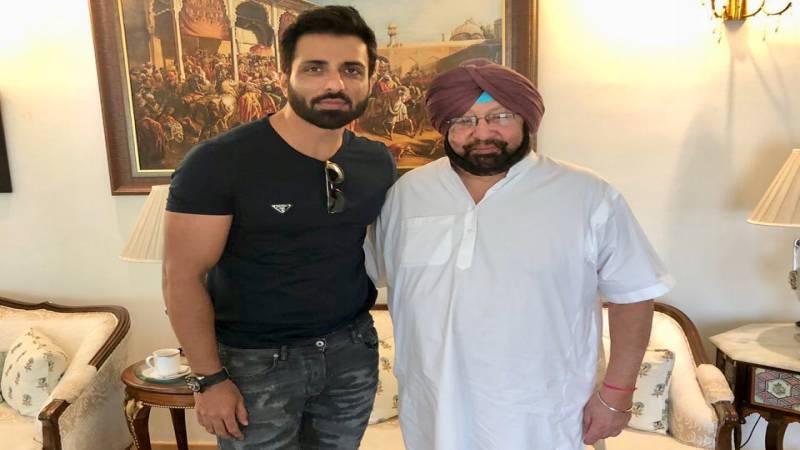 Besides being a talented actor, Sonu Sood is well-known for his philanthropic work & his association with several charitable causes over the years. Not many know that the large-hearted actor has been tirelessly working for the serious cause of drug abuse since more than a year now in his hometown, Punjab. In fact, Sonu Sood recently met Punjab Chief Minister Captain Amarinder Singh and appreciated the state Government's efforts towards eradicating drugs from the state. A source informs, "Sonu Sood has been effortlessly working for the anti-drug campaign in Punjab with the help of several top Government officials & cops. During his free time, the actor visits Punjab to assist the people working on the campaign thereby helping them to create awareness around the drug abuse. Sonu Sood will be personally meeting drug addicts and make them realize the hazardous effects of drug consumption & advocate them to maintain a disciplined & a healthy lifestyle."
Annup Sonii Opts Out Of 'Son Chiriya'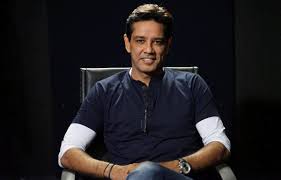 Annup Sonii has for long been anchoring the reality-based television show, Crime Patrol on television, and because of his busy schedule, he couldn't take up any other project because of the hectic shooting schedule, including Abhishek Chaubey's Son Chiriya featuring Sushant Singh Rajput & Bhumi Pednekar. "Yes I lost out on it as they wanted a certain look from me, but my show, which required me to be clean-shaven, They needed me to grow a beard of 30 days, which wasn't possible," informs Annup Soni. So, after his contract with the show ended, Annup Soni decided to get back to cinema. "I want to send across this message to everyone in the industry, that I am available for films! 8 years is a long gap, and I lost touch with many filmmakers. I couldn't forge relationships with the new ones. My last film was in 2008 named Yeh Hausla, directed by Nagesh Kukunoor, and it never released. I did 2-3 films after that, but then I got this show," he says. Annup will soon start shooting for Prasthaanam, starring Sanjay Dutt. "The film is about relationships. Me, Sanjay and more characters are part of one family, and my character goes through some kind of incident, which changes the whole story," he adds.
'Manto' To Be Screened At The Toronto International Film Festival 2018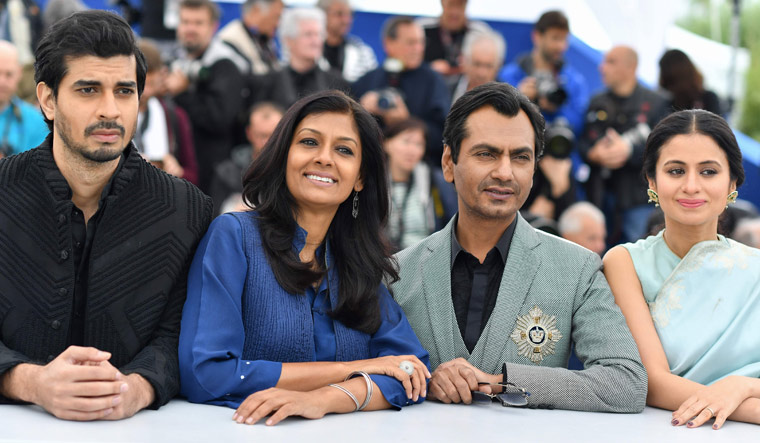 Saadat Hasan Manto (1912-1955) is considered one of the greatest writers born, with his literature being well ahead of its time. Bringing alive the legacy of the man and his turbulent yet inspirational story on the silver screen is Nandita Das' directorial venture, Manto. The film has now been selected for a screening at the prestigious Toronto Film Festival 2018 (TIFF) scheduled from 6th Sept, 2018 to 16th Sept, 2018. Ajit Andhare – COO, Viacom18 Motion Pictures averred, "Saadat Hasan Manto's life & work on celluloid is a dream we have nurtured with Nandita Das for a while now. Nandita Das shares, "I have been to TIFF as an actor many a time, right from my 1st ever film, Fire, in 1996. The last time I was there for the world premiere of Firaaq in 2008. So, it has been 10 long years! I am so looking forward to being back, and that too with Manto. TIFF attracts a very engaged & enthusiastic audience, both international & diaspora of the Subcontinent. Portraying the fearless writer Manto is the versatile actor Nawazuddin Siddiqui while Rasika Dugal plays his ever-supportive wife; Safia. The film also features Rishi Kapoor, Javed Akhtar, Ranvir Shorey, Paresh Rawal, Gurdas Mann, Divya Dutta et al. Manto is produced by Filmstoc & co-produced by Shamas Nawab Siddiqui & Nawazuddin Siddiqui's Magic If Films.
Sonal Chauhan Gears Up To Prepare For Mahesh Manjrekar's Next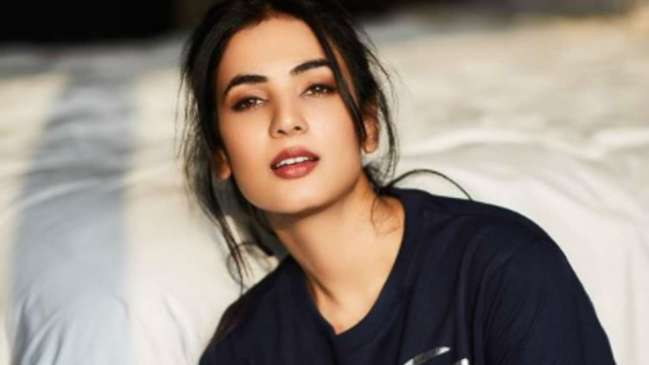 Sonal Chauhan, who is eagerly awaiting the release of her forthcoming war drama, Paltan, has been officially signed by director Mahesh Manjrekar for his next untitled movie, also featuring Vidyut Jamwal & Shruti Haasan. Interestingly, Sonal Chauhan who plays the role of Chandramukhi in the underworld gangster drama will be seen performing several scenes which will be high on drama. Accordingly, preparing for the same, the talented actress has started rehearsing with a theatre group featuring senior artists to prep for her intense scenes that she would be shooting soon. It's learnt that Sonal Chauhan has to perform several intense, high-on drama scenes in the film and she has been rehearsing with several theatre actors to get the right expressions & nuances for her character.
Nupur Sanon – A Brand's Favorite!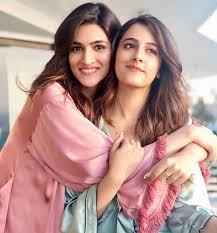 Nupur Sanon recently collaborated with her sister Kriti Sanon to shoot for their 1st ever commercial of a popular hair oil brand. Interestingly, Nupur Sanon has been hugely appreciated for her vivacious look & cute chemistry with sister Kriti Sanon in the commercial. She looks bubbly & very confident for her 1st ever acting debut and has a great screen presence too. Such has been the craze & the popularity of the commercial that Nupur Sanon has been recently approached for not 1 but 4 major brand shoots to endorse their products along with Kriti Sanon. Yes, you read it right! A source says, "Nupur Sanon, who is gearing up to make her mark as an actor in Bollywood, is known for beautiful looks & a major social media following is becoming quite popular amongst the fashion critics with her recent appearances."