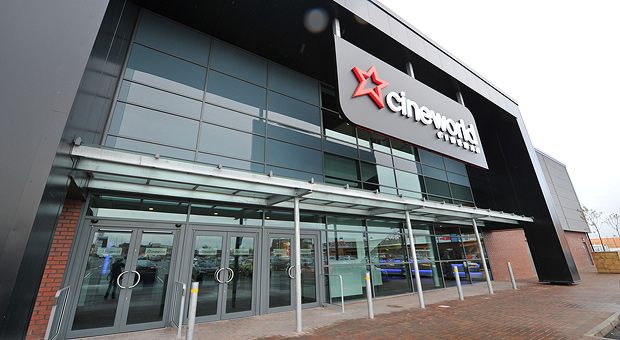 British theater chain Cineworld has sealed a deal to acquire US based Regal Entertainment Group for $3.6 billion. Finalization of the deal was announced on Tues by Cineworld, which will pay $23 per share of Regal. "The acquisition will create a globally diversified cinema operator across 10 countries and allow Cineworld to access the attractive North American cinema market," Cineworld told after agreeing on terms with Regal Entertainment for the all cash buyout. Regal Entertainment operates 561 cinemas in 43 states and other US territories, with a total of more than 7,300 screens. The Knoxville, Tenn based company's major brands are Regal Cinemas, United Artists Theatres & Edwards Theatres.
NEIL CROSS INKS A DEAL WITH FREMANTLEMEDIA
The writer of Idris Elba cop series Luther and upcoming end – of – the – world thriller Hard Sun has signed up with FremantleMedia. Neil Cross will exclusively bring new projects to the production giant & its distribution arm will sell his series internationally. Neil Cross will work closely with Kate Harwood, who runs FremantleMedia label Euston Films, which made Hard Sun & FremantleMedia's US drama chief Dante Di Loreto. "What we do should be fun, and working with Kate Harwood & Euston Films on Hard Sun has been just about the most enjoyable, as well as the most satisfying, experience of my professional life," Neil Cross averred.
VISIT FILMS PARTNERS WITH UK NETWORK DISTRIBUTING
The US sales company Visit Films has announced a partnership with leading UK independent distributor Network Distributing, which was sealed at this year's Ventana Sur market in Buenos Aires. The deal will see Network Distributing picking up the responsibility for the release of Visit Film's back catalog for physical media formats including DVD, Blu – ray and any other physical formats that may pop up. The deal was negotiated in Buenos Aires this week by Visit Film's Ryan Kampe & Network Distributing's Tim Beddows. Visit Films is a New York based, international sales company that specializes in director driven work which premieres at any of the world's most prestigious film festivals.
UK THE FAR PAVILIONS ALL SET FOR $150 MILLION REMAKE
More than 3 decades after HBO turned it into its 1st ever miniseries, the M. M. Kaye novel "The Far Pavilions" is being re – made for the small screen as an epic UK – India co – production budgeted at £113 million ($150 million). Beautiful Bay Prods., which is run by the Indian based Michael Ward & the British based Colin Burrows, will make the series. It will stretch up to 30 one hour installments, although no broadcast or streaming partner has yet been confirmed. The producers said that the project will feature big name Indian talent & a British & Indian crew. Post -production will be handled out of London by an as – yet – unconfirmed outfit in the English capital. The 1978 novel tells the story of an Englishman brought up as a Hindu during the time of the British Raj.
CHANNEL 5 PICKS UP WILL & GRACE REVIVAL
Channel 5 has picked up the NBC's revived Will & Grace and will run the new seasons of the super hit US comedy in UK. The Viacom owned broadcaster has a track record of acquiring US shows, recently picking up the latest season of Fox's rebooted The X Files. The new & the 9th season of Will & Grace, appearing more than a decade after its then final season as part of the NBC's powerhouse on Thurs night comedy lineup, was given an expanded 16 installment season order by the NBC earlier this year after a strong start in the ratings. The network has since ordered another 13 episodes season of the revival, which reunites the 4 stars of the original series: Debra Messing, Eric McCormack, Karen Mullally & Sean Hayes, all of whom won Emmys for their performances.
SKY SCOOPS 2 CBS SERIES
Sky has scooped UK rights to CBS series Seal Team & Instinct. The pay – TV giant is upping it's spend on original content and has just unveiled a new slate of homegrown drama, but also has a tradition of playing big – ticket US series on its channels. Seal Team is on CBS in U.S and the network recently gave it a full season order. Focused on an elite Navy Seals unit in training and in the field, it stars David Boreanaz and is faring well in US, averaging 10.3 million viewers in its Wed slot. At the May screenings this year some international buyers questioned whether the military themed shows on offer would perform well internationally.
DISCOVERY NAMES EMEA & UK LEADERS
Discovery has reorganized a large chunk of its international business, with Kasia Kieli stepping up to take over its operations across Europe, Middle East & Africa. The restructuring sees Discovery bring several of its regional businesses together under a single EMEA banner for the 1st time ever, and comes as the company attempts to drive its traditional pay – TV business alongside free – to – air, digital, and direct – to -consumer operations. James Gibbons has been named head of Discovery in UK, the company's largest single market internationally. Reporting to Kasia Kieli, he also takes charge of its businesses in Australia & New Zealand. Marinella Soldi becomes the company's EMEA strategy & content chief, as well as continuing to run Southern Europe as managing director.
CANADA CINEFLIX BACKS CONNECT3
Production & distribution firm Cineflix has backed Connect3, a startup production business run by Pablo Salzman, the son of Cineflix co – founder & co – CEO Glen Salzman. Pablo Salzman was previously VP of commercial affairs at Cineflix. He has been at the forefront of Canadian company's recent efforts to bring formats from Quebec to the international market and will continue in that respect. Connect3, his new Montreal based venture, will seek to connect other independent producers with writers & showrunners and to package their projects for streaming platforms & TV channels. As a Canadian company, Connect3 can access the raft of funds, incentives & treaties that have made the country a co – production hot spot.
FRANCE NETFLIX LAUNCHES ROMANTIC COMEDY SERIES
Rolling off Marseille, Netflix is launching its next French language original series, an as – yet – untitled half hour romantic dramedy set in modern day Paris. The series, based on an original idea by British writer Chris Lang, will be directed by Noemie Saglio. Francois Florentiny's Paris based banner UnRATED is producing, with Anne Thomopoulos, Florentiny & Lang executive producing. The show will start shooting on locales across Paris early next year. It will mark Netflix's 2nd French language series to go into production after Marseille which is now in its 2nd season. Penned by Lang, along with Teisseire & Saglio, the 8 episode series follows a group of friends who embark on a misguided attempt to help their perpetually single girlfriend Elsa regain faith in dating & find love. But things take an unexpected turn when they set Elsa up with a seemingly perfect bachelor who happens to be a male escort.
PHARES ET BALISES RAMPS UP TV DRAMA PRODUCTION
Phares et Balises, one of France's top documentary production banners, is expanding its slate of high profile drama series and moving into feature films. The Paris based company, launched 25 years ago by Jean Labib, has partnered up with Alvaro Longoria of Spain's Morena Films & Laura Bickford in US to develop the feature film The Man Who Loved Dogs, which Narcos helmer Jose Padilha is attached to direct. The English language project, adapted from Leonardo Padura's novel, is a multilayered political thriller revolving around the encounter between a struggling Cuban writer & an exiled Spaniard who turns out to be the man who assassinated Leon Trotsky in Mexico City in 1940.
JAPAN
FULL METAL ALCHEMIST OPENS ON TOP
Fumihiro Sori's Full Metal Alchemist, an action fantasy film based on Hiromu Arakawa's best selling comic, bowed at #1 for 2nd Dec, 2017 &.3rd Dec, 2017 weekend in Japan. Distributed on 441 screens by Warner Japan, the film earned $3.3 million on 291,000 admissions over 3 days. 2nd place belonged to The Last Shot In The Bar 3, the 3rd entry in a Toei action comedy series about a PI who roams the Susukino entertainment district of Sapporo. Distributed on 334 screens by Toei, the film took $1.3 million on 116,000 admissions. This was slightly down from the 2013 previous series entry and the film is expected to finish around $10 million.
TOEI ANIMATION TEAMS UP WITH MANGA PRODUCTIONS
Japanese animation productions major Toei Animation is teaming up with Saudi Arabia's Manga Productions to produce animation titles & films to be released in both countries. The new tie – up was unveiled on 16th Nov, 2017. Manga Productions, which is affiliated with Saudi Crown Prince Mohammed Bin Salman's MiSK Foundation, focuses on producing animations and developing video games with creative & positive content targeting different local & international social groups. Bukhari Isam, CEO of Manga Productions, said that his company will do pre – production or prepare designing content to be produced in Japan.
KIYOFUMI NAKAJIMA APPOINTED
Japanese anime powerhouse, Studio Ghilbi has appointed a new president, Kiyofumi Nakajima, who was director of the Ghibli Museum in Mitaka, Tokyo since 2005. He replaces Koji Hoshino, who moves into the chairman spot after serving as Ghilbi president since 2008. As president Kiyofumi Nakajima is in charge of the studio's business side, including the construction of a projected theme park in Aichi Prefecture in Western Japan. Studio co -founder Toshio Suzuki will continue to serve as head of production, focusing on the new Hayao Miyazaki film now in the works. Titled Kimi – tachi Wa Do Ikiru Ka (literally, How Do You Live?), it officially started production in Oct, 2017 with a completion date set some time in the next 3 or 4 years.
TOKYO DISNEY RESORT SET FOR MAJOR EXPANSION
Oriental Land, which operates the Tokyo Disney Resort complex that includes the Disneyland & DisneySea theme parks, has revealed plans for a massive expansion. Completion is expected in 2023. The company plans to invest nearly $2.7 billion to upgrade & expand facilities & attractions, while planning to double visitor numbers by 2020, the year of the upcoming Tokyo Olympics. With the planned expansion the 100 hectare complex is expected to grow 30%. Oriental Land operates Tokyo Disney Resort under license from Disney. Since its start in 1983 with the opening of Tokyo Disneyland, the theme park, hotel & shopping complex in Chiba Prefecture, has grown to attract nearly 30 million visitors annually.
CHINA
CHINA REASSERTS CYBER SOVEREIGNTY POLICY
Apple's Tim Cook & Google's Sundar Pichai was in attendance this weekend at the World Internet Conference in Wuzhen, China. There, they would have heard Chinese President Xi Jinping, in a letter read to delegates, again reassert the doctrine of cyber sovereignty, the idea that each country has the right to govern the Internet how it likes within its own borders. Xi Jinping said that the world should respect that sovereignty, foster a spirit of partnership, advance development, safeguard security, participate in governance, and share the benefits. "Building a community of common future in cyberspace has increasingly become the widespread common understanding of international society," Xi Jinping told.
COCO DOUBLES SCORE IN 2ND WEEKEND
Pixar's Coco enjoyed a stirring 2nd weekend at the Chinese Box – Office tuirnstiles. It more than doubled its earnings as it held on to top spot. Unlike its opening weekend, where it had to come from behind, Coco was dominant on every day of its 2nd weekend. And every day represented spectacular improvements. Fri's $7.74 million take was a 300% improvement on its opening day, according to data from China's Ent Group. Sat's $19.2 million was a 171% improvement. Sun's $16.8 million was a 94% outperformance. They added up to a $43.7 million 2nd weekend, up 147% on its $18 million opening 3 days. That is Disney's 2nd highest weekend for an animated film in China, after Zootopia. It was also a wide margin ahead of the film's $26.1 million 2nd weekend in North America. Having come from behind in its opening a week earlier, the film has benefitted from the strong word of mouth all week, despite all the ghosts that could have posed problems with China's superstition averse censors. Its cumulative in China now stands at $75.4 million, the 3rd highest score in China for either a Disney or a Pixar animated film.
HBO ASIA SETS SLATE OF ORIGINAL SHOWS
HBO Asia, the pan regional unit of pay – TV giant HBO, has unveiled 3 new original shows that will go on air in 2018. It also announced continuations of its Teenage Psychic series, and further 2 instalments in its collection of Chinese language martial arts TV movies. The announcements were made on Thurs, at Singapore's Fullerton Hotel, just across the bay from the ongoing Asia TV Forum & Singapore Media Festival events. The new shows are Folklore, a 6 part horror anthology that takes place across multiple Asian territories; Grisse, an 8 hour drama series set in the 18th century Dutch East Indies; and Miss Sherlock, an 8 part Japanese language drama series, made as a joint venture with Hulu Japan.
MAGIC MALL UNVEILS LUO BAO BEI
Beijing children's & family content development company, Magic Mall is showcasing its new animated series Luo Bao Bei at Asia TV Forum in Singapore this week. 9 Story Distribution International is handling global distribution & merchandising rights to Luo Bao Bei, excluding China. The international launch follows its launch on Chinese broadcaster KAKU on 20th Nov, 20-17, and the following day on all leading Chinese digital platforms. The 52 x 11 minute episode series is a Chinese – UK co – production between Magic Mall & Cloth Cat Animation, a Cardiff based studio and the largest animation production company in Wales.
EUROPE
FOX TO LAUNCH NG SERVICE IN EUROPE & AFRICA
Fox Networks Group will launch a National Geographic on demand service in Europe & Africa in the New Year. In his 1st major interview since taking the helm of Fox Networks Group Europe & Africa 3 & a half years ago, Jan Koeppen told Variety about the new National Geographic+ non – linear service and his goal of bringing the box – set, binge – viewing experience to fans of factual programming. Jan Koeppen averred that National Geographic+ has been designed to appeal to the most sought after millennials demographic. The key is to reinvent the on demand experience for factual fans and allow viewers to binge the same way they do with drama.
HBO EUROPE LANDS GUNPOWDER
HBO Europe has loaded up on Gunpowder and will show BBC period series on its networks in the Nordics, Central & Eastern Europe & Spain. The 3 parter is a retelling of 17th century Gunpowder Plot to blow up the British Houses of Parliament. Game of Thrones star Kit Harington plays the lead role of Robert Catesby, a persecuted Catholic who hatched the plan. Harington is a direct descendant of Catesby and helped develop Gunpowder through his production company Thriker Films. It made the show with Kudos, which is part of Endemol Shine Group. Endemol Shine International sells the series & inked HBO Europe deal.
AUSTRALIA
AUSTRALIA TO PROBE GOOGLE & FACEBOOK
The Australian Government said Mon that it would open an inquiry into Facebook & Google and their impact on the media industries. The move was announced by Australian Consumer & Competition Commission. It follows a revamp of media laws in Sept this year. The ACCC said that it would look at "the impact digital search engines, social media platforms and other digital content aggregation platforms are having on competition in media & advertising services markets." A preliminary report will be published early in Dec, 2018, with a final report due in early Jun, 2019. "The ACCC will look closely at the longer – term trends and the effect of technological change on competition in media & advertising," Rod Sims, the ACCC chairman, said.
LION SWEEPS AACTA TECHNICAL AWARDS
The Weinstein Company's Lion completed a clean sweep of technical prizes awarded by Australian Academy of Cinematographic & Television Arts. In the documentary categories, Whiteley emerged with 4 of the 7 prizes on offer. The awards, which range from editing to screenwriting, were presented on Mon at a lunch. The AACTAs in performance categories will be presented at an evening event on Wed. The Academy has in recent days been rocked by unspecified allegations made against leading Australian actor Geoffrey Rush. The star, who won an Oscar for his performance in Australian film Shine, resigned as president of AACTA on Sat. He has denied allegations of improper behavior & sought clarifications of the complaint apparently made while he was engaged with Sydney Theatre Company's King Lear. Lion, directed by Garth Davis & executive produced by Harvey Weinstein, US executive now surrounded by scandal, won AACTA awards in all & categories it was nominated. Having won in the "Best Adapted Screenplay" category, it was ineligible for "Best Original Screenplay". That was won by Ali's Wedding.
GEOFFREY RUSH RESIGNS FROM AUSTRALIAN ACADEMY
Oscar & Golden Globe winning actor Geoffrey Rush resigned on Sat as president of Australian Academy of Cinema & Television Arts. The move follows allegations earlier in the week of inappropriate behavior, and comes just days before the academy hands out its annual awards. One of the world's best known performers, Geoffrey Rush has credits that include The King's Speech, Pirates Of The Caribbean & Shakespeare In Love. He won the "Best Actor" Oscar for Shine. The allegations against him emerged Wed when Sydney Theatre Company revealed that it had received a complaint about Geoffrey Rush after he appeared in King Lear there 2 years ago.
GERMANY
BETA FILM BOARDS BRIDGE
Beta Film has boarded international sales for Pagan Peak, a German thriller series created, penned & directed by Cyrill Boss & Philipp Stennert. The 8 hour series is being produced by Wiedemann & Berg for Sky Deutschland, which has earned top ratings with another German crime series, Babylon Berlin. Now shooting, Pagan Peak is all set in icy Alps and follows German detective Ellie Stocker (Julia Jentsch), who has to team up with Austrian counterpart Gedeon Winter (Nicholas Ofczarek) to investigate the murder which was propped up right on the German – Austrian border. Pagan Peak is inspired by Danish – Swedish hit format Broen or Bron from Filmlance International, or The Bridge in English. Filmlance International is a subsidiary of Endemol Shine Group.
ISLE OF DOGS TO OPEN 2018 BERLIN FILM FESTIVAL
The world premiere of Wes Anderson's animated Isle Of Dogs will open the 2018 Berlin Film Festival, the 1st animated movie to do so in Berlinale history. It will be whimsical auteur Wes Anderson's 4th film in competition at Berlinale, following The Royal Tenenbaums (2002), The Life Aquatic With Steve Zissou (2005), & The Grand Budapest Hotel (2014). The Grand Budapest Hotel also opened the Berlin Film Festival and won Silver Bear Grand Jury Prize. "I'm most delighted that Wes Anderson will kick off the Berlinale competition again," festival director Dieter Kosslick told on Mon. "Isle of Dogs will be the 1st animated film to open the festival.
DEBATE OVER DIETER KOSSLICK'S LEADERSHIP HEATS UP
The Debate over the future direction of the Berlin Film Festival has intensified in Germany, with a slew of high profile industry players throwing their support behind longtime chief Dieter Kosslick in response to a call by dozens of German filmmakers for a new start when his contract expires in 2019. Germany's Association of Film Distributors, Studio Babelsberg & German Federal Film Board have all expressed support for Dieter Kosslick and praised his leadership of Berlinale and contributions to the industry in what has become an extraordinary public dispute barely 2 months before 2019's edition of the festival. In an open letter last week, 79 German filmmakers, includin Maren Ade & Fatih Akin, called for "a new start" at the festival and recommended a transparent process in selecting Dieter Kosslick's successor and examining fundamental changes to the event.
KOREA
SWINDLERS' REMAINS ON TOP
Showbox's The Swindlers remained on top of the South Korean Box – Office turnstiles earning $5.13 million from 672,000 admissions between Fri & Sun. The crime thriller has a cumulative total of $21.5 million from 3 million admissions after 2 weekends on release. 3 Wed, 20th Nov, 2017 openers, Forgotten, Murder On The Orient Express & The Chase, landed in 2nd to 4th places. South Korean mystery thriller Forgotten, a Megabox release, earned $4 million admissions between Wed & Sun. Directed by Zhang Hang – Jun, Forgotten sees the story of 2 brothers who experience strange events as they move to a new place. Murder On The Orient Express earned $3.46 million over its opening 5 days. NEW's The Chase, a thriller featuring 2 characters who hunt down the suspect of a long unsolved crime, earned $1.92 million. Forgotten The Chase will stream on Netflix after their theatrical runs in Korea. Justice League slipped to 5th place, suffering a week – on – week drop of 79%. The Warner Bros. release earned $414,000 between Fri & Sun for a total of $13.2 million after 3 weekends. Re – released on Wed, Gil Junger's If Only landed 6th. The romance drama earned $397,000.
VINCENT CASSEL JOINS TOP KOREAN CAST
Leading French actor, Vincent Cassel has joined the cast of Sovereign Default, an upcoming Korean made financial drama. The lead roles go to Korean stars Yoo Ah – In & Kim Hye – Soo. The film starts production this month through Zip Cinema. It is all set for a release in Korean theaters by CJ Entertainment late in 2018. Directed by Choi Kyun -Hee, Sovereign Default is set during the 1997 Asian Financial Crisis. All the action takes place during a week when South Korea had to be bailed out by the International Monetary Fund. Yoo plays an investor betting against the country, while Kim represents a senior financial analyst at the Bank of Korea.
SINGAPORE
TAIPAN STRIKES SLATE DEAL
Singapore's Taipan Films is entering the China market with a $15 million (RMB 100 million) slate deal with Beijing Hua Cheng Media Group. The agreement will see the production of a slate of 5 projects over the next 3 years. The deal was announced at Singapore Asia TV Forum & Market, part of the Singapore Media Festival. The companies will co – fund & co – produce. Hua Cheng will be responsible for China distribution. 1st up will be 2 projects by Singaporean J.D. Chua, who spent several years working on action, stunts & visual effects in Hollywood and was mentored by Michael Mann.
BEACHTV LAUNCHES RAVE WAVE
Singapore based lifestyle channel, BeachTV is collaborating with AOS Collective & 108 Media to produce Rave Wave, a music reality format that searches for the next big disc jockey. The deal was announced at Asia TV Forum in Singapore. The format brings aspiring DJ's to a beachfront boot camp, where they are trained in music, mixing & dance. Music celebrities make guest appearances to give tips to DJ's. In each episode, the DJ's perform live at a beachfront club, and the weakest DJ gets eliminated. The 3 year deal to produce 6 seasons of the series is estimated to be worth US$ 8 million.
2 MOVIES WIN ATF PITCHES
The Western Journey Of Pigsy, from Taiwan's studio2 Animation Lab, won the inaugural Asia TV Forum Animation Pitch competition. Chiu Li Wei & Grace Chuang from studio2 Animation Lab receive a US$19,000 prize from India's Green Gold Animation. This includes a US$2,500 cash award, & a consultancy package worth US$16,500 to further develop the animation, making it ready to pitch to broadcasters. "We had a unique concept and we felt that it allows viewers to experience the "Journey to the West story in a contemporary way," said Chiu Li, director, studio2 Animation Lab. "Moving forward, we will work towards developing the script for the concept." Indonesia's Gamaliel Paulus won the ATF Formats Pitch, now in its 2nd year.
JIMAMI TOFU SELLS TO CHINA & TAIWAN
Taiwanese distribution company Movie Cloud has acquired Singapore film Jimami Tofu and will release the film theatrically in Taiwan in 2018. The deal was brokered by the film's global sales agent, Korea's Opus Pictures. In addition, a television & Internet distribution deal for China has been finalized with Blue Media Times Beijing. The deals were announced at Asia TV Forum on Thurs. This is the 1st non – Korean feature film to be represented by Opus Pictures, the production firm with involvement in Korean hits Man From Nowhere & Snowpiercer. Jimami Tofu had its world premiere at Hawaii International Film Festival in Nov, 2017 where it won the audience choice award. Written & directed by Jason Chan & Christian Lee, the film is produced by Chan & Lee's Singapore based outfit BananaMana Films with the support of the Okinawa Film Office.
INDONESIA
LAND OF OPPORTUNITY & CHALLENGES
Indonesia, Southeast Asia's largest territory, remains a land of opportunity & challenges, a Screen Singapore conference heard. With a population of 261 million, but just 1,117 cinemas, the country is severely under screened. And rural penetration remains a problem. Some 35% of screens are concentrated in Greater Jakarta area. "The time is right to exploit the smaller towns & villages with more screens & lower ticket prices," said Krishnan Rajagopalan, chief executive of Whacked Out Media & co – founder of streaming service Hooq. Though local film production is abundant, with 120 Indonesian films set to release in 2018, budgets are low, with the majority produced for below $100,000.
SILVER WOLF ANNOUNCES DEALS KAZAKSTAN'S KHABAR
Singapore based television content distribution company, Silver Wolf international has announced a distribution & production partnership with Indonesia's HJ Productions. HJ specializes in a wide range of genres such as documentaries, dramas, feature films, & music videos. HJ Director Allo Geafary averred, "As a distribution company with a strong international presence, we are certain that by partnering we will be able to reach a more global audience." Separately, Silver Wolf has been appointed as Asian distributor for drama series produced by Kazakhstan's Khabar Agency. With content ranging from news & documentaries to dramas, feature films, sports, music & general entertainment programs, Khabar is one of the largest.