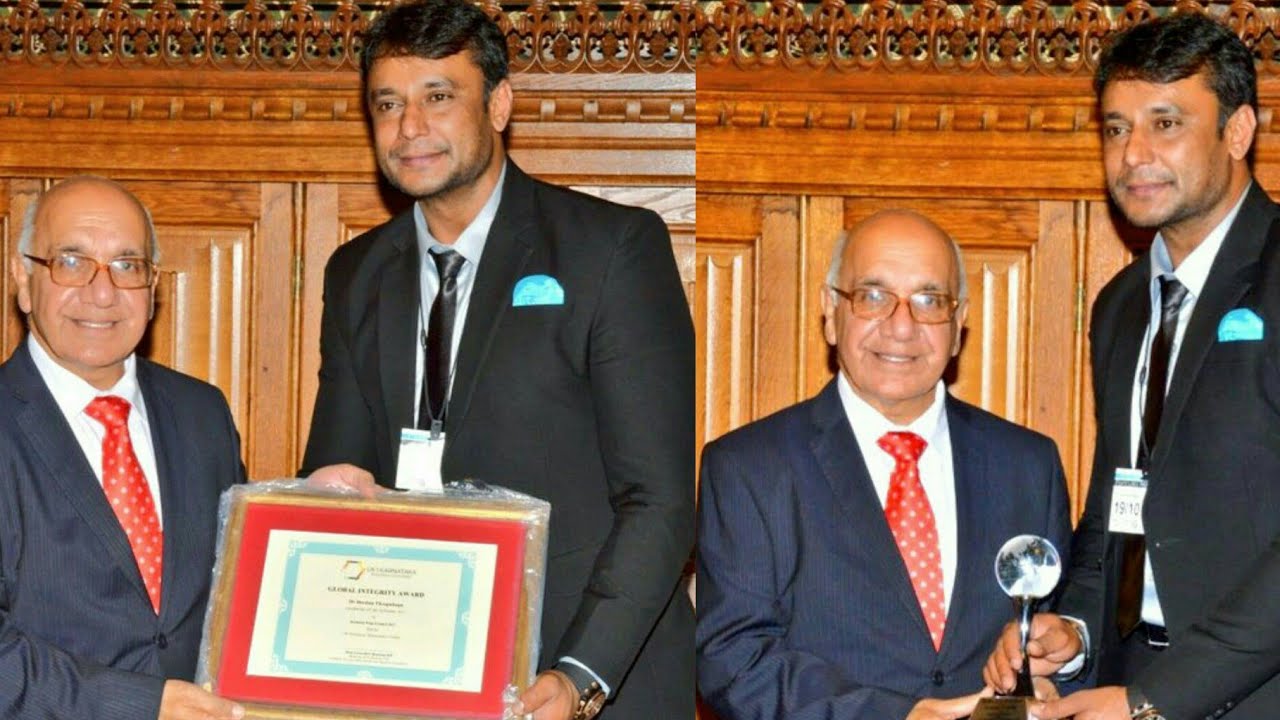 The trio from United Kingdom Karnataka Chamber, Manjunath Karma, Sujith & Kiran Baratur arrived to Bengaluru to clarify the doubt & prestige of the unit they have started to promote Kannada culture & heritage. The rumor in the air that Darshan was given an award was not proportionate to the Global Diversity Award made the trio from UK to reach Bengaluru & clarify on the honor done to the challenging star Darshan. The Global Diversity award is constituted by British Parliament member Veerendra Sharma & Karnataka Business Chamber proposed the name of challenging star Darshan as Manjunath Karma a hotelier in UK is long time friend. On assessing Darshan's image it was Veerendra Sharma in his individual capacity who arranged for the honor inside the House of Commons. There is no doubt about it says Manjunath Karma. On the level of the award he says that the Global Diversity award is set up by Keith Waz a British Parliament member. As Veerendra Sharma who represents Punjab discussed with Karnataka Business of Chamber the similar kind of award with new title was applied for registration. That is none other than "Global Integrity Award". The 1st presentation of this was bestowed on Darshan from South India. The patent for this is at the process of finalization but after approval letter to go ahead this award was given to Kannada actor Darshan. There was a binding that nothing should be disclosed till the award's evening is completed. The D page has not created any confusion. We wanted to reach Bengaluru and give further details stated Manager to Darshan Mallikarjun. Any Kannadiga getting this honor is a pride moment felt the 4 sitting on the dais.
Upendra Evolve KPJP
Super star Upendra has set a new ground for his political party. On Tues the platform was different. Upendra & his team were in front of the dais at Gandhi Bhavan. The media of different newspapers & television channels were seated on the dais. It was a reverse positioning. It is because of media anything is possible. You may ask questions to our team members of "Karnataka Pragnavantha Janata Paksha" KPJP announced Upendra after formal invocation song from Shamitha Malnad & Vilas Naik painted the inner thoughts of Upendra in picture format. It is "Karnataka Pragnavantha Janata Paksha" as the new party he floated. This title was in the name of Mahesh and now in Upendra team. On education system, No money & no caste system, public service, development of down trodden, smart village concept, picking of right candidates for the next assembly elections in 224 constituencies, win or lose attempt should be made, total transparency, people are the high command, not to join any political party, were some of the thoughts of Upendra for questions from media at the dais.
Priyamani Film After Marriage
The national award winning actress Priyamani is returning to acting after a brief interval because of her marriage. The title of Priyamani's next film is Nanna Prakara – very interesting because the words are used by most of the people in their conversation. Vinay Balaji is making his debut as director. Priyamani accepting for a newcomer film shows her exemplary nature. Kishor, Mayoori, Nihan of Kal Keji Priti are also part of the cast. Niranjan Deshpande is in guest role of this GVK combines film. It is a crime thriller in category. Vinay Balaji has written story, screenplay & dialogues with Chandan. Vinay directed Camera & Money short films and got award from Mumbai Film Festival. It has been long wait to fetch right producer for Nanna Prakara Kannada film direction for Vinay Balaji. 5 friends have come forward to invest on his thoughts for celluloid silver screen. Manohar Joshi is cameraman; Arjun Ramu of Huliraya fame has 4 songs to compose music. Kiran Kaverappa & Jayanth Kaikii are the lyricists.