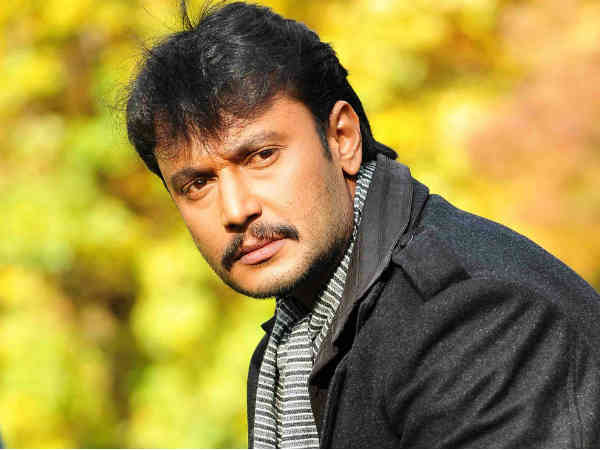 Darshan Gets His Better Half In Films. Finally the challenging star Darshan Duryodhana in Munirathna Kurukshetra has finally got Banumathi, his better half in the film. That is popular actress Meghana Raj. Earlier Regina & Remya Nambisan names were in circulation for this "Banumathi" wife of Duryodhana role. The film at the climax stage gets the pivotal role for the film. The shooting of Meghana Raj & Darshan is in progress. According to sources the test shoot has been completed. This is for the 1st time ever that Darshan & Meghana Raj combination will be seen on the celluloid silver screen. Both are from the family of actors. Both have come to 50 films in career. This is the 50th film of challenging star Darshan. Meghana Raj has also reached 50 films and Malayalam films are more in number. The photos of Meghana Raj with Darshan & Arjun were released to media on Mon.
Upendra Dons A Female Garb
Upendra Dons A Female Garb. Upendra aka Uppi as he is most famously known now dons a female attire for one of his forthcoming films. The last film of real star Upendra in Kannada before he gets busy in active state politics & elections in the middle of the next year Home Minister has interesting role for the actor. In a tweet Upendra has put up a photo in a female get up. A portion of the face is covered but when you zoom in to the photo you would trace from the eyes. Upendra getting in to politics & Home Minister as title, there is lot of discussion already. This film is made in Kannada & Telugu is nothing but wife in the house called as Home Minister, nothing to do with politics it is learnt. This is a portion of the shoot for Home Minister which was shot recently. Vedhika is in the female lead. Poorna Naidu is producer & Telugu film's director Srihari K is making his debut as a director in Kannada.
Puneeth Rajakumar Anjaniputhra Sets A Trend
Puneeth Rajakumar Anjaniputhra Sets A Trend. Power star Puneeth Rajakumar is always a special attraction. Now the film Anjaniputhra in A Harsha's direction has reached another distinction. In You Tube the trailer received over 3 lakh viewers in just one day. For the action lovers it is very special. Director A Harsha having one more title with Lord Ajaneya name Anjaniputhra held audio relased recently and trailer released on this occasion of PRK Audio launch was a stunner. At the audio release of the film Power star Puneeth Rajakumar delivered a few songs of his father films to attract the crowd. Poojai Tamil film remake from producer MN Kumar stars Ramya Krishna as Puneeth Rajakumar mother. Rashmika Mandanna is in the female lead with Ravishanker, Mukesh Tiwari, Akhilendra Mishra, Sadhu Kokila, Girish, Shobaraj, V Manohar et al are also in the cast. Haripriya appeared for a song number in Anjaniputhra. Ravi Basrur has worked on the music for Anjaniputhra.
Mammootty Pays Homage To Thodupuzha Vasanthi
Mammootty recently paid homage to the recently departed actress Thodupuzha Vasanthi. Mammootty visited the house of actress Thodupuzha Vasanthi, who died on 28th Nov, 2017's morning. The veteran actress was battling with cancer for the past one year. The funeral happened at Thodpuzha. Mammootty came to pay his homage along with actor Siddique. Thodupuzha Vasanthi started her acting career in 1970's. She was active in theatre before acting in small roles. Later she started being recognized as a character actress. Some of her notable roles include Vellanakalude Naadu, Godfather, Mukundetta Sumithra Vilikkunnu, T P Balagopalan M A, Pattanapravesham, Lekhayude Maranam Oru Flashback amongst many others. She has also acted in some TV serials.
Dileep Flew To Dubai
Dileep recently flew to Dubai for the launch of Dhe Puttu at Karama. Dileep, who was recently granted permission by the court to go Dubai, got his passport on 27th Nov, 2017. He has been given relaxation in his bail conditions to attend the opening of a new branch of his popular restaurant chain Dhe Puttu at Karama. Dileep was accompanied by his wife Kavya Madhavan & daughter Meenakshi during the Gulf tour. Dileep & Kavya Madhavan celebrated their 1st wedding anniversary recently. Both the actors were married earlier. Meanwhile, the Investigation team has not submitted the charge sheet yet and there are reports that the Police is watching the proceedings pretty closely.
Meera Vasudevan Is Very Angry
Meera Vasudevan was very angry recently about JB Junction. The TV show JB Junction that appears on Kairali channel announced about host John Brittas' interview with actor Meera Vasudevan. The promos of the show grabbed great attention and amongst other things, Meera Vasudevan also commented about her intimate scenes with Mohanlal in the much appreciated film, Thanmathra. However, now Meera Vasudevan feels that her interview was misrepresented & some intimate clippings from the film has been added "to make it look sensational". "When I did the show I had very particularly mentioned that I have a small child back home who is watching & judging not only me…" she writes. The channel has reportedly denied the charges.
Kavya Madhavan & Meenakshi Skips The Dubai Trip
Of late Kavya Madhavan & Meenakshi Skipped the Dubai trip.Dileep, who is out on bail in connection to the Malayalam actress' abduction & sexual assault case, reached Dubai recently for the inauguration of a new branch of his restaurant chain Dhe Puttu, co – owned with Nadirsha. Though it was reported that his wife Kavya Madhavan & daughter Meenakshi would accompany the actor, Dileep was accompanied with his mother for the trip. The actor & his mom was welcomed at the Airport by friends & partners. Dileep received his passport from the Angamaly Magistrate Court on Mon as the High Court has granted him special permission to make the trip. Dhe Puttu was inaugurated on 29th Nov, 2017.
Mohanlal Or Mammotty!!! – Vijay Sethupathi's Candid Answer
Mohanlal or Mammotty!!! – Vijay Sethupathi's candid answer. Vijay Sethupathi is going places. Apart from a slew of Tamil films he is also going to act in the mega budget Telugu historic period flick Sye Raa Narasimha Reddy. Not just in Telugu speaking states the actor is also winning hearts in Kerala which has a huge market for Tamil films. Recently the Vikram Vedha actor participated as a guest in Asia Vision Award ceremony. When he was on the dais with popular Malayalam actress Manju Warrier. The latter admired Vijay Sethupathi and said she has been his fan. The anchor asked the question that every Malayalam film star would have encountered and would not give a clear answer. Yes, Vijay Sethupathi was asked whom he liked the most among Mohanlal & Mammootty? Vijay Sethupathi just giggled and said "Mohanlal & I am his fan".
Anu Emmanuel Kickstarts Her Next!!!
Anu Emmanuel recently Kickstarted her next movie. Anu Emmanuel has been away from Malayalam Cinema after Action Hero Biju, but the actress is showered with handful of projects in Telugu. After her debut Telugu movie Majnu, which turned out to be a huge hit, the gorgeous actress worked with big shots like Pawan Kalyan & Gopi Chand. And now, the actress is teaming up with Tollywood's sensation Naga Chaitanya. The actor announced it on Facebook and shared the pooja stills of the movie. "Happy to start my next in Telugu," wrote Anu Emmanuel. The makers had announced the title of the film as Sailaja Reddy Alludu. Reports suggest that this film could be a comedy which will have Baahubali star Ramya Krishnan playing the role of Naga Chaitanya's mother – in – law.