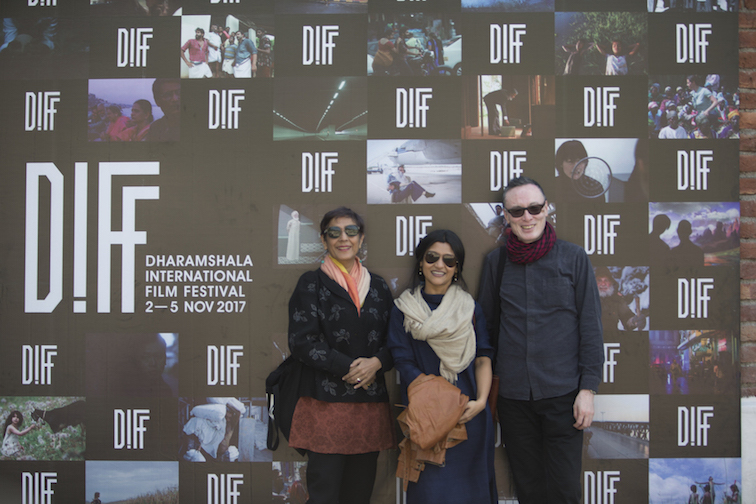 The day started with the screening of Deepak Rauniyar's White Sun, the Oscar Nominated film from Nepal. The other screenings of the day included Pushpendra Singh's Ashwatthama, Ektara Collective's Turup, Rahul Jain's Machines & Iram Haq's What Will People Say which drew in audiences in large numbers.
Actor & director Konkona Sen Sharma presented a screening of her acclaimed feature. A Death In The Gunj and in the Q & A that followed, she enthusiastically responded to the audiences questions.
Noted actor Adil Hussain conducted a Masterclass session. Titled The Freewheelin' Adil Hussain, the session saw the actor speaking about his process & journey as an actor.
A Panel discussion titled Charting Troubled Waters saw noted filmmakers from 5 different countries speak about what independent filmmaking stands for in their respective countries. Moderated by noted film writer & critic Aseem Chhabra, the panel included filmmakers Yaniv Berman (Land Of The Little People, Israel), Lijo Jose Pellissery (Angamaly Diaries, India), Mano Khalil (The Swallow, Switzerland) & Yoshinori Sato (Her Mother, Japan).
A discussion on Women In Cinema was also conducted which included celebrated women filmmakers & actors including Konkona Sen Sharma (A Death In The Gunj), Ritu Sarin (When Hari Got Married) founder & director of DIFF), Sayani Gupta (The Hungry), Rasika Duggal (The School Bag), Bornila Chatterjee (The Hungry), Ekavali Khanna (What Will People Say), Maheen Mirza (Turup) & Rinchin (Turup). The discussion touched on a diverse range of topics such as equal pay for women and bridging the gap between mainstream & independent cinema.
Actor & Director Konkona Sen Sharma who was extremely delighted to be at the festival averred, "It is my 1st time at Dharamshala and it was magical. I love Tibetian food, the mountains & the independent cinema and I am so excited to be here."
Winding up the day, founder – director Ritu Sarin averrerd, "It has been an exceptionally beautiful day. Today we had an amazing session with Adil Hussain where he spoke about his practice & his process as an actor. Everyone is enjoying being at the festival. Ashwatthama was highly appreciated and so was Turup. The documentaries Machines & Cameraperson were also screened. And the audiences really had a tough time deciding what to watch."
This year's line – up also included 2 award winning documentaries, Kirsten Johnson's Cameraperson (USA, 2016), Rahul Jain's Machines (India, 2016) which screened at 10 international film festivals & bagged the World Cinema Documentary Special Jury Award for Excellence in Cinematography at 2017's Sundance Film Festival.
DIFF 2017 also featured the Indian premiere of Out of This World (USA), a newly restored version of journalist & writer Lowell Thomas' fascinating account of his travels to Tibet in 1949 (originally released in 1954).
This year's feature films include Dain Said's Interchange (Malaysia, 2016), Yaniv Berman's Land of The Little People (Israel, 2016), Dechen Roder's Honeygiver Among the Dogs (Bhutan, 2016), Yoshinori Sato's Her Mother (Japan), Mano Khalil's The Swallow (Switzerland),KarmaTakapa's Ralang Roadwhich premiered at this year's Karlovy Vary Film Festival (an Indian film to be selected at the fest after 13 years) & Deepak Rauniyar's Oscar entry from Nepal, White Sun which premiered at 73rd Venice Film Festival & bagged Interfilm Award & new voices / new visions grand jury prize at the Palm Springs festival.
DIFF continues its tradition of showcasing experimental films by presenting the South Asia premieres of 3 features by well – known artists & filmmakers: Amar Kanwar's Such a Morning (India), and Naeem Mohaiemen's Tripoli Cancelled (Bangladesh), both of which premiered this year at Documenta 14 & Singapore filmmaker Tan Pin Pin's In Time to Come, which had its world premiere at Visions Du Reel and was in competition at Hot Docs & Sheffield Doc Fest.
This year's shorts selection was curated by filmmaker Umesh Kulkarni, whilst Children's Film Programme was curated by children's media specialist Monica Wahi.
DIFF is presented by White Crane Arts & Media, a trust founded by veteran filmmakers Ritu Sarin & Tenzing Sonam to promote contemporary cinema, art & independent media practices in the Himalayan regions of India.
This year's festival was once again supported by its long – term partners, Thyssen – Bornemisza Art Contemporary, and the Government of Himachal Pradesh through its departments of Tourism, & Language, Arts & Culture.
The 1st edition of DIFF was held in 2012. Since then, it has become established as one of India's leading independent film festivals. DIFF's cutting – edge & eclectic programming, which includes many India premieres, and its policy of inviting as many directors as possible, has made it one of the "go – to" events in any cinephile's calendar. At DIFF 2016, 100's of cinema enthusiasts from across India & the world converged to watch films & discuss the state of modern cinema, whilst some of India's best -known film critics & journalists were on hand to cover the event.