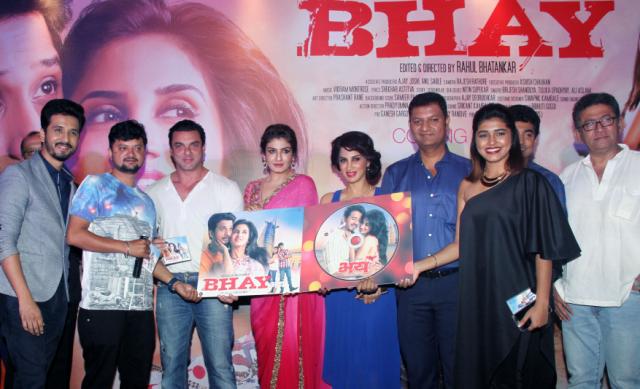 Amidst flashing cameras, glittering stars & an exhilarating atmosphere, the music of 5G International Presents & Sachin Katarnawre produced, Bhay, was launched. The music was launched by Bollywood stars Raveena Tandon & Sohail Khan. The music was launched with great enthusiasm in the prescence of numerous celebrities. On this occasion, the trailer of the movie & songs were screened. Actors Raveena Tandon & Sohail Khan said that the successful run of Marathi films is praiseworthy, and the movie Bhay will definitely be a new experience for the movie goers.
Praising all the actors of the movie Bhay, Raveena Tandon expressed her wish to act in Marathi films. At the launch, it was also announced that the movie will also be released in 3 other languages namely, Tamil, Telugu & Arabic. Rahul Bhathankar has done the direction & editing.
This movie has songs of 3 different genres. The 2 songs, "Saajanaa" & "Mi aalo" have been sung by Brijesh Shandilya & Tulika Upadhyay. Both the songs have been picturized in a different style. The songs take us on a small journey on a cruise, and we are treated to the beautiful visuals of helipads & skyscrapers of Dubai and pristine & famous beaches. The song "Chal re" has vocals by Ali Aslam. The lyrics by Shekhar Astitva have been set to music by Vikram Montrose. The Music of Bhay is released by Zee Music.
Abhijit Khandkekar, Satish Rajwade, Uday Tikekar, Smita Gondkar, Sanskruti Balgude, Vinit Sharma, Siddharth Bodke, Shekhar Shukla, Dhananjay Mandrekar, Nupur Dudhwadkar have acted in this film. Each one has some fear in their mind. How people living with fear in their mind, face varied difficulties, is what we are going to see in this absorbing movie Bhay. The co -producers of the movie are Ajay Joshi. Ashish Chauhan is the executive producer. Story, screenplay & dialogues are by Nitin Vijay Supekar. Art direction is by Prashant Rane. Ajay Devrukhkar is the choreographer & the cinematographer is Rajesh.