Raazi
Raazi Is An Interesting Spy Thriller
Banner: Junglee Pictures & Dharma Productions
Producers: Vineet Jain, Karan Johar, Hiroo Yash Johar & Apoorva Mehta
Director: Meghana Gulzar
Star Cast: Alia Bhatt, Vicky Kaushal, Amruta Khanvilkar, Rajit Kapur, Shishir Sharma, Jaideep Ahlawat, Aman Vasisth, Sony Razdan, Arif Zakaria, Ashwath Bhatt et al.
Music: Tubby & Shankar-Ehsaan-Loy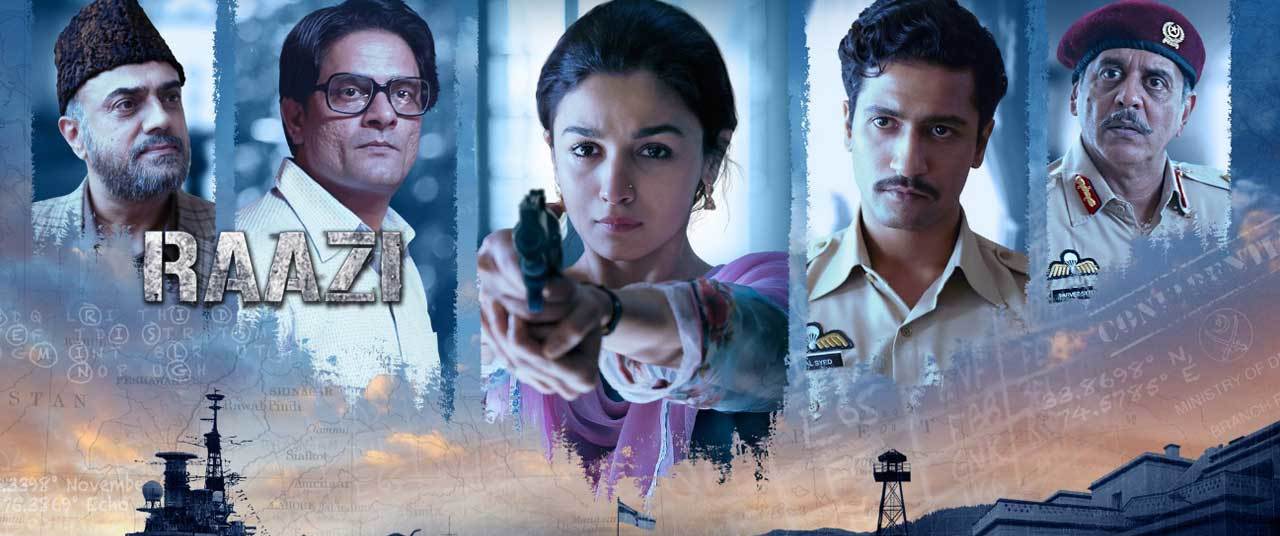 In the past few years, Bollywood has churned out some very exciting spy thrillers like Ek Tha Tiger & Agent Vinod in the year 2012, D-Day in the year 2013, Bang Bang in the year 2014, Phantom & Baby in the year 2015, Tiger Zinda Hai in the year 2017 et al. Most of these films also had the role of a female spy who looked like she meant business and would easily kick ass. Katrina Kaif's portrayal in the "Tiger" series is the most apt example. But imagine a spy who's completely feminine replete with long, flowy hair & salwar kurtas et al. Anil Sharma did slightly touch upon this aspect in the year 2003 with his biggie movie The Hero: Love Story Of A Spy. Now Meghna Gulzar attempts to make a complete film on this aspect with Raazi.
The scripted scenario of Raazi unfolds the story of a young girl from India sent to Pakistan as an undercover agent. The year is 1971. Pakistan is all set to make a surprise attack on India & the Indian intelligence is trying it's best to get the details.
Hidayat (Rajit Kapur) lives in Srinagar and travels to Pakistan for business. He is a part of the Indian intelligence but has convinced Pakistani Brigadier Syed (Shishir Sharma) that he works for them.
Hidayat is terminally ill and he asks Syed if he can get his daughter Sehmat (Alia Bhatt) married to Syed's younger son Iqbal (Vicky Kaushal). Syed agrees and surprisingly, Sehmat also gives her nod. Sehmat is obviously being married to Iqbal to spy in the house of the Syeds and she gets adequate training from Khalid Mir (Jaideep Ahlawat) from Indian intelligence. Sehmat gets married and she gradually gets attached to Iqbal, who gives her the space and doesn't force himself on her. Meanwhile Sehmat begins her surveillance and finds out crucial information regarding naval attacks planned by Pakistan against India. However the challenges faced by Sehmat are immense and one wrong move can prove fatal for her. What happens next forms the crux of the story.
Meghna Gulzar's direction is impressive. Despite the content being niche, she tries to tell the story in a commercial format. She does falter at places but overall, manages to do justice to the plot.
Raazi is based on Harinder S Sikka's novella "Calling Sehmat". The story is novel and stands out from the rest of the spy films as the lead character goes to any lengths, morals be damned. And this bit comes across very nicely. Bhavani Iyer & Meghna Gulzar's screenplay is a mixed bag. In most of the scenes, it's simplistic & engrossing.
Raazi doesn't commence on a high note but grips the viewers very well. The characters are well established and Sehmat agreeing for the dangerous mission could have come across as not so believable. But thankfully that doesn't happen. Her training sequence is interesting but the film gets better once she moves to Pakistan. Though the film drops for a while, it picks up brilliantly in the intermission point when Sehmat drives the Jonga jeep (military jeep). Arguably it's the best part of the film. Post interval, the film has some engaging moments but at the same time, the film begins to slow down. There should have been a more gripping cat & mouse chase game but that never really happens. The manner in which Sehmat is able to escape suspicion most of the times is very unconvincing. The finale however makes up for the minuses to an extent. Some of the scenes however get complicated. For instance, some of the details provided by Khalid during Sehmat's training is difficult to process as it is presented too quickly. Also the interest drops in some scenes. Meghna Gulzar's dialogues are simple & neat and are very craftily written.
Shankar-Ehsaan-Loy's music is very melodious but won't be remembered, except for "Ae Watan". The song has an anthem like feel and can get a longer shelf life if it's played on the festive occasion of Independence Day & Republic Day celebrations in the country. The title track gets noticed while "Dibaro" is completely relegated to the background.
Shankar-Ehsaan-Loy & Tubby's background score is quite exhilarating. Jay I Patel's cinematography works big time. The exterior shots of Kashmir are simply breathtaking. Nitin Baid's editing is nice but should have been more razor sharp. Subrata Chakraborty & Amit Ray's production design is very authentic. Maxima Basu Golani's costumes are appealing. Harpal Singh's action is subtle and not very detailed.
Performance wise it is Alia Bhatt who delivers a powerhouse act and this is surely one of her most accomplished works. Her character is living a double life and she brings out this aspect very nicely. In the emotional & breakdown sequences, she shines! Vicky Kaushal has a limited screen time but he leaves a mark. His character is sure to be loved. Rajit Kapur is quite endearing. Jaideep Ahlawat is very good. This talented actor deserves to be seen more in movies. Shishir Sharma is quite dependable. Notice how endearing he looks when he's interacting with Sehmat but transforms in another avatar altogether when he's talking business. Amruta Khanvilkar as Munira is lovely. Arif Zakaria as Abdul plays a dynamic role with panache. Ashwath Bhatt as Mehboob has a small role but is effective. Soni Razdan as Teji is okay. Other actors also do a good job.
Tail Piece: On the whole, Raazi is an interesting thriller which has been brilliantly narrated by Meghna Gulzar that makes for mature viewing. It is a film that celebrates nationalism that is devoid of the colors of religion.
At the box office, it has the potential to grow with positive word of mouth and keep its makers happy. Period.