Mulk
By: Husna Rizwan & Shaheen Raaj
Mulk Is A Well – Made Movie – A Must Watch For Every Indian
Banner: Soham Rockstar Entertainment & Benaras Media Works
Producer: Deepak Mukut & Anubhav Sinha
Director: Anubhav Sinha
Star Cast: Rishi Kapoor, Tapsee Pannu, Ashotosh Rana, Pateik Smit Babbar, Rajat Kapoor, Manoj Pahwa, Neena Gupta, Prachi Shah – Pandya, Vartika Singh, Indraneil Sen Gupta, Ashrut Jain Kumud Mishra, Sumit Kaul Atul Tiwari, Anil Rastogi, Vinay Ghoshal, Ehsaan Khan, Ehsannur Rehman Khan, Shriya Pilgaonkar, Udayveer Singh Yadav, Manoj Dutt, Paromita Chatterjee & Abdul Quadir
Music: Prasad Sashta & Mangesh Dhakda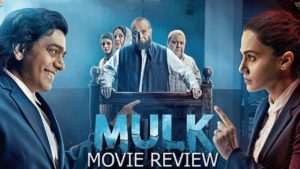 Soham Rockstar Entertainment & Benaras Mediaworks' Mulk also produced & directed by Anubhav Sinha is the story of a Muslim family living in Lucknow and, through that family, the story of how prejudices can make life hell for Muslims in India is showcased.
The scripted scenario of Mulk opens with Murad Ali Mohammed (Rishi Kapoor), a respected lawyer who lives in Lucknow with his wife, Tabassum (Neena Gupta), younger brother, Bilal Mohammed (Manoj Pahwa), sister – in – law, 'Chhoti' Tabassum (Prachee Shah – Paandya), nephew, Shahid Mohammed (Prateik Smit Babbar) & niece, Aayat Mohammed (Vartika Singh). Murad Ali Mohammed's son, Aftab Mohammed (Indraneil Sengupta) & his Hindu lawyer – wife, Aarti Mohammed (Taapsee Pannu), lives abroad. Aarti Mohammed has now come visiting the family, deciding to stay away from her husband Aftab Mohammed, who wants their child, as yet unborn and not even conceived, to follow the religion of Islam, something which the progressive Aarti Mohammed feels, does not even merit discussion. The level-headed Aarti Mohammed continues to give her in-laws the same respect & love despite the tension with her husband. Ditto for the in-laws. And then to the shock of the entire family, Shahid Mohammed is named as one amongst the 3 terrorists who've caused bomb blasts in Allahabad, resulting in deaths of innocent people. Nobody in the family even had the inkling that Shahid Mohammed had, right under their nose, become a jihadi, having been initiated into terrorism by Mehfooz Alam (Sumit Kaul). Anti-terrorist squad inspector Danish Javed (Rajat Kapoor) shoots Shahid Mohammed on sight and the dead body is brought to Lucknow. Shahid Mohammed's respectable family is so distraught at the thought that one amongst them had become a terrorist that it refuses to accept the corpse. Soon enough, Shahid Mohammed's father, Bilal Mohammed (Manoj Pahwa), is taken by the police for interrogation. After a grueling session of questioning, the police arrest him. In court, the public prosecutor Santosh Anand (Ashutosh Rana) tries to prove that Bilal Mohammed was aware of his son Shahid Mohammed's terrorist activities and was himself involved in them. Murad Ali Mohammed defends his brother Bilal Mohammed in court but before he knows it, he too is accused by the public prosecutor of terrorism. Shaken & dejected at the prejudice against Muslims, the old Murad Ali Mohammed asks his daughter – in – law Aarti Mohammed to become Bilal Mohammed's lawyer in court.
Anubhav Sinha has written a nice & thought-provoking story about a Muslim family which is looked down upon as a family of terrorists because of one black sheep in the family. While being relevant & topical, the story also tackles the larger issue of prejudice against members of the minority community in India. His screenplay is very engaging in the 1st ever half. The 2nd half is mostly devoted to the courtroom drama. In the courtroom drama, while trying to extrapolate the story of the Mohammed family to the story of Muslims in India in general, Anubhav Sinha does lose his grip in parts but he gets in control in the climax again. Had the courtroom drama far more fire & many claptrap moments, the impact would've been greater. In trying to take the macro view, the screenplay somewhere is unable to do justice to the pain & the sufferings of the Mohammed family. Nevertheless, the drama does keep the viewers engaged. However, it would appeal mainly to the class audience because it becomes a drama of a macro issue after some time. Had Anubhav Sinha not left his grip on the state of the Mohammed family & milked the emotions in that space, the film would have become a fare for the masses & family audiences too. Also, the courtroom drama looks a bit simplistic and often one-sided, when public prosecutor Santosh Anand argues, it's just his viewpoint and, likewise, when Aarti Mohammed argues, it's just her version. The audience would've enjoyed the courtroom drama far more had there been at least 7 to 10 clap worthy scenes of one-upmanship in the court arguments. The judgment pronounced by the judge (Kumud Mishra) is superbly worded, entertaining, yet so weighty. Anubhav Sinha's dialogues are excellent.
Anubhav Sinha's direction is good. He has handled the subject with sen­sitivity. Prasad Sashta & Anurag Saikia's music & Shakeel Azmi's lyrics are appealing. Mangesh Dhakde's background music is very impactful. Ewan Mulligan's cinematography captures the sombre mood of the drama with elan. Nikhil Kovale's sets are realistic. Riyaz – Habib's action & stunt scenes are good, but Ballu Saluja's editing is certainly not up to to the mark sharp. The editing could have been crisper to keep the viewers engaged.
Performance wise Rishi Kapoor is extraordinaire, as always. He lives the character of Murad Ali Mohammed who feels so helpless & marginalized because of his religion. His nuanced performance is worthy of high praise. Taapsee Pannu delivers a mature act and superbly understated performance as Aarti Mohammed. Ashutosh Rana is splendid as a public prosecutor Santosh Anand. His antics in the court are enjoyable. Rajat Kapoor delivers a decent performance as Danish Javed. Kumud Mishra is absolutely delightful as the judge. Manoj Pahwa delivers a fantastic performance as Bilal. His scene in the jail with his elder brother Murad Ali Mohammed will make the weak – hearted cry. Prateik Smit Babbar is good as Shahid Mohammed. Neena Gupta shines in the role of Murad Ali Mohammed's wife, Tabassum. Prach­ee Shah Paandya is effective as Bilal Mohammed's wife, 'Chhoti' Tabassum. Vartika Singh makes her presence felt in the role of Aayat. Sumit Kaul leaves a mark as Mehfooz Alam. Ashrut Jain is good as Rashid. Indraneil Sengupta is alright in a "brief" role as Aftab Mohammed. Atul Tiwari, as Murad Ali Mohammed's close Hindu friend, is very effective. Anil Rastogi, Vinay Ghoshal, Ehsaan Khan, Ehsannur Rehman Khan, Shriya Pilgaonkar, Udayveer Singh Yadav, Manoj Dutt, Paromita Chatterjee and the rest lend good support.
Tail Piece: On the whole, Mulk is a purposeful entertainer and has the potential to do fair business but its dull start & the dual oppositions of Fanney Khan & Karwaan this week will tell on its business. The critical acclaim it wins will be far more rewarding than the box – office turnstiles revenues.
At the box – office turnstiles collections should definitely pick up by positive word of mouth publicity.