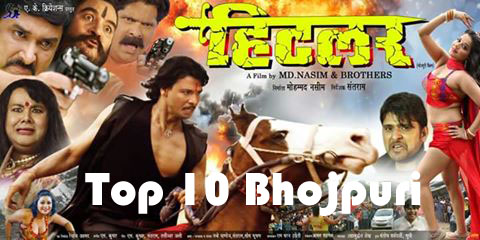 A. K. Creation's film HITLER is running successfully in Mumbai circuit & has entered 2nd week at many cinemas. The credits of the film are produced by Mohammad Nasim, directed by Santram, story – screenplay – dialogues by Nanhe Pandey, Som Bhushan & Santram, lyrics by S. Kumar, Santram & Tasavur Ali, music by S. Kumar, action by Shahabuddin & choreography by Santosh Sarvadarshi & Bhoopi. It stars Viraj Bhatt, Monalisa, Sanjay Pandey, Manoj Tiger, Murlidhar, Bhoomika, Sanjay Verma, Tanveer Shaikh, Pooja, Anara Gupta, Janardan Bhardwaj, Rinki Shukla, Dipti, Ashok, Jayraj Singh, Javed Rehman, Aman Samani & Mohammed Nasim.
PRODUCTION NO.1 Announced
RSMP Media Pvt Ltd's (Kolkata) PRODUCTION NO. 1 has recently been announced. The credits of the film are produced by Sushmita Shrivastava, directed by Santosh Dandekar, music by Aman Shlok, cinematography by Gopal Dey & Production Controller: Keshav Kamal. The star-cast is e being finalized very soon.
NAMASTE BIHAR Dubbing Nearing Completion
The dubbing of Omkar Film & Television Production's NAMASTE BIHAR is nearing completion at PNP Studio. The film are concept & produced by Rajan Kumar, directed by Laxman Sinha, screenplay by Nehal Ahmed, lyrics by Rajesh Mishra, Satish Sinha & Santosh Puri, music by Aman Shlok, choreography by Gaurav Kaushik, art by Govind Sahani, editing by Nakul Prasad, cinematography by Anil Vaghela & Co -producers: Adv. Kalpana Waskar & Laxman Prasad Singh. The film stars debutant Bhumika Kalita, Rajan Kumar, Manoj Sinha, Monika Kanti, Madhusudan Atmiya, Devnayak Das, Jeetendra Singh, Sohail Rana, Pramod Nirala, Rajesh Kushwaha, Harsh Kumar, Preetam Adhikari & Ex. Chief Minister of Bihar namely Satish Prasad Singh.