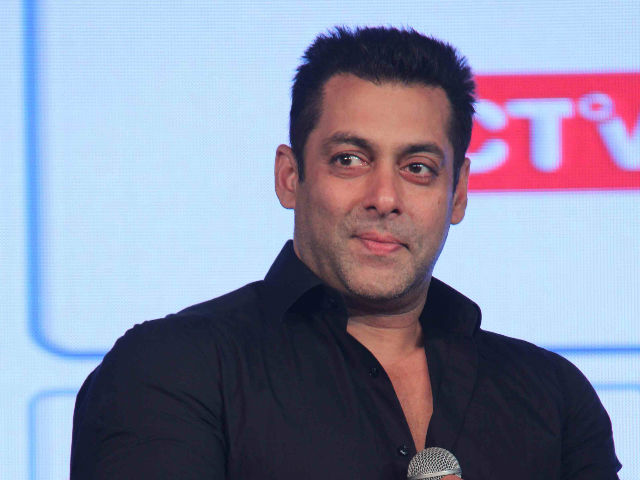 Salman Khan is endowed with an enigmatic persona. He may showcase his toughness on the exterior but "Being Human" he is also warm & a soft hearted person. There is that tender spot within him which is still craving for a lot of love, caring & soothing. Of late on the professional front, as per his own recent confession especially after finishing his work on Sultan, he really feels exhausted time & again. But he is not Salman Khan for nothing to give up so easily. To say that he has already carved a niche for himself by now would be an understatement. Actually speaking Salman Khan has undoubtedly cast his magical spell over his fans, that too in the last 2 and a half decade and they still seem to be under his magical influence. Yet carrying his bachlorhood on his lapel is the only thing that has started bothering him lately. And the thing that bothers the media a lot is Salman Khan's elusiveness with them. But when he finally meets them he is a sheer delight which was evident last time during the promotional event of Rajshri Productions Prem Ratan Dhan Payo and this time during the promotional event of Yash Raj Films Sultan. Both the events were coincidentally held at the same venue namely Mehboob Studio at a stone's throw distance from his abode.

Sultan has been the most talked about film of Yash Raj Films ever since it was launched. Comment!
I know what you are hinting at. And maybe that's mainly because of the similarity of the subjects between my film Sultan & Aamir Khan's film Dangal.
So Sutan wins the race as it is coming first and Aamir Khan's film is coming only by the end of the year. What say?
Let's not be judgemental as every film has its own destiny as to which film will be accepted by cine goers and which film will be rejected by them. Even otherwise there was no decision of winning the race. We were rushing up Sultan only to make it a Ramzan Eid release as I am very keen to release at least one film coinciding with every Ramzan Eid for everyone and as a special Ramzan Eid gift for all my Muslim fans, and Aamir Khan is working at a leisurely pace as he always tries to release his film during christmas.
You succeeded in avoiding the clash with Aamir Khan's Dangal but the clash with Shah Rukh Khan's Raees was avoided in the nick of time. Right?
Yes! You can say that. But then Shah Rukh Khan himslf bowed out at the last minute only because his film Raees was not completely ready to be released. Just imagine what would have happened in case the alter ego of our producers had clashed. Naturally we both would have ended up making a dent in our individual box office collections at the turnstiles. In fact we both would have had no choice but to share the collections and be at a loss. As was evident when both Ranveer Kapoor's Bajirao Mastani & Shah Rukh Khan's Dilwale were released on the same day and in the same week. Even otherwise the days of Aamir Khan's Dil & Sunny Deol's Ghayal hitting the marquee on the same day qnd in the same week and yet being declared super hits all over are definately over.
Ok! So let's move on to the the topic of Sultan which is on the verge of release on the D – Day of Ramzan Eid. So tell us what is Sultan all about?
Sultan is basically about the sport of wrestling and I enact the role of a sports person to be specific a wrestler who starts from the village level akhada to the mat based ring and then into the MMA arena. And giving me company was Anushka Sharma who has her own aspirations as a sportswoman nay a women wrestler.
Now that you have made a mention of Anushka Sharma, tell us how apt was she as a woman wrestler and as your co – star too?
Anushka Sharma had come on board of Sultan at a much latter stage that too when I was rigorously training for my role in Sultan. But indeed she is a lovely girl and a good actress too. Its such a pity that I discovered this lovely girl only towards "The End" of Sultan. Even otherwise Sultan was a very demanding film physically. So we could only see our beds post pack- up. In fact it was unlike our other films where the colleagues from the same film hang around together at least during the breaks to get familiarised with each other.
Now tell us how tough was it to enact the toughest role of your career in Sultan?
It was toughest beyond my imagination. You need a perfect, appropriate & sufficient training like a wrestler in real life. In fact the intense & the gruelling training sessions that I underwent for Sultan and for that matter even Aamir Khan underwent for Dangal for reel life was similar or even a little more than what the real life wrestlers undergo in real life. Suppose if we both had not undergone such intense & gruelling training than perhaps we both would not be able to fight it out convincingly enough in the wrestling ring.
Would you like to describe in brief about your intense & gruelling training session that you underwent for Sultan?
I shot for Sultan for 6 hours every day and while shooting there would be so much of lifting and even thrusting on the ground involved and now this lifting & thrusting in itself was very tough for me because if I was lifting I would have to lift the same 120 kg guy at least 10 times for 10 different camera angles and for 10 differrent shots. And similarly I would get thrown down on the ground for the same number of times and this particular acts of lifting & throwing are not repeated that many times in real fights that are held in the real wrestling ring. Now coming to your first question of the training session part I would say or rather admit that it was the most toughest part of my career as an actor. I totally agree that you need solid training like the real life wrestlers if not more. So to cut the matter short I did undergo weight training in the first session. Then in the latter sessions I perfected my moves and in the subsequent sessions I used to spend at least 2 to 3 hours in a day for the intense & the gruelling training sessions. So in those training phase my daily routine was almost like eat and then head right back to the training session and than that would just not stop. And this was mainly because my director Ali Abbas Jaffar who knew nothing about the training part. So every 20 days or so he would need me to look different and have a different body type depending entirely on his whims & fancies on the sets. As a resultant effect sometimes I was bloating and then again going ahead and losing the excess weight only to pile it on again. The point is that I don't think my director has ever seen the insides of a body building gym in his entire life. On the contrary I think it was more easier for Aamir Khan for his role in Dangal as he use to bulk up, shoot for Dangal and then relax for a longer period of time. Whereas in my case I just used to shoot, diet, eat, shoot, diet again and this used to just go on and on.
And now tell us how will both the films on wrestling namely Sultan & Dangal be beneficial in the long run to the sport of wrestling in general and the wrestlers in particular?
First of all I hope it changes the over all opinionated perception of all the concerned people including the concerned Government officials. That apart its like a blessing that the idea of scrapping the sport of wrestling off from the Olympics has been called off. I think in my opinion the wrestlers deserve much more respect than they get. Besides I believe that even the prize money they receive should be even more bigger for such a taxing sport. Moreover it is an expensive thing to maintain, I mean the body & the fight.
To wind it up tell us how important is it for an actor to hold on to his limelighted stardom at this age & stage of his career?
By the way was it necessary to rub salt on the wound. You see sir, stardom is not something like a game that you can keep holding on or keep playing on. Frankly speaking every actor wants to be in the limelight for as long as he or she can. Again honestly speaking everyone is scared of losing his or her limelighted stardom and I would be lying through my teeth if I say no. Besides its not just the stardom, its that love, its that respect of the fans that one keeps receiving and suddenly one fine day everything is over. That is specifically one thing, I mean one quality that you are working so hard for and all of a sudden something happens and you are not the liked person anymore and that particular aspect bothers and hurts everyone and then you need to be a strong man who can amicably adjust with that part of his life too.
Before parting I would like to make one more query. Can I?
Yes! You can. And I know that even you too would like to know about the latest on my matrimonial status. To tell you the truth I am desperately trying to get married. In fact main mara jaa raha hoon, But saamne wali ladki bhi toh raazi ho mujhse shaadi karnne ke liye. Boss it is no longer luck or destiny that works in case of one's marriage but it is the girl power, and in my case it is the women power that will work. Let's see ultimately who would agree to marry me. That's it.