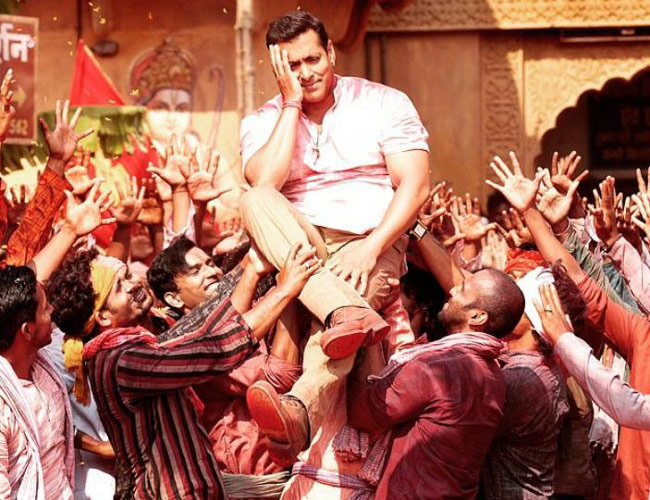 Salman Khan has always been surrounded by unwanted & uncalled for controversies galore. But braving all odds he has always emerged a winner. Forgetting all the back lashes in his career and personal life too, he now clears all issues with a pinch of salt. Present here with is an exclusive ad verbatim 1st person account of Salman Khan's version.
"First of all I would like to wish all my fans & well – wishers a very, very happy Ramzaan Eid mubarak. And I here again with an Eid release 'Bajrangi Bhaijan'. I lot has been written by you media guys as to why a Hindu oriented film on the eve of a Muslim festival. I would say that a film is a film which mirrors the true picture of society at large. Which can be of any community.So "kya Muslim aur kya Hindu. We are all one. So brothers I would like to say just 1 thing that please don't try to add communal colour & feeling to 'Bhajrangi Bhaijaan' and I think Mr. Pahlaj Nihalani the censor chief also seconds my opinionated train of thoughts. So 'Bajrangi Bhaijaan' is a gift for all my fans & well – wishers, irrespective of the caste & the creed."
"In 'Bhajrangi Bhaijaan' I am enacting the role of Pawan Kumar Chaturvedi, a staunch Hanuman bhakt. The film revolves around my attempt to take a lost kid back to her home to her parents. It was fun working with the kid, they are so alert & smart you see. 1 day the little girl tells me that, "Ab toh aapke saath kaam kar rahi hoon toh main bhi superstar ban jaaoongi hai na?" Needless to say I was left speechless & dumbstruck. Kabir had a tough time selecting the right kid who could fit the bill and does not look like a precocious kid. The best thing about the kid is that when we started acting together, she told me that she wanted to be a big super star like me. I told her that even I want to be a big super star."
"After listening to the story & the script narration by director Kabir Khan. I immediately agree to be a part of the film. To be very, very frank & honest I liked the subject of 'Bajrangi Bhaijaan' too much. There was a comfort level too as I had acted for Kabir Khan in 'Ek Tha Tiger' too. Even my dad said that he had not read a script as fine as that of 'Bajrangi Bhaijaan' or a film as good as this one in the last 2 decades. He also added that SKF (Salman Khan Films) will have to compete with 'Bajrangi Bhaijaan' in the future as a production house."
"People often ask me about my opinion on success & failure. And I always tell them that success has made more failures than failure. It is easy to act when you are successful. After that you tend to get overconfident & monotonous and it is unfortunately seen on the screen when you just do anything & everything. Failure makes you pull up your socks. I should know this because I have been through this game for the last 27 years ever since I made my debut with 'Biwi Ho To Aisi'. I hope I continue to act even at the age of 70 in roles that centre around me and for another 70 years in character roles. That apart if you succumb to your failures, automatically a stage will arrive when your enthusiasm wanes. However, when a film of yours succeeds at the box office, you start giving everything to your next film because you are sorted out as an actor. If you get carried away by your success and develop an attitude, you will always be like a gas balloon and unhappy. I do not take home my character or the images but the nobleness of my characters. Kabir used to get me charged and make me emotional especially when he shot the climax of 'Bajrangi Bhaijaan'. The niceness of your character always stays in your real life too but you cannot use the same technique that the hero uses in a film."
"Furthermore I would like to state that life as an actor has always been very, very tough for me. First one has to compete with all the seniors when one makes his debut as the competition is quite tough. Then comes a stage when you have to struggle along with your contemporary actors till you reach the position of you being a senior actor and still realize that it is tough to survive. How long you survive depends on your hard work & efforts, because if you are slack, the next lot is ready to take over. Neither do I jump with happiness when a film of mine is a hit, nor do I have bitterness when a film of mine flops, because I do not want to be insecure as an actor."
"To continue further I would like to say that content works in a film all the time and not the star. I confess that we used to have a lot more content earlier than what we have now in films. Today we lack emotional quotient in films as we have stopped catering to the pan India audiences and restrict ourselves to the audiences between Andheri & Cuffe Parade. What is of primary importance today is the need to cater to the audiences which stay beyond Andheri railway station."
"One more point that I would like to stress is that today there is this obsession to get into the 100 cr plus bracket, whether you are a producer, director or for that matter even an actor. It isn't something that is new. It was there earlier too but at that time we were clamoring for the 100 days run of a film or silver or golden jubilee run. Unfortunately because of this craze for 100 crore plus bracket, the rates of tickets are increasing day by day and it pinches the common man.
When 'Andaz Apna Apna' was released 2 decades ago, no one watched the film though the ticket rates were reasonable. Today the film has reached a cult status but everyone prefers to watch it on TV, because repeat value isn't there for films in theatres. It is sad that today people do not go to see a film if it is a romcom or a sweet film. Unless & until a film is promising and made on a grand scale, the youth is not attracted to watch a film and so most of the films do not touch the 100 crore bracket today."
"Besides the scenario as far as business of a film is concerned has also changed today. Way back in 1989, as you know, my film 'Maine Pyar Kiya' was released in just 18 theatres all over Mumbai. The producers Rajshri guys could afford that at that point of time as the film could sustain for a longer period but today the business of a film is restricted to just 2 to 3 weeks. If it is a star studded film with good content, it may run for 6 weeks in a theatre, not more. In fact the Delhi Government led by AAP has increased the rate of entertainment tax in Delhi from 20 to 40% all of a sudden. It is very sad. "Khud toh film dekhne nahin jaate lekin aam aadmi ko bhi tang karte hain". These people will call us only when they need us to canvass for their votes and use us during the elections. They feel that it is a chotisi industry worth only 8000 crores. The aam aadmi is bleeding today with lesser number of cinema houses to watch films and steep entertainment taxes & costly tickets at the multiplexes. It is sad but the bitter truth that a large country like India which produces over 1200 films every year in several languages does not have adequate number of cinema houses for producers to show case their films. If 1 big star announces his film as an Eid release, then another star is not able to release his film on the same day but Inshah Allah, I think Shah Rukh Khan and I will be able to release our respective films on the same day of Eid next year because by then many cinema multiplexes would have been made."
"Not only this I still wonder why are films not able to do good business today, I think this mainly because our
films are not able to generate business to a large extent even if they are good, only because we do not have theatres. I am working towards setting up small miniplexes which have a seating capacity of up to 250 patrons all over Maharashtra to begin with. If the experiment is a success, we may invite theatre owners all over the country for franchises."
"People often ask me as to when will they be able to see the trinity of myself, Aamir Khan & Shah Rukh Khan together on the celluloid silver screen. In this regard I woud like to state that If at all Aamir and I or for that matter Shah Rukh Khan and I have to come together, why should we make a sequel or a remake of 'Andaz Apna Apna' or 'Koyla'. We would rather act together in an altogether new film."
"One thing that really saddens me is that why do you people have to repeatedly ask me as to why did 'Jai Ho' failed at the box office turnstiles. My clarification to that is although it was a superb film, it failed to make it big mainly because we did not want to hike the rates of the tickets. It did a business of just Rs 126 crores. If only we had hiked the rates of the tickets, Sohail could have earned a lot more. Even the ticket rates of 'Bajrangi Bhaijaan' will not be hiked, because we want the maximum number of people to watch the film."
"In conclusion I woud like to say that now that 'Bajrangi Bhaijaan' is all set for release, I will concentrate on the shooting of Rajshree Productions 'Prem Ratan Dhan Payo' following which I will start acting in Yashraj Films 'Sultan'. I was also slated to be a part of Karan Johar's 'Shuddhi' but now I am not acting in it. Karan has signed Varun Dhawan to do that film. Period!"