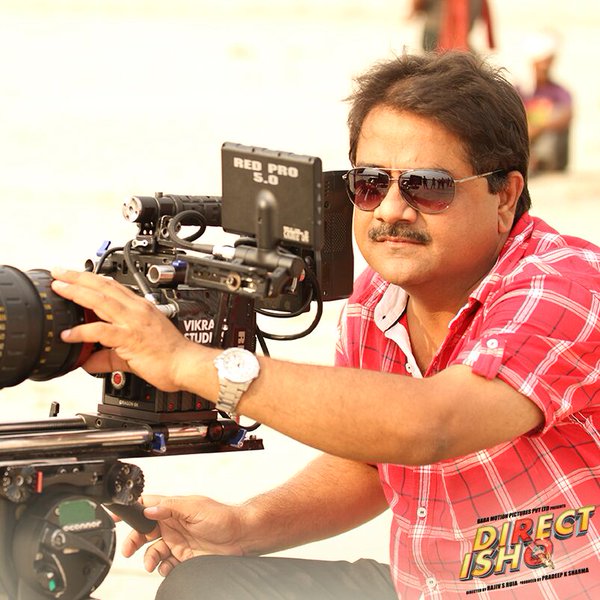 Producer Pradeep K. Sharma is one cool guy who takes everything in his stride without losing his calm & composure in the least bit. To start off his filmic career as a producer he made a right beginning by launching his own home production banner namely Baba Motion Pictures Pvt Ltd. Present herewith is a one on one interview session with him in Cafe Coffee Day.
How did you begin your filmic journey?
Honestly speaking I always aimed to be a filmmaker. And to make a right beginning towards this end I proceeded by launching my own home production banner namely
Baba Motion Pictures Pvt Ltd and produced my 1st film namely Direct Ishq which was a moderate success. Even my 2nd film released under the same banner namely 1:13:7 Ek Tera Saath has been released but sadly enough it received a very lukewarm response from the cine goer's all over. But no regrets whatsoever I will continue making good cinema in all genres.
It seems you had a little tiff with director
Arshad Siddiqui during the making of 1:13:7 Ek Tera Saath?
You cannot really term it as a tiff. But then you tend to have a little misunderstanding which was later on cleared amicably. Even otherwise how could I upset my director Arshad Siddiqui who was also a part producer of 1:13:7 Ek Tera Saath. He had used the name of his long standing banner namely Eyefaa Studio.
It seerms singer Swati Sharma happens to be your daughter?
Yes you are right and indeed she has rendered 5 songs in 1:13:7 Ek Tera Saath.
But that's all! I do not at all interfere in her singing career. In fact she takes her own independent decisions.
To what would you attribute the lukewarm response to your 2nd film 1:13:7 Ek Tera Saath!
No body can really understand the psyche of the Indian cine goer's. You can never know what they would like and what they would not. Anyways I am very happy that my 2nd film also got released in the same year as my 1st film Direct Ishq. The music & the script were also great. My daughter Swati Sharma's 5 songs with Raahat Fateh Ali Khan, KK & Aman Trikha were also very melodious. The film also had good actors like Ssharad Malhotra, Hritu Dudani & Melanie Nazereth.
Are you trying to follow in the footsteps of Ramsay Bros of the past era and Vikram Bhatt of the present times by making a film rooted in the horror genre?
No its nothing like that. Once again I would like to stress that I will continue making films of all genres as long as they represent good cinema that would be liked by the masses as well as the classes.
So which are the next films that you are planning under your own home production banner?
I am now planning to launch 2 new films under my own home production banner namely Aashiq Surrender & Ishqabaad as well as a Marathi film next year. Yes you can say that I was highly impressed & inspired by the grand success of Marathi film Sairaat. That apart I am also planning to make 2 big films every year, with big star cast in the coming years.