The ever smiling & ever charming Malyalam star – actor Dulquer Salmaan, who also happens to be the son of Malyalam star – actor Mamooty, is currently enacting the role of the Late veteran star – actor Gemini Ganesan in an upcoming Telugu – Tamil bilingual biopic namely Mahanati, which is based on the legendary South Indian actress Savitri. Incidentally speaking Dulquer Salmaan is also all set to make his Bollywood debut in Kaarwaan with the talented actor Irrfan Khan, which was officially announced recently.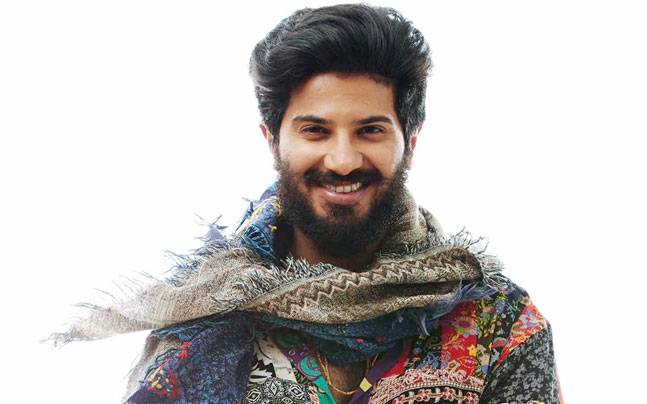 *You have already made a mark as a Malyalam star – actor. You are also doing a Tamil – Telugu Bilingual namely Mahanati and now you are all set to make your Bollywood Debut with Kaarwaan. Right!!!
*Right Sir!!! I have indeed wanted to make my Bollywood debut, but the clichéd answer is that I have been waiting anxiously for the right script which I have ultimately come across. So now I will finally be seen in debutante Akarsh Khurana's directorial debut Kaarwaan which will also star versatile actor Irrfan Khan. I think Abhishek Bachchan was initially chosen for the role but had to opt out as his dates clashed with J P Dutta's film Paltan. So Kaarwaan is a light – hearted comedy, and it features me & Irrfan Khan as friends on a road trip. I am enacting the role of a Bangalore based youngster, that's all I can reveal as of now. Mithila Palkar is also a part of the cast. Akarsh Khurana has also co – written the script with Hussain Dalal & Ronnie Screwvala is producing it under his own banner. The movie will start rolling by month end in Kerala.
*Time to enlighten us about your Tamil – Telugu bilingual Mahanati!!!
*Actually speaking it has been my ardent desire for a long time to be a part of a period film. Amazing period is being captured in films & even in small screen serials in the West. For a long time I have desired to be a part of a period drama. But fortunately or unfortunately, in the Malayalam film industry, we don't have huge budgets to make such period films. So Mahanati is being made on a massive scale and I'm lucky to be a part of this project. It is being directed by Nag Ashwin and besides me it also stars Keerthy Suresh as Savitri, apart from Samantha Ruth Prabhu, Prakash Raj, Mohan Babu & Vijay Devarakonda, I am indeed thrilled to be working with a young team. Both the director & the producer are younger than me. It's a young team with so much of energy. I have always been against the idea of bilinguals but it made a lot of sense to make this film in 2 languages. I am enacting the role of Tamil star – actor Gemini Ganesan but I am not going to look like him. I can't, honestly, and I don't want to wear prosthetics. My approach is simple. I would like to be myself in the phase of 1950's if I was a big movie star. I don't think I should attempt to play Gemini Ganesan. You don't really have any off – screen footage of him. You don't know what kind of person he was off – screen. We only know his persona on screen & I can't use that to play him off – screen.
*You share a very good rapport with Rana Daggubati. It is rumored that this is just a ploy to get a foothold in Telugu Cinema. Would you care to elaborate!!!
*Yes I am indeed sharing a very good bonding with Rana and it's very natural. Believe me there is no selfish motive behind this. May be it's my down to earth attitude & my ever smiling countenance that attracts them. But my friendship with Rana is for keeps no matter what the rumor mills churn out. In fact I share a good camaraderie with all my male co – actors then be they from Malyalam, Telugu or Tamil film industry. And my female co – stars need not get upset as I would like to share a healthy friendship with them too, both on a personal as well as professional level.
*You were really happy doing Parava released recently. How come?
*Mark my words Parava will be a real game changer. Comedian actor Soubin Shahir made his debut as a director with Parava. Although I have an extended cameo of only 25 minutes I think it is a terrific film and I also think it will be a game changer. It's another huge blessing that I got to be a part of this film and I thank my Allah – The Almighty daily for every chance I've been given.
*How was it working in Solo which was also released recently?
*Yes Solo has been finally released. I still have great expectations from Solo, as for me working in Solo was like working simultaneously in 8 films. Solo has been packaged with 4 stories & I had 4 different looks. Since Solo is a bilingual film in Tamil & Malayalam, it was like acting in 8 films at the same time. In O Kadhal Kanmani & Vaayai Moodi Pesavum, I had a bubbly energetic image but it will change now that Solo is released, the film had 4 heroines including Dhanshikaa, Sruthi Hariharan, Neha & Aarthi. And though we had 4 heroines in the film, there were no ego issues. 3 cinematographers & 11 music composers have worked in Solo, our film had 15 songs.
*Okay!!! How was the experience of sharing screen space with your father?
*In fact it was very normal. Frankly speaking I am not in awe of my father nor was I nervous any time while facing the camera with him in the same breath. I do respect & trust my father but at the same time we both share a very friendly & a very cordial relationship with him. At the same time we both don't have any policy to not act together in future. It's only that we are looking for the right script.
*You have often been labeled as an arty hero. Why are you hesitant on donning the mantle of a commercial hero?
*Frankly speaking again I am more scared to attempt an out & out commercial film. As I feel it can either click all the way or go down all the way. So audiences will either like it or hate it. Besides I have always entertained the audiences with memorable content. So doing a film like Solo gives me more courage because irrespective of its Box – Office turnstiles fate, people at least appreciate the intent, its effort or just the desire to make good cinema.
*How would you describe your filmic journey right from your debut film Second Show to your latest film Solo en route Parava?
*I would not like to describe my filmic journey with mind blowing adjectives suffice it to say that right from day one it was effortless & smooth sailing. No doubt I have gained a lot of enriching experience too. I also got a chance to work with the best of directors, best of producers, best of production houses and of course best of co – stars too. Moreover I am most happy that I ended up making a lot of good friends and I don't think any enemies whatsoever.
*Name your 5 favorite films!!!
*I loved albeit enjoyed doing all the films of my career, so naming just 5 films will be an injustice to all my other films.
*Lastly name your forthcoming films?
*Mahanati, Oru Bhayankara Kamukam & Bollywood film Kaarwan.