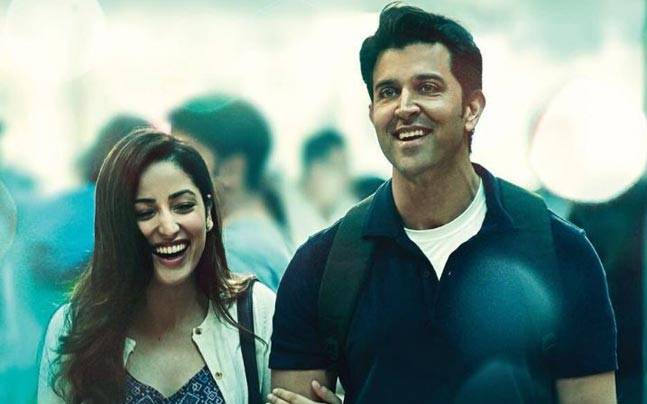 Banner: Filmkraft Productions Pvt Ltd
Producer: Rakesh Roshan
Director: Sanjay Gupta
Star Cast: Hrithik Roshan, Yami Gautam, Ronit Roy, Rohit Roy, Sahidur Rahman, Narendra Jha, Suresh Menon, Akhilendra Mishra, Girish Kulkarni, Urvashi Rautela
Music: Rajesh Roshan
Actor – producer – director Rakesh Roshan needs no special introduction. Besides his "K" fixated titles is also very well – known both in Bollywood & outside Bollywood. So from his debut directorial venture Khudgarz till his latest offering Kaabil, Rakesh Roshan has traversed almost all the genres of filmmaking with multiple sucess till this date. No doubt he had his own share of up & downs, highs & lows and of course success & failure, but of course more directorial successes than failure. Need anything more be said on this account.
The scripted scenario of Kaabil hides the plot more than it reveals. Rohan (Hrithik Roshan) is a visually impaired man who works as a voice over artiste for a living. He meets Supriya (Yami Gautam), a visually challenged, but independent working woman, after being coaxed by a common well – wisher. Although both are initially reluctant to ever marry, they eventually start liking each other and get married. One night on their way back home after dining at a restaurant, they are interrupted by Amit Shellar (Rohit Roy), a local goon & younger brother of Madhavrao Shellar (Ronit Roy) – a well – known politician & his friend Wasim (Sahidur Rehman). Both being intoxicated behave inappropriately with the couple enraging Rohan and are involved in heated exchange of words. The next morning while Rohan is out for work, Amit & Wasim sneak into the house & gang rape Supriya. A mortified Rohan immediately calls up the police who advise him to get his wife medically examined in 24 hours to prove the assault. While Rohan & Supriya are on their way to the clinic, they are kidnapped by Shellar's men and are held captive for 36 hours. After setting them free, they are criticised by the police & doctors for the delay in admitting Supriya. Heartbroken, they both return home. While tormented, Supriya attempts to try and live normally, but Rohan becomes silent & introspective, which breaks Supriya further. One morning, Rohan returns early from work to apologize to Supriya for not being as supportive as he should have, only to find her hanging down a fan. Later, when Rohan is brooding over losing Supriya, Madhavrao visits him and admits that his brother Amit assaulted Supriya not once but twice. He also threatens him and asks him to forget about what had happened. Rohan finds Supriya's braille note which ascertains that the 2nd assault led to her eventual suicide. This sets off a change in Rohan's persona. He visits the police station and implies that he will avenge his wife's death. He formulates varied ideas and uses his voice modulating skills to fool Wasim to come to an isolated club, which was Amit & Wasim's hang out place. When Wasim arrives, Rohan switches off the lights and gets added advantage of fighting in the dark. Rohan eventually hangs Wasim, leaving Amit's handkerchief behind to misguide the Police. He then tricks Amit by dubbing Inspector Nalawde's (Girish Kulkarni) voice and makes him come alone to a warehouse full of oil drums. Unlike Wasim, Amit takes off his shoes so that Rohan can't guess his movements. But after the initial struggle Rohan knocks him down and ties him down in leaking oil to be burned alive. Madhavrao Shellar is now furious to find the real culprit. Sr. Police Officer Chaubey (Narendra Jha) who has doubts over Rohan gets him house arrested and offers Shellar to reveal the name with complete evidence in 24 hours. But before that Rohan escapes with the help of his friend Zafar (Suresh Menon) and later challenges Shellar to meet him at the top of an under construction building. Shellar tries to shoot him, but Rohan very cleverly kills him by throwing him down the building. The police with no evidence against Rohan – a visually impaired man – stand helpless. Rohan who has now taken his revenge, sets free Supriya's ashes into the sea and bids her farewell.
This time around Rakesh Roshan is not handling the directorial helm of affairs, instead Sanjay Gupta has taken over the directorial reigns of Kaabil and although he is known more for western influences in his films, but in Kaabil, he has led emphasis heavily on emotions. Although the plot may appear conventional, Gupta & writer Vijay Kumar Mishra have totally avoided the clichés and standard techniques. In fact Kaabil never fails to involve & entertain the audiences. And some of the more deserving
credits & plaudits also goes to behind the scenes team comprising of Rajesh Roshan (music composer) Ahmed Khan (choreographer) Salim – Sulaiman (Background scorer), Sudeep Chatterjee & Ayananka Bose (cinematographer), Shyam Kaushal (action master) & Akiv Ali (editor).
Performance wise Hrithik Roshan literally lives up to his role of a visually impaired man. He proves his histrionically oriented excellent prowess brilliantly. In fact Duggu as he is more popularly known has delivered his career best performance. Yami Gautam has also delivered a par excellence act as a visually impaired woman and than as a rape victim who hangs herself to death. And than both Ronit Roy & Rohit Roy, brothers in real life, are outstanding as villainous nay antagonists. While Narendra Jha as inspector Chaubey is 1st rate. Girish Kulkarni is perfect. Suresh Menon indeed springs a pleasant surprise. Sahidur Rahman deserves a special mention. Akhilendra Mishra is good. And last but not the least Urvashi Rautela catches your sparkles in an item number.
Tail Piece: Kaabil is an intensely emotional film with all the action & entertainment oriented commercial trappings intact.