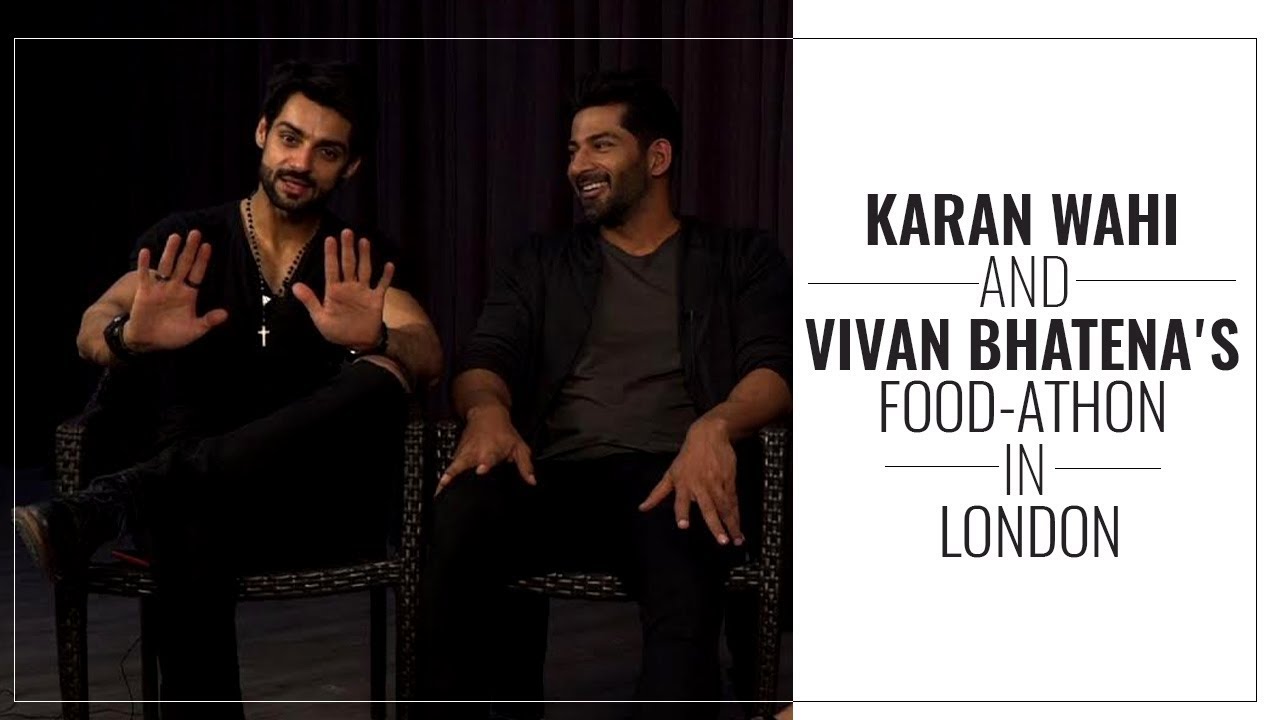 Karan Wahi & Vivan Bhatena who play brothers in the revenge thriller HATE STORY IV had fun on the sets. Both play grey characters in the film and share a friendly vibe and bonded over food, fitness & sports. Vivan Bhatena said, "Karan is like a younger brother to me and we had workout sessions together. During an action sequence we really got involved in the whole fight sequence and accidently ended up doing a fall which left us quite shaken as Karan got hurt and I was concerned about him as it's his 1st ever action film but then pain paid off as the sequence looks brilliant. The best time we had was when we went together to watch the England Germany game at Wembley because this was a dream come true for both of us. Karan Wahi said, "The climax scene was a fight sequence between me & Vivan and it was very intense. I was scared that it would be a tough one because his hand is heavier than a 10 kg dumble. Our love for cars & fitness tops the list." Hate Story IV, directed by Vishal Pandya, stars Urvashi Rautela, Karan Wahi, Vivan Bhatena, Ihana Dhillon & Gulshan Grover in the lead role releases on 9th Mar, 2018.
FORMER PREMIER LEAGUE PLAYERS NEMANJA VIDIC & GARRY MONK JOIN RANVEER SINGH AT PREMIER SKILLS
Premier Skills, the referee & coach development programme run by the Premier League & the British Council, received a surprise visit from former Manchester United player Nemanja Vidic, former Swansea FC player & manager Garry Monk & official ambassador for the Premier League in India Ranveer Singh recently. The 3 attended a special event to showcase the Premier Skills programme, which sees Premier League Club coaches provide face to face training & education materials to participants who will then be able to use & share their newly acquired skills to develop & coordinate projects in their own schools & communities. Premier Skills is delivered in India in partnership with the SAI, AIFF & ISL and a number of other sport NGOs including the OSCAR foundation & Magic Bus. Nemanja Vidic said: "Premier Skills is really important as the more qualified coaches there are training the young players, which will all lead to more of fun opportunities for football in India." Alan Gemmell OBE, Director of the British Council in India said: "This year marks the 70th anniversary of the British Council in India and we have been inspired every day of those 70 years by the young people we have met."
RAHUL SHARMA LOSES 20 KILOS FOR HIS DEBUT HINDI THRILLER FILM 'X RAY – THE INNER IMAGE'
Rahul Sharma has broken many barriers to make his way in the Hindi film industry and is a classic example of a great transformation by having lost as many as 20 Kilos! Hailing from Muzzarpur, Bihar, Rahul had to deal with many backlashes for his looks. Despite taking formal training in acting from Vidur Chaturvedi's acting academy, in his initial auditions, Rahul faced rejections not for his acting mettle but for being overweight & dark but finally landed himself his debut film X-Ray – The Inner Image. "I went for auditions where people were more interested in my looks than my talent. I did work hard to make this far. I refined my acting skills even more, got some back camera training as well and all this while losing 20 Kilos! The journey was tough, I went through severe diets & workout to get this body and I am glad it worked for me," exclaims Rahul who is tremendously inspired by actors like Varun Dhawan & Tiger Shroff! Starting off with music videos and having done many fashion shows, Rahul is very excited about his debut project. "It's a thriller directed by Rajiv S Ruia," divulges Rahul very cautiously. Well, Rahul Sharma sure looks the promising star of 2019! Atta boy!
'HAMNE GANDHI KO MAAR DIYA' RELEASED
Naeem Siddique, who is a true Gandhian follower, has decided to do something big this 150th birth anniversary of Mahatma Gandhi. He has made a film, Hamne Gandhi ko Maar Diya, which revolves around 2 complete opposite ideologies, about 2 strangers who met in a train journey in the panorama of 28th Jan, 1948, 2 days before the death of Gandhiji and events happening during the 2 days journey, have different impacts on these 2 individuals & reactions to the events forces to think who is right & who is wrong. When they reach their destination, they get to know that Gandhiji was assassinated & events happened after that becomes reflection of the 2 different ideologies. Today again such ideologies are expanding and in such times, this story once again becomes ideal to provoke thoughts of the followers of such ideologies. The film written & directed by Naeem A Siddiqui, stars Jatin Goswami, Pratima Kazmi, Sameeksha Bhatnagar & Subrat Dutta.
'THE PAST' ADDS TO THE LIST OF HORROR FILMS OF 2018
Horror Thriller The Past starring Yuvraaj Parashar & Vedita Pratap Singh is all set for release on 27th Apr, 2018. The year of 2018 will see horror films like Anushka Sharma's Pari, Shraddha Kapoor's Stree, Javed Jaffri's Lupt etc. There are a bunch of regional horror films scheduled for later this year, including Kanchana 3 (Tamil) & Karu (Telugu). While the Indian horror movie scene has been heating up with the success of Vikram Bhatt's 1921 & Tamil – Telugu horror thriller Bhagaamathie, Video streaming platforms like Amazon Prime Video & Viu have already gotten into the horror game with shows like Shaitan Haveli & Gehraiyan. "We shot the movie in Virar, which has been the stomping ground for a number of horror films. The horror genre is often seen as the black sheep of Bollywood and seen as cheap movies with little artistic value," said Yuvraj. Vedita Pratap Singh said; "The audiences will love the twists & edge of the seat thrill." "We have tried to venture into a zone which is not attempted before. We hope to bring together horror aficionados, and those of us who just wonder what makes us humans tick. If you are not scared in the night after the film, then you actually didn't see the film." says the debutante director Gagan Puri. ‌
AUSHIM KHETARPAL HONORED WITH "RAJASTHAN INTEGRATION AWARD"
Indian Federation of "Working Journalists – Rajasthan" in Rajasthan honored actor – producer Aushim Khetarpal of Shirdi Saibaba fame with "Rajasthan Integration Award" for his new film Baba Ramsaa Peer in Jaipur. On the occasion, cabinet minister of Rajasthan, Shri Prabhu Lal Saini, who is also the minister of agriculture & animal husbandry, Ms. Suman Sharma – chairperson of the Rajasthan State Commission for Women, MP of Jaipur Ramcharan Bohra, Upendra Singh Rathore – State President of 'Indian Federation of Working Journalists with many senior journalists & correspondents made their presence felt. Sant Baba Ramsaa Peer of Rajasthan had miraculous powers & devoted his life for the upliftment of dalits, downtrodden & poor people of the society. Aushim Khetarpal essays the role of Baba Ramsaa Peer. Gracy Singh is seen in the female lead. Aushim Khetarpal said, "These days we do not give much time & attention to the generation next. Thus there is a lack of values on culture & civilization. We filmmakers should make such kind of films which will educate the younger generation".
'NANAK SHAH FAKIR' TO RELEASE ON 13TH APR 2018
Ringing in the harvest festival of Baisakhi this year will be an inspirational film based on the life & works of Guru Nanak Sahib titled, Nanak Shah Fakir. Produced by Harinder Sikka, the film will be released on 13th Apr, 2018 & distributed domestically by Viacom18 Motion Pictures. Nanak Shah Fakir has been widely appreciated across prestigious International Film Festivals like Cannes, Sikh Film Festival in Toronto & Sikhlens Film Festival in California for its poignant portrayal of the life & teachings of the revered founder of Sikhism, Guru Nanak Dev Ji, who was born in 1469 A.D. The songs in the film have been rendered by musical maestros Padma Vibhushan Pt Jasraj & Padma Shri Bhai Nirmal Singh and composed by the legendary music director Uttam Singh. A. R. Rahman, Resul Pookutty & Gulzar, contributed to music, sound & lyrics. The film's original score has been composed by the highly celebrated composer Tuomas Kantelinen. Its songs include 1 song sung by Grammy Award winning group "White Sun" and its famous singer Gurujas Khalsa of Los Angeles. Harinder Sikka, Producer said, "Nanak Shah Fakir is not just an epic film about the amazing journey of Guru Nanak Dev Ji but calling to a better way of life that we want the audiences to experience. The film is a representation of Guruji's teachings that hold great relevance even today.
'A TAJ MAHAL LOVE STORY' ANNOUNCED DURING JUSTIN TRUDEAU'S VISIT
Justin Trudeau announces the 1st ever official Indo -Canadian co – production titled A Taj Mahal Love Story. The official Canadian announcement was quoted as saying, "True Space Films (Toronto) & Ekaa Films (Delhi) have signed an agreement to co – produce A Taj Mahal Love Story, a film with a strong woman empowerment narrative will be shot in India with editing & post production completed in Toronto". While Madhureeta Anand has written & directed A Taj Mahal Love Story, True Space Films belongs to Anu Vittal , a Canada based producer. "The script has been described as path breaking because it has a strong woman – centric theme with a unique screenplay that is quirky & strong at the same time. Madhureeta Anand has directed 2 feature films, written 5 feature films, directed many documentary films & series, spanning an array of genres. Madhureeta says, "I spent 3 years researching & writing this script. The collaboration with Canada will make this a truly international film. In today's world with shrinking Box – Office turnstiles numbers worldwide, it is imperative that we expand the scope of our films & their audiences. Why limit our films to just Indian audiences?"
ALI FAZAL FEELS ELATED AFTER HAVING MET SAMUEL L JACKSON & BRITNEY SPEARS!
Ali Fazal is currently in LA working on the prep for his next Hollywood unannounced venture and alongside he is also been attending an array of work meetings. Ali has since then been in news on several occasions for his varied developments in the west. Attending the annual Hollywood Beauty Awards, an annual forum where the best in talent of the hair, beauty & design talent is awarded, Ali was also elected as an award presenter. At the ceremony Ali was elated to have met, his icons like Britney Spears & Samuel L Jackson. In fact he even earned praises from the man himself, Samuel L Jackson who was all praises for Ali's role in Victoria And Abdul. Ali said, "It was surreal. We were all on the same tables, dining at the award show. I mean, fact is, Britney has been an icon during the largest part of my childhood. Samuel L Jackson & I share the same team, and so this meeting was pending for a while. I am just a huge fan. And he loved my performance from my film Victoria And Abdul. Something's are just best experienced I guess. I told him I hope I meet him on a set next time, working together." Ali presented the 2018 new beauty awards to new comers Kirstin Maldonado & Olivia Holt. And the finale award for Timeless beauty to Jane Seymour, aka Bond girl.
AMITABH BACHCHAN & RISHI KAPOR BACK IN UMESH SHUKLA'S '102 NOT OUT'
Amitabh Bachchan & Rishi Kapoor will be back onscreen after 27 years. Sony Pictures International Productions, India has boarded filmmaker Umesh Shukla's ageless comedy 102 Not Out, in which they appear as father & son for the very 1st time ever. The slice of life comedy is slated to release worldwide on 4th May, 2018. The film is based on playwright Saumya Joshi's well – known Gujarati play by the same name and has been adapted into a feature by him. Amitabh Bachchan, who plays the role of 102 year old man living life to the fullest, said, "Teaming up with Chintu ji after so many years after so many successful historic films, has been the greatest joy during 102 Not Out, a novel story, competent direction & a most qualified crew, has made the experience even greater. I know the country loves the younger, fresh and vibrant new generation – as must it should deservedly, but who ever said the "oldies" are not capable to do similar." Rishi Kapoor, who plays 75 year old son of Bachchan in the film, added, "Being in 102 Not Out brought back a lot of fond memories & fun I have shared with Amitji during my younger days".
SHAHID KAPOOR WRAPS THE SHOOT OF 'BATTI GUL METER CHALU' A DAY PRIOR TO BE WITH FAMILY
Shahid Kapoor finished the shoot a day before the schedule, the unit assumed he would head to Mumbai, in time for the Padmaavat success bash but much to everyone's surprise, he flew off to Delhi to join wife Mira & daughter Misha, who have been staying there for almost a week. It was planned weeks in advance that Shahid would celebrate his birthday on 25th Feb, 2018 by attending a satsang in Beas, with his family. But when he was invited for the Padmaavat party earlier this week, everyone assumed he would attend the bash and head out to Beas the next morning. "This is the reason why Shahid wasn't able to attend the bash that saw the entire team including Deepika Padukone, Ranveer Singh & Sanjay Leela Bhansali. It was just a case of bad timing. Shahid isn't one to compromise on his family time. He wanted a no – frills birthday with his close ones around him and that's why he headed to the satsang by the Radha Soami sect. He flew off to Amritsar and stayed in Beas for a few days, before resuming his shoot.
GIRIJA OAK GODBOLE IS MAKING HER DEBUT IN SHORT FILM 'QUARTER'
After having made her debut in Hindi films with Aamir Khan's much acclaimed film Tare Zameen Par and also making her presence felt as an actress in Marathi films as well as theater besides being a prominent part of several ad films, Girija Oak Godbole has now acted in a short film called Quarter for the 1st time ever in her career. The film has been made in Marathi as well as English. The short film has been produced by Namrata Bandivadekar & directed by Navjyot Bandivadekar. Girija Oak Godbole says "I was always yearning to get an opportunity to act in a short film. Through Quarter, my wish has been fulfilled, though I have earlier portrayed a wide variety of roles through varied characters in films. My role in Quarter is very different as an actress." Navjyot Bandivadekar exults. "Having got an actress par excellence like Girija Oak Godbole to say yes to acting in our film and portray the difficult role that she has done which is different in our film is by itself a major success for us & our film. The fact that she liked the story & her character goaded her to agree to be part of our project."