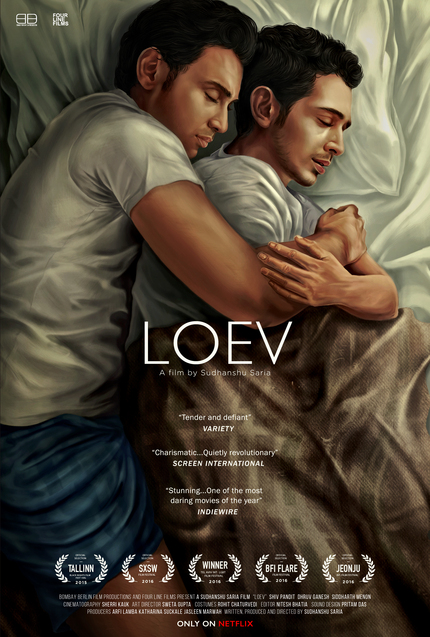 THE DIRECTOR'S STATEMENT
Loev is not a political film, it is a simple love story about an unusual love. But the act of making this film was a political one because of where this film was made.
At first glance, this is a universal story that could have taken place in any city from Boston to Budapest but a closer look reveals an invisible, 4th character in every scene: the politics of India. The complex legal & social codes gagging these men shape the way they express; understand & recognize love.
India's highest court very recently passed Amendment 377 into law declaring homosexuality punishable by life imprisonment and making criminals out of millions of its citizens. By extension, the court made it very easy for any cinematic work endorsing or depicting this love to be censored, obstructed & banned. It was in this environment that our actors, technicians, investors & supporters came together to make this film, working in absolute secrecy and, in many cases, free of cost because we believe in the power of stories.
Depicting these lives authentically and with dignity in our very personal, specific story where the characters seem least interested in the Supreme court's grand decision and is our own radical act of protest.
Gender, sexual – orientation, creed, class, all these superficial divides seem irrelevant in the court of love. Love is mercilessly confusing, painful & euphoric to its patrons, no matter how one chooses to spell it.
Given the subject matter and the political climate in India, there was no conventional way of financing Loev. There was no state – funds that could have endorsed the production, no soft – monies or no tax – rebates to take advantage of. And with no guarantee of release in place thanks to censorship, our passion for the cause is all we had. Friends, families & allies came together through a crowd – funding campaign to make this an international production with monies coming from France, Germany, USA, India, Netherlands, Hong Kong and other parts of the world.
Though the film was budgeted aggressively and made in a very short time -span, we could not cheat since the director wanted to shoot in uninterrupted long takes and on actual & real locales where this story takes place. This meant having false scripts and taking permissions with vague scene descriptions so as to not attract the attention of authorities. Nobody could publicize which film they were working on and actors were not allowed to talk about the project.
Principal photography lasted 16 days with 2 half days in the middle. The Cinematographer flew down from US on her own money and stayed on the director's couch for a month of exclusive rehearsal. The actors, all Bollywood protégés & stars, risked getting typecast in the local film industry to participate in this unconventional project. All aspects of the production were rehearsed extensively for the month prior to principal photography because we knew we would not have any time to waste on the sets.
All our hard – work aside, this film would not have happened had our allies from around the world not supported us: ARRI contributed the Alexa camera package, music companies like Saregama, Warner – Chappell and Universal Music gave us access to their music catalogues, and India's largest post – production studio Prime Focus gave us access to their facilities at hugely subsidized rates so the film could get made.
After the film was completed and while it was being readied for film festivals, our principal actor Dhruv Ganesh (Sahil) was diagnosed with tuberculosis. We were worried but with our infinite faith in modern medicine were convinced he would recover. It came as an immense shock to us when, earlier this year, Dhruv passed away in Delhi. Several of us attended his funeral, charged with the task of bringing his final work on celluloid to the world in the best possible way. His delicate, generous portrayal of Sahil as a flawed young man looking to find the meaning of love is truly a miracle.
Despite not having a score, the film features an eclectic collection of songs from Mary J Blige to Jose Gonzales to the legendary Bollywood maestro R. D. Burman sung by the "Nightingale Of India" Lata Mangeshwar. An original love ballad was also composed for the film by the musical whiz – kid Tony Kakkar who took the nation by storm with his Bollywood track "Mohabbat Barsa Dena Tum" in 2013.
THE CAST
SHIV PANDIT AS JAI
Shiv Pandit is an Indian actor & television host. After having featured in several T.V. commercials for popular brands (Sprite, Airtel, Tide, Colgate, LG & Rotomac to name a few), he landed the lead role in the Television Sitcom FIR in 2006. Post his stint on the show; he was contracted as the host for the 1st edition of the Indian Premier League on Set MAX for the show "Extraaa Innings T20" in 2008. Shiv Pandit made his screen debut in 2011 with the critically & commercially successful Hindi film Shaitan where he got noticed and was nominated for the Filmfare Award for "Best Male Debut." He also went on to debut as a lead actor in the Tamil film Leelai. The film opened to extremely positive reviews, with Shiv Pandit's performance being extremely well received by both the critics & the audiences alike.
DHRUV GANESH AS SAHIL
Dhruv Ganesh was discovered by audiences in Leena Yadav's heist movie Teen Patti where he was cast opposite Academy Award Winner Ben Kingsley and Indian screen legend Amitabh Bachchan. He managed to hold his own and was soon flooded with offers. Ever the selective actor, he portrayed interesting &, nuanced characters in films like Table No. 21 and was also cast in many nationally televised advertisement campaigns. Loev was Ganesh's !st ever film as the lead actor and it will, unfortunately, be his last. After the completion of principal photography, he was diagnosed with tuberculosis and passed away in Jan, 2015.
SIDDHARTH MENON AS ALEX
Siddharth Menon is a classically trained actor who got his start doing Marathi theatre in Mumbai with acclaimed theatre troupes in the region. He made his film debut in Peddlers which received its world premiere at the Cannes Film Festival and was also selected for the Toronto International Film Festival. His follow up films, Rajwade And Sons, Popat, Ekulti Ek and so on, were directed at local audiences and brought him tremendous critical acclaim and a local fan following. Loev is Menon's 2nd film in English, targeted at international audiences and is already opening up newer markets for him.
THE CHARACTERS
Sahil – Dhruv Ganesh
Alex – Siddharth Menon
Jai – Shiv Pandit,
Aditya /Junior – Rishabh R Chaddha
Porter, Mahabaleshwar – Dixit
Patrons at Music Shop – Navit Dutt, Dipankar Gupta & Jasleen Marwah
Usher -OankarChavan
Eatery Server – KamleshPatil
Patrons at Eatery – Ankur Singh, Rohit Chaturvedi & Sanjeeb Majumdar
Receptionist – Rachana Gees
Businessman -Sukhwinder Singh
Son of Businessman – Aditya Gupta
Businessman's Accountant – Nitin Agarwal
Restaurant Manager – Suyash Bisht
Restaurant Server – Dinesh Pathak
Patron at Restaurant – Katharina Suckale
THE FILMMAKER
SUDHANSHU SARIA Writer & director
Born in the tea estates of Darjeeling, India, award – winning filmmaker Sudhanshu Saria earned his Bachelor of Fine Arts degree in Film & Photography from Ithaca College in New York. His previous film work has premiered in festivals such as Hollyshorts & Rio de Janeiro International Short Film Festival, taken him to Berlinale Talent Campus and been featured on NPR & Good Morning America. His most recent short, His New Hands, had its world premiere in competition at the 2014 Hong Kong International Film Festival, and was awarded the prestigious Remi Gold Prize for Best Dramatic Short at the World Fest – Houston International Festival & the Best Film Prize at Flyway Film Festival. The film screened at more than 25 film festivals around the world including Sarasota, Omaha, Heartland Film Festivals and the Chennai International Film Festival. It was selected by the makers of the RED camera for its annual showcase of the best films shot on this device, and awarded the "Best Cinematography" prize at the Kala Ghoda Arts Festival in Mumbai. I Am Here, his 2nd feature – length screenplay, was selected for the International Film Finance Forum at the Toronto International Film Festival, and is currently in pre – production. Loev is his writing & directing feature debut and world premiered in competition at the Black Nights Film Festival in Tallinn. The next stops on the film's festival calendar include Guadalajara International Film Festival (Latin American premiere), BFI Flare (UK Premiere) & South By South West (North American premiere). It is being represented for sales by Wide Management & Angel Grace Worldwide and has already closed theatrical deals in key territories.
THE CREW
Written, Directed & Produced by Sudhanshu Saria, Produced by Arfi Lamba, Katharina Suckale & Jasleen Marwah, Co – Produced by Upinder Singh Lamba, Nikunj Patwari, Sameer Mahandru, Associate Producers
Prashant Gupta, Baltej Singh Sodhi, Manhar Lamba & Sameer Bhavnani, Director of Photography Sherri Kauk, Editor Nitesh Bhatia, Art Director
Sweta Gupta, Costume Designer Rohit Chaturvedi, Sound Design Pritam Das, Casting Director, Jitendra Rai Finch & Casting Studio, Colorist Sidharth Meer & Original Song by Tony Kakkar.
THE SYNOPSIS
When hot shot, Wall Street dealmaker Jai thinks of putting some pleasure into his 48 – hour business trip to Mumbai, his young, music – producer friend, Sahil, drops everything, including his reckless boyfriend Alex, to help him execute the perfect getaway. Hiking the hills & canyons of Maharashtra, amidst half – attempted conversations & sudden silences, business calls & old jokes, the friends discover there is more than just time – zones keeping them apart. Things take another turn when Alex shows up with a new male – companion at his side, throwing up old conflicts and bringing unanswered questions to the fore. Loev was shot in absolute secrecy in India, where homosexuality is punishable by life imprisonment.