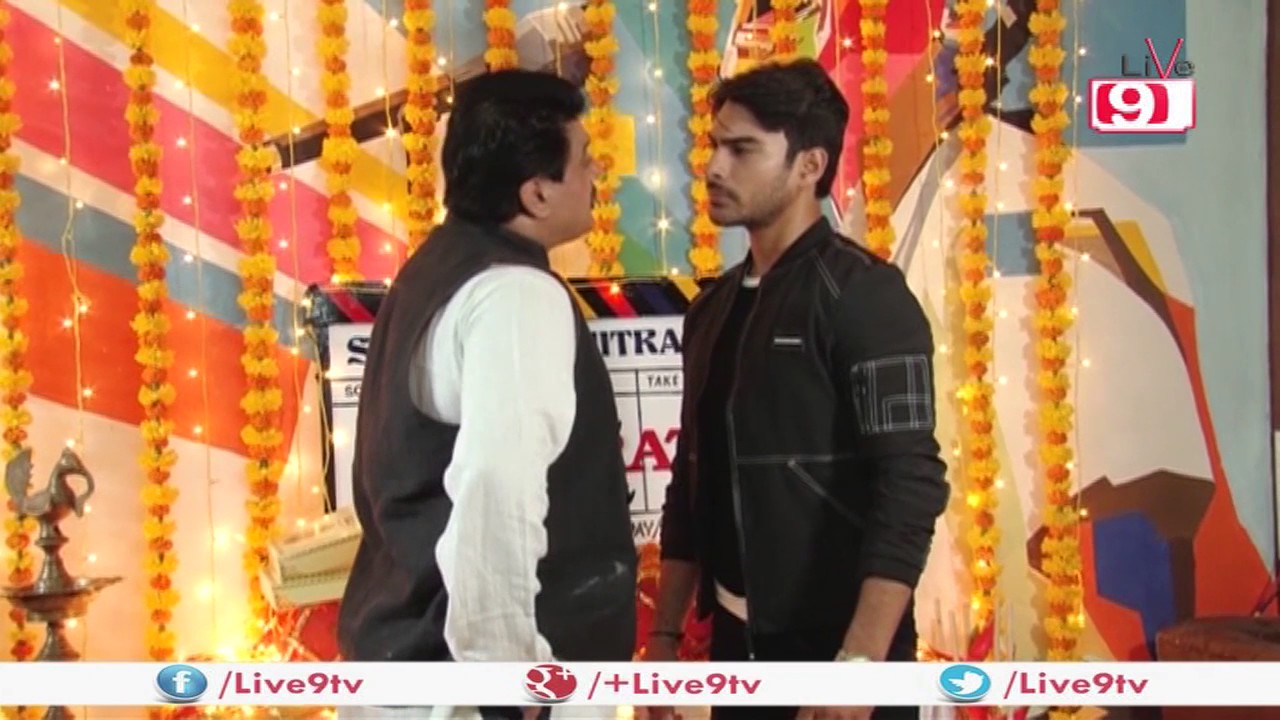 MAHURAT OF SARTHAK CHITRAM'S 'DHAPPA'
The mahurat of DHAPPA saw the presence of producer Siddharth Nagar, Ayub Khan, Brijendra Kala, Kanwaljeet Singh, Deeraj Kumar, Suhasini Mule, Shruti Ulfat, Jaya Bhattacharya, Raju Shrestha, Avinash Sahijawani, Mithlesh Chaturvedi, Roshni,
Shrestha Kumar, Sunaina, Dr. Achla Nagar, Sawan Kumar, Jugnu, Rajesh Puri, Amita Nangia & Deepak Qazir. Producer Siddharth Nagar has also written & directed DHAPPA. Music Director is Vivek Bakshi. The film stars Ayub Khan, Brijendra Kala, Kanwaljeet Singh, Deepraj Rana, Pankaj Tripathi, Suhasini Mule, Shruti Ulfat, Jaya Bhattacharya, Raju Shrestha, Avinash Sahijawani, Mithlesh Chaturvedi along with Shrestha Kumar & Sunaina. Siddharth Nagar under Sarthak Chitram has produced blockbuster serials like Saab Ji, Shiksha… Ek mazboot Aadharshila, Aaradhaya…Pappa Nu Sapnu, Jamuna…Naari Ni Sampoorna Yatra…, Bahu Beti, Rangoli, Chitrahar etc. The company has produced shows with actors like Rajesh Khanna, Mausmi Chatterji, Poonam Dhillon, Suhasini Muley, Kanwaljeet Singh, Ayesha Julka, Pooja Batra, Faraha, Ayub Khan, Brijendra Kala, Raju Kher, Kritika Desai, Sheeba, Shruti Ulfat, Jaya Bhattacharya, Mahesh Thakur, Mona Ambegaonkar, Amit Behl, Rakesh Pandey, Rita Bhaduri, Smita Jaykar, Anupam Bhattacharya, Amita Nangia, Mithilesh Chaturvedi, Dinesh Kaushik, Amrapali Gupta, Suwati Anand, Avinash Kumar, Sarika Dhillon, Shresth Kumar, Raju Shreshtha, Sumitra Kumari, Abhay Bhargav, Mukul Nag etc.
SRIDEVI'S MOM TO RELEASE IN 4 LANGUAGES!
Boney Kapoor's MOM presented by Zee Studios featuring superstar Sridevi, Nawazuddin Siddiqui & Akshaye Khanna will now be releasing nationwide in 3 languages including Tamil, Telugu & Malayalam besides Hindi. Boney Kapoor says, "One of India's biggest superstars of all time, Sridevi, has completed over 50 years in the film industry and has a massive fanbase. Her fans are eagerly anticipating her films and the distributors especially down South too have been massively supporting her films. Ever since the teaser of the film released online distributors have been clamouring for it and sent several request to the makers asking for the film to be dubbed in South languages. Owing to this the film will also be dubbed & released in Tamil, Telugu & Malayalam apart from Hindi". MOM happens to be Sridevi's 300th film and 2017 marks her 50th year in films. As a special gesture, her producer – husband has decided to release MOM on the same day – 7th Jul, 1967 her debut film released. Produced by Boney Kapoor, Sunil Manchanda, Naresh Agarwal, Mukesh Talreja, Gautam Jain, presented by Zee Studios, music by maestro A R Rahman & directed by Ravi Udyawar, MOM featuring Sridevi, Akshaye Khanna & Nawazuddin Siddiqui is scheduled to release worldwide on 7th Jul, 2017.
PRIYANKA CHOPRA IN LUXURY COUTURE FOR THE PROMOTIONS OF 'BAYWATCH'!
As the release of BAYWATCH, headlined by Dwayne Johnson, Zac Efron & Priyanka Chopra is just around the corner, the team is going all guns blazing to promote the film in US, with Priyanka Chopra stepping up her game in some stunning looks during the promotions.International superstar Priyanka Chopra, who essays the role of Victoria Leeds, makes bad look so good in the film as she plays the villain opposite the team of lifeguards.Says Priyanka, "She's unlike a villain…that's the beauty of Victoria. She doesn't take off her shoes to go on the beach, she doesn't like sand. She only likes to wear couture. When she gets off the jeep, somebody puts a stool, so she can stand on it, she's that much of a diva". Hence it comes as no surprise that the stunning actress, has been sporting some breathtaking couture for the promotions of the film, from Ralph Lauren to Sally La Pointe, Etro to Ulyana Sergeenko couture to various talk shows and on ground activities.
DILJIT DOSANJH'S ICONIC SUPERHERO COSTUME OF 'SUPER SINGH' WEIGHS 11 KILOS!!!!!
Ekta Kapoor's Balaji Motion Pictures & Anurag Singh & Pawan Gill's Brat Films are going all out to make India's 1st ever Punjabi language superhero film, SUPER SINGH, one to watch out for! Starring Diljit Dosanjh as Super Singh alongside Sonam Bajwa, the makers finalised the right superhero costume after working on several changes. The iconic superhero costume made of silicon weighs 11 kilos and it's made in India on Diljit Dosanj's insistence instead of overseas as he believes there is so much talent in his own country. Interestingly, Diljit Dosanjh used to take around 2 hours to wear the costume along with the mask and find it suffocating while shooting for the same for long hours in scorching heat, but without any complaints!!!!! The makers recently unveiled the fascinating trailer of the movie, going by the fabulous response, the film is being embraced as a national superhero film, as they believe Punjabi cinema is definitely having its presence felt nationally and creating unheard demand from Diljit Dosanj's fans from across the world! SUPER SINGH is gearing up for summer release on 16th Jun, 2017 worldwide!!!!!
RAJ KUNDRA & SHILPA SHETTY KUNDRA SLAP DEFAMATION NOTICE FOR 100 CR ON RAVI MOHANLAL BHALOTIA
Shilpa Shetty Kundra & her husband businessman Raj Kundra, who were earlier sent a legal notice by vendor Ravi Mohanlal Bhalotia for allegedly cheating the textile owner of 24 lakhs, have now slapped a defamation notice for Rs.100 crore on Bhalotia who publicly called the celebrity couple a cheat and tried to malign their reputation for extra media coverage. Raj Kundra who immediately clarified that the vendor was misusing his connections and abusing the law, has filed a quashing petition in the Bombay High Court as it is a clear quashing case by the legal book.
Confirms Raj Kundra's spokesperson, "Raj Kundra & Shilpa Shetty Kundra have slapped a defamation notice for Rs.100 crore on Ravi Mohanlal Bhalotia. A quashing petition has been filed in the Bombay High Court as they have tight contracts signed and have been responsibly following the laws of the land"
NIDDHI AGERWAL ON A HOUSE HUNT!
After a nationwide talent hunt, director Sabbir Khan finally found his leading lady for his next film, MUNNA MICHAEL, starring Tiger Shroff. Niddhi Agerwal who is a professional ballet dancer, happened to be selected quite by accident but was immediately signed thanks to her screen presence & charisma, not to mention her acting talent & dancing skills. The debutante may have received a warm welcome from the film industry but unfortunately was forced to move out of her flat in the suburbs, as the housing society raised objections to her "single actress" status. Society boards are generally wary of letting out flats to aspiring actors, leaving Niddhi Agerwal no choice but to hunt for a new apartment. She says, "I have lived with my friend for nearly 6 months. Now, hunting for a new place seems an impossible task. Because I am single & an actress, I have been denied accommodation. As of now, that's the biggest hurdle that I have faced here."
PATRALEKHAA JOINS RAJKUMMAR & HANSAL MEHTA FOR A WEBSERIES!!!!!
Patralekhaa is all geared up to work again with Hansal Mehta for a web series that stars Rajkummar Rao as Netaji Subhas Chandra Bose. She will be portraying the role of an elitist Bengali. "I am thrilled to be a part of the project. Recently, I happened to discuss Bose with a friend, who wrote a book on him, and now I am doing a role in a show based on him. I'm happier to do the show, as I am playing a Bengali". The trio will work together for the 1st time ever after CITYLIGHTS. The actor is not only excited about working with Hansal Mehta again, but also Rajkummar. "Getting to work with Rajkummar as a co – star is exciting. He brings in so much more to a scene, that it develops it into something else. Hansal sir has never cast me without following a procedure. During CITYLIGHTS, I gave an audition and this time, I did a look test. It is always a delight to work with him. Hansal Mehta gives actors a lot of liberty and allows actors to use their imagination and take a scene forward. I miss this freedom in my space of work." Patralekhaa feels the web is the future, but there are many challenges that we need to overcome to reach the optimum level".
SWARA BHASKAR BIDS FAREWELL TO DOORDARSHAN'S RANGOLI!
Swara Bhaskar's association with Doordarshan's most popular & longest-running music show on television Rangoli as a host has come to an end. The versatile actress, who has previously anchored filmmaker Shyam Benegal's show Samvidhaan on Rajya Sabha TV, started hosting the revamped version of the melodious show Rangoli 2 years back that airs on DD National every Sun since decades.A source says, "While Swara has been a huge fan of Rangoli and has grown up watching the show, it was difficult for her to continue as she will be busy shooting for her forthcoming movie projects including AAPKE KAMRE MEIN KOI REHTA HAI and prepping up for VEERE DI WEDDING."
KATRINA KAIF JOINS YRF'S STAR STUDDED MEGA PROJECT 'THUGS OF HINDOSTAN'
Yash Raj Films' star – studded mega project THUGS OF HINDOSTAN has its final "thug" onboard. Katrina Kaif joins the other "thugs" Amitabh Bachchan, Aamir Khan & Fatima Sana Shaikh in this larger than life & grand cinematic experience. A much awaited film, Katrina Kaif's addition to this film's star cast only adds to the massive anticipation that it has already built. Directed by Vijay Krishna Acharya, THUGS OF HINDOSTAN goes on the floors on 1st Jun, 2017 and releases in Diwali 2018.
AKSHAY KUMAR, KARAN JOHAR, VARUN DHAWAN & SONAKSHI SINHA APPLAUD DILJIT DOSANJH'S 'SUPER SINGH'!
After launching the exclusive 1st ever look & movie poster of India's 1st ever Punjabi language superhero film SUPER SINGH, Ekta Kapoor's Balaji Motion Pictures & Pawan Gill's Brat Films have recently unveiled the fascinating trailer of the movie featuring Diljit Dosanjh & Sonam Bajwa. The trailer has caught the fancy of movie aficionados and several B – Town stars who couldn't stop praising it on their social networking sites. Going by the fabulous response, the film is being embraced as a national superhero film, as they believe Punjabi cinema is definitely having its presence felt nationally and creating unheard demand from Diljit Dosanj's fans from across the world. The Punjabi community around the world is truly proud of this film and Diljit Dosanj for raising the bar and showing really how Super Singh's are. SUPER SINGH will be releasing in English subtitles all over India for all non -Punjabis to watch & enjoy as well. Interestingly, for the 1st time ever, the trailer of a Punjabi film will be playing in national cinemas on the weekends during HALF GIRLFRIND's release. Produced by Ekta Kapoor's Balaji Motion Pictures & Anurag
Singh & Pawan Gill's Brat Films, SUPER SINGH is gearing up for summer release on 16th Jun, 2017 worldwide!!!!!
ONIR'S 'SHAB' POSTER TAKES THE INTERNET BY STORM!!!!!
Within hours of releasing the poster of SHAB, Onir's directorial venture has caught the insane fan frenzy taking over the social media. The romance drama featuring Raveena Tandon & debutante Ashish Bisht & Arpita Chatterjee, has been trending on the 2nd position on Twitter India within 3 hours of its launch which only proves how excited fans are! The buzz & curiosity SHAB has created on the social media clearly indicates that the audience is eagerly anticipating the film's release featuring a beautiful story of 3 central characters. Onir says, "Thank you Twitter India SHAB is trending for the last 3 hours." Set in the cosmopolitan city of Delhi, the romance-drama is a story of people coming from different walks of life, some in the search for love and some towards realization of their dreams. The film had its World Premiere at the recently held New York Indian Film Festival. While the music is composed by Onir's favourite – Mithoon, lyrics have been penned by the composer along with Amitabh S Verma. The music rights have been acquired Kumar Taurani's TIPS. Produced by Sanjay Suri, Onir, Bhawna Talwar & Mohant T. Mulani, SHAB is scheduled to release on 30th Jun, 2017.
G KUTTA SE IS A HARD – HITTING SOCIAL DRAMA ON HONOUR KILLINGS
Rahul Dahiya's debut feature film G KUTTA SE is slated to release across the country on 9th Jun, 2017. After the Anushka Sharma starrer, NH10 in the recent past, G KUTTA SE, is a bold & daring attempt on the controversial subject of Honor killings in India. Set in Haryana and filmed in a mix of Hindi & Haryanvi, the film stars Rajveer Singh, Neha Chauhan, (of LOVE SEX AUR DHOKA fame) Nitin Pandit, Rashmi Singh Somvanshi, Sandeep Goyat & Parth Sharma. Writer – director Rahul Dahiya, who hails from Haryana and has drawn upon his own personal experiences to paint this searing portrait of regressive sexual mores in India's rural villages, says: "Every year thousands of girls are killed by their own families, sometimes by their own mothers, fathers or brothers. The reason is not always linked to the family's "honour" as is the broad assumption, rather it is often driven by jealousy, sexual vengeance & interplay of ego & power. "Rahl Dahiya had worked as an assistant on Sudhir Mishra's films KHOYA KHOYA CHAND, TERA KYA HOGA JOHNNY & DEVDAS. The film has been shot on real locations using many non – professional actors from the area to give the film its sense of realism.
RELEASE OF 'THODI THODI SI MANMAANIYAN' POSTPONED
THODI THODI SI MANMAANIYAN starring Arsh Sherawat & Shrenu Parikh has been postponed. Rohandeep Singh's Jumping Tomato Marketing Pvt Ltd has produced the film. This movie was to earlier release on 12th May, 2017. The filmmakers will announce the new release date soon. THODI THODI SI MANMAANIYAN is directed by Aditya Sarpotdar of Marathi film CLASSMATE fame. This film is written by Param Kalra. Siddharth, a young boy is brought up by his single mother with dreams of settling abroad. Being a part of a rock band "Antriksha"; Siddharth participates in a contest which changes his life completely. Not only that, he meets Neha… a folk singer & a social activist and gets smitten by her ideologies. In the midst of all this, he comes face to face with his father's death. Will Siddharth be able to come across the truth? Will he realize his passion, discover himself or will his mother convince him to let go off his past?
FILM 'BEIMAAN AASHIQ' DUE IN JUN 2017
Suman Negi is playing the female lead in an upcoming Hindi romantic & suspense drama feature film BEIMAAN AASHIQ which is directed by Sandeep Kumar for producer Kiran Kumar Titoriya under the banner of Shaboo Kiran Productions Pvt Ltd. The entire shooting for the film has been completed and the post-production in full swing. BEIMAAN AASHIQ is scheduled to release in Jun, 2017. Kabir Khan, Anurag Tomar, Sachin Chobe, Bhupendar Titoriya, Ramandeep Kaur, Nishant Dilip Jain and others are also in its star cast. Masood Qureshi has cranked the camera for the film. Sameer Sen has provided the musical score which has been rendered by Babul Supriyo, Sadhana Sargam, Tisa Nigam, Udit Narayan and other veteran singers. BEIMAAN AASHIQ is slated for release in Jun this year.