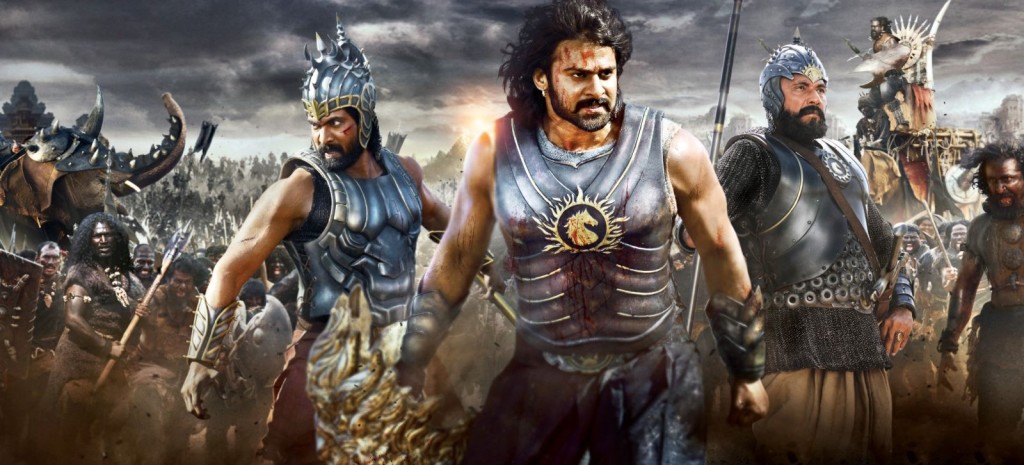 Producer: K. Raghavendra Rao, Shobu Yarlagadda & Prasad Devineni
Director: S. S. Rajamouli
Cast: Prabhas, Rana Daggubati, Anushka Shetty, Sathyaraj, Sudeep, Adivi Sesh, Ramya Krishnan, Nassar, Charandeep, Tamannaah, & Meka Ramakrishna
Music: M. M. Keeravani
S. S. Rajamouli, a reputed South Indian director certainly needs no fresher introduction. Suffice it to say that he is more popularly known as the director with a midas touch. So this time he has come up with a period piece in 'Bahubali'. That apart he has also taken efforts to keep anachronistic sounds & visuals from appearing in the film. The film 'Bahubali' has been made in 2 parts, the 1st being named 'Bahubali – The Beginning' released now and the 2nd part being named 'Bahubali – The End' which will be released later on.
The scripted scenario of Bahubali follows the life of Sivudu (Prabhas) who lives a rather solitary life all but cut off from the rest of civilization. Smuggled from his kingdom and raised by Sivagami (Ramya Krishnan) in a different tribe, Sivudu fills his days scaling mountains and their likes, unaware of his noble lineage. One fateful day Sivudu encounters Avanthika (Tamannaah Bhatia) who is a master assassin from a rebel group that intends on crushing King Bhallala Deva (Rana Daggubatti) of Mahishpati and rescuing Devasana (Anushka Shetty). However despite Shivudu understanding nothing of it, he decides to assist the rebels in their cause since he is smitten by the stunning Avantika who tells him that she is sworn to protect Devasana, who is none other than the late King Amarendra Bahubali's wife, Sivudu's mother and also Bhallala Deva's sister – in – law. Setting off on his journey to fulfill Avantika's duty, Sivudu moves towards fulfilling his own destiny as Bahubali and in the process setting in motion a series of events that lead to the second chapter.
Director S. S. Rajamouli without doubt deserves a standing ovation for making such a brilliant film although it is a dubbed version, it is certainly a cut above the rest. In fact much, much above all the South Indian dubbed films together. He has handled & synchronised all the minute details of the film excellently. A special noteworthy mention must be made of the specialised special effects & eye pleasingly breathtaking visuals of 'Bahubali'. In fact every sequence of 'Bahubali is a marvel that can easily be compared to the best of Hollywood. The grandiose sets, VFX, sound, editing, cinematography and most importantly, the screenplay of 'Bahubali' is terrific.
Performance wise All the actors have outdone each other. But a special standing ovation goes to Prabhas & Rana Duggabati for their brilliant piece of histrionics. Ramaya Krishnan, provides a perfect foil even in a supporting role. The other 2 supporting actors namely Nasser & Satyaraj leave a very strong impact too.
Tail Piece: 'Bahubali' is no doubt a masterpiece. In fact it can be rightfully termed as a classic blockbuster. Don't miss 'Bahubali' at any costs.