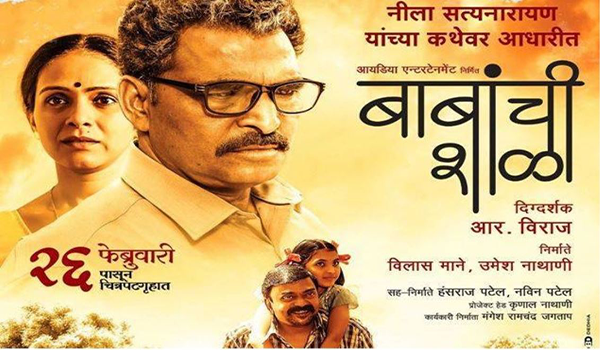 Producer: Vilas Mane and Umesh Nathani
Director: R Viraj
Star Cast: Sayaji Shinde, Shashank Shende, Aishwarya Narkar, Kamlesh Sawant, Chhaya Kadam, Aarti More, Kartik Chavan etc
Genre: Drama
Verdict: AVERAGE
Plot: Babaanchi Shaala is the story of a father and a daughter and how they are separated by fate when the father burns his wife in a fit of anger and when he is sentenced and sent to jail. Then the story focuses on the relationship between a jailor and the prison inmates and the how the jailor tries to bring a change between the relationship of the prison inmates and his relatives in tandem with the society at large who always has reservations of accepting these prisoners back into the normal life. So the jailor then tries to build a bridge between them by devising a project named Babaanchi Shala and when he fails to get the Government's approval for his project the jailor sets out on his own to work on this novel project.
Aces: Kudos to director R Viraj and also to the 1st time producers namely Vilas Mane and Umesh Nathani for making such a meaning film and all the actors too, headed by Sayaji Shinde, deserves a special mention for trying to give off their best.
Minuses: The oft repeated scenes, the slow pace of the movie devoid of any commercial aspects may prove to be a hindrance in its smooth sailing at the Box office turnstiles.
Last Word: The Marathi audience used to routine commercial fare may not accept this experimental film which will be appreciated more in film festival circuit and garner awards galore.