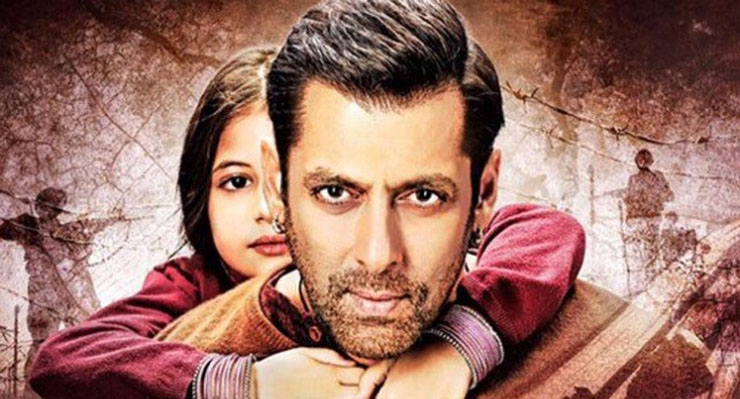 Banner: Salman Khan Films & Kabir Khan Films
Producer: Salman Khan & Rockline Venkatesh
Director: Kabir Khan
Cast: Salman Khan, Kareena Kapoor, Nawazuddin Siddiqui, Harshaali Malhotra, Najeem Khan, Ali Quli Mirza, Deepti Naval, Om Puri, Sharat Saxena & Adnan Sami (Spl App)
Music: Pritam Chakraborty, Komail Shayan (KK) & Julius Packiam
Director Kabir Khan is known for his films like 'Kabul Express', 'New York' & 'Ek Tha Tiger'. He seems to have a penchant for cross border problems which he keeps showcasing in most of his films including in his latest directorial offering 'Bajrangi Bhaijaan' too. But this this time he has succeded in delivering an endearing & a heart touching film.
A 6 year old speech impaired girl Shahida (Harshaali Malhotra) accompanies her mother from Pakistan to Delhi to visit a Muslim Shrine. On her way back to Pakistan Shahida aka Munni gets separated from her mother on the Indian border. Munni then bumps into Pawan Kumar Chaturvedi (Salman Khan), who is a staunch bhakt of Hanuman. After some initial hesitation Pawan takes the oath of Hanuman to return Munni back to Pakistan to deliver her safely in the hands of her parents. So off he goes to Pakistan without even having a Passport not to forget the Visa. He encounters a lot of problems on his way to and in Pakistan too. His trouble starts right from the Wagah border and then continues till the end, during which a local news reporter Chand Pasha (Nawazzuddin Siddiqui) and his cameraman (Najim Khan) also help him a lot.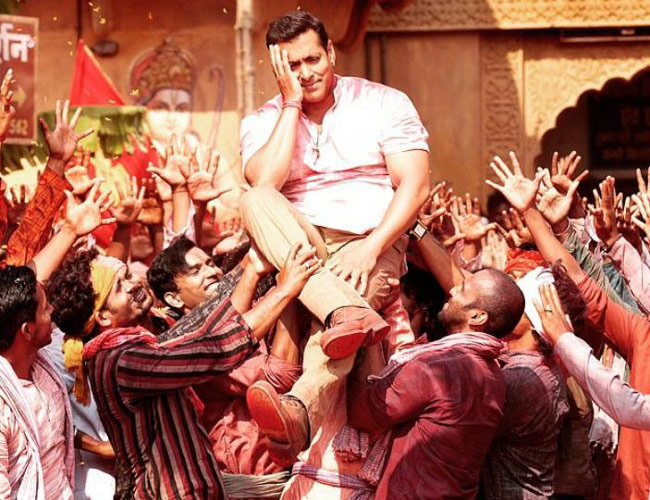 Except for a few exaggerated hicups & glitches director Kabir Khan does succeed in winning the cine goers heart especially in the 2nd half and post interval portions which is also punctuated with the right doses of humorous punches. Especially notable are the scenes of the trio of Salman Khan, Harshaali Malhotra & Nawazzuddin Siddiqui. That apart Salman Khan deserves a standing ovation for backing such an emotionally oriented sensitive film like 'Bajrangi Bhaijaan'. A fair share of credit also goes director Kabir Khan and his entire team of the cast & the crew for totally living upto his highest expectations.
Performance wise the film clearly belongs to Salman Khan and the most sensatonal discovery namely Harshaali Malhotra. Yes! Sallu miyan for a change has delivered a very emotionally charged restrained performance, if only he could have resisted those few Dishoom Dishoom scenes. And the girl child Harshaali Malhotra seems to be God gifted. She is so expressive and simply outstanding. Nawazzuddin Siddiqui as usual is brilliant to the core. Sadly enough Kareena Kapoor Khan is not up to the mark as she had nothing much to do in this emotional drama. While the rest of the cast comprising of Najim Khan, Ali Quli Mirza, Deepti Naval, Om Puri, Sharat Saxena, Adnan Sami et al just fit the bill and lend an able & adequate support.
Tail Piece: 'Bajrangi Bhaijaan' initially sounds, like it is coloured with communal essence but as the film progresses it leaves you emotionally drained. Don't miss 'Bajrangi Bhaijaan', a perfect festival (Ramzan Eid) & weekend gift for one & all.