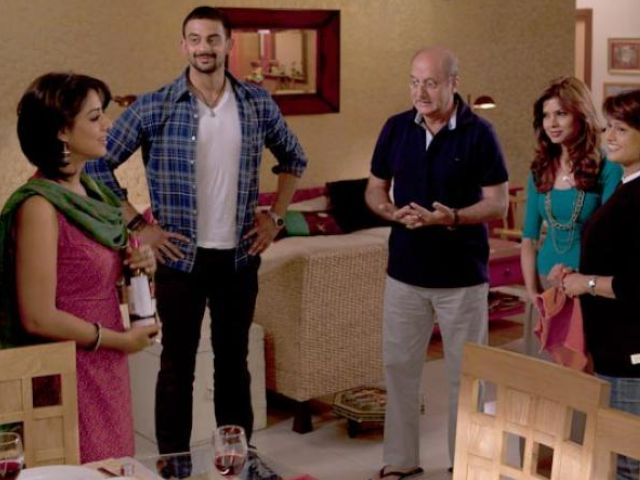 Producer: Vivek Agnihotri & Sharad Patel
Director: Vivek Agnihotri
Star Cast: Arunoday Singh, Mahie Gill, Aanchal Dwivedi, Pallavi Joshi & Anupam Kher
Music: Rohit Sharma
Vivek Agnihotri has given many marvellous films in the past and Buddha In A Traffic Jam is one more interesting & realistic film from his camp which is now backed by dynamic & dashing producer namely Sharad Patel & a brigade of dozen other producers.
The plotted scenario of Buddha In A Traffic Jam starts off with Vikram Pandit (Arunoday Singh) who is a happy – go – lucky management student from a business school in India. Little does Vikram Pandit know that he was about to become a part of the plot that would risk his life & also the Nation. He gets entangled between the 2 facets of India namely socialism & capitalism, both of which are deeply rooted in the isolated corners of the country. Somewhere deep within the jungles, flagrant conspirators are gearing up to maim the country. Vikram Pandit's internet campaigns pulls him into a very deep web of conspiracy. The film revolves around Vikram Pandit's survival in the sinister designs of the establishment. It resolves the age long conflicts between socialism & capitalism and defines the much needed revolution for the contemporary India.
The autobiographical film Buddha In A Traffic Jam is loosely based on director Vivek Agnihotri's life himself and gives a lot of insight into the nexus between the so called NGO's & the Naxalites and how the Universities exploits its students to give the much needed momentum to the Naxalite moment.
The direction of Vivek Agnihotri and the par excellence act of all the actors like Arunoday Singh, Mahie Gill, Aanchal Dwivedi, Pallavi Joshi & Anupam Kher are one of the major highlights of Buddha In A Traffic Jam. Beside the music of Rohit Sharma is apt in keeping up with the tempo of the film.
But there is one minor glitch in the film as it does not sound like a common man's cup of tea as they may hardly relate to the subject at hand. Besides some of the so called bold scenes of the film in lieu with the blatant, in your face, cuss words may not be acceptable to some of the viewers.
Tail Piece: So all in all Buddha In A Traffic Jam is more of a film for the elite class and festival circuit audiences. But it may also have a good prospects at the Box Office turnstiles with sheer word of mouth publicity.