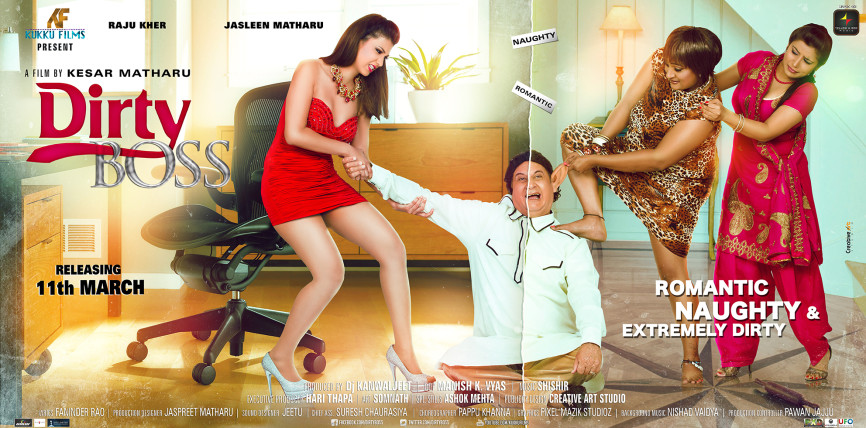 Producer: DJ Kanwaljeet
Director: Kesar Matharu
Star Cast: Raju Kher, Jasleen Matharu, Geetu Gambhir, Kalyani Thakkar, Kesar Matharu, Pinky More, Mushtaq Khan, Shahzad & Anil Nagrath
Actor director Kesar Matharu in his latest offering Dirty Boss has made a sequel to his earlier prequel movie namely Dirty Relations
Bhundi (Raju Kher) is a wealthy businessman who gests lured to the showbiz world due to his hidden lusty desires for an actress named Diana (Jasleen Matharu). A film director named Chaluji (Kesar Matharu) then contacts Bhundi and invites him to the sets of his film and introduces him to his heroine Diana and instantly Bhundi decides to produce a film. On hearing this Bhundi's wife Satti (Kalyani Thakker) & her father tries to put some sense in him but to no avail. Satti then comes on the sets, and a big fight ensues between Satti & Diana. On the other hand Bhundi is such a lecherous man that he also has an affair with his maid servant Sandhya (Geetu Gambhir).
Dirty Boss is an eye opener for those people who are lured by the glamour of the film industry and then how they are taken for a joyride by a chosen few of the industry people who thrive on such suckers. Direction wise a little more control on the goings on was required and the same can be said about the performance of the actors.
The scenario of Dirty Boss could have been a little more taut. But the aam janta will definitely enjoy its double entendre dialogues which will certainly leave them in splits.
Tail Piece: Director Kesar Matharu's earlier film Dirty Relations also treaded on similar grounds and now same is the case with his franchise Dirty Boss.