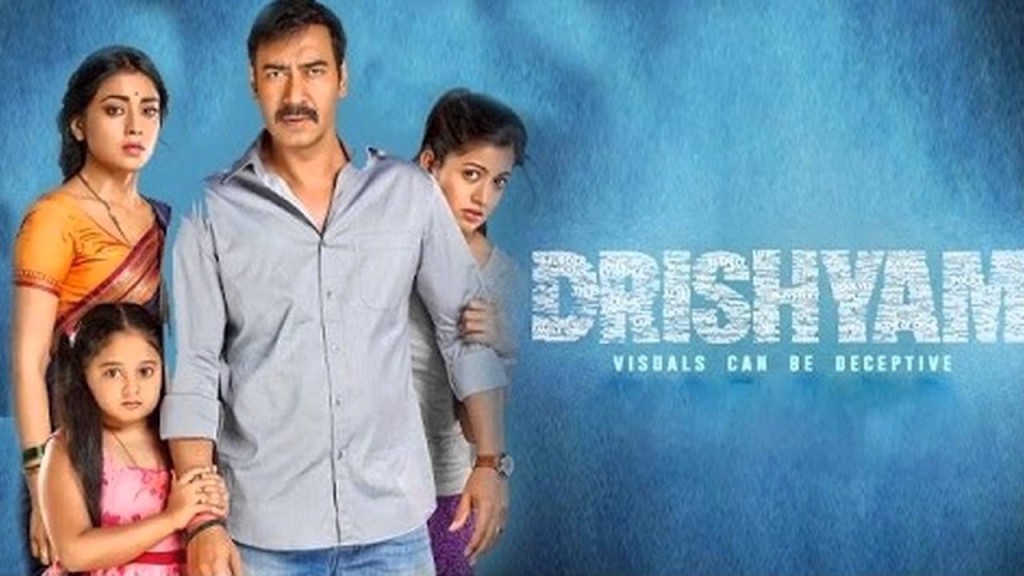 Director: Nishikant Kamat
Cast: Ajay Devgn, Tabu, Shriya Saran, Ishita Dutta, Rajat Kapoor, Mrinal Jadhav, Kamlesh Sawant et al
Music: Vishal Bhardwaj & Sameer Phaterpekar
'Drishyam' has been made & re – remade in every South Indian languages possible and all the versions have ended up winning appreciative accolades galore. And now comes the Hindi version directed by an already reputed director named Nishikant Kamat, who needs no special introduction. Incidentally speaking this particular movie's original version in Malyalam also had the same name 'Drishyam'. Its other versions were 'Drishya' in Kannada, 'Drushyam' in Telugu and its most recent version was 'Paapnasam' in Tamil.
The re – directed & re – plotted scenario, to suit the Mumbaiyya sensibilities, of director Nishikant Kamat's 'Drishyam' kick starts with Vijay Salgaonkar (Ajay Devgn) waiting at Pandolem police station in Goa. The story, then goes into a flashback mode in which it mirrors all the events that led Vijay in the present day situation. Vijay Salgaonkar is a middle class hard working businessman, running a cable TV business. His life revolves around movies and his family consisting of his wife Nandini Vijay Salgaonkar (Shriya Saran), his teenage daughter (Ishita Dutta) and his younger daughter. Life goes on pretty smoothly for the Salgaonkars, till one day his elder daughter bumps into a notorious Sam in a school camp. Despite repeated warnings, Sam doesn't stop pestering her, so much so that he even plants a hidden camera in her washroom. Grabbing this 'opportunity' with both hands, Sam demands sexual favour from Vijay's daughter in return for the MMS being deleted. And when Nandini intervenes, he asks for a sexual favour from Nandini instead. Raging with anger & helplessness, Vijay's daughter hits Sam with a rod that results in him collapsing on the spot. The mother & daughter get furthermore shocked when they learn that Sam was the only son of none other than IG Meera Deshmukh (Tabu). Frightened & helpless they narrate their ordeal to Vijay when he returns back from his office. Vijay then hatches a master plan that will help his family to get rid from the clutches of the police. After this begins the cat & the mouse game between Vijay & Meera.
Director Nishikant Kamat has excelled in his directional skills and crafted a picture perfect masterpiece almost akin to all the versions. He has taken great pains & care to keep the legacy of the film's 'vision' & all the versions alive. Adding & abetting him in his directional journey was the film's ever perfect script with not even an iota of a loophole. He has created a perfect ambience oriented suspense to keep the cine goers interest alive from the starting point to the finishing line. In fact the entire, behind the scenes, team of the captain of the ship Nishikant Kamat deserves a special noteworthy mention. And his team comprises of Vishal Bhardwaj & Sameer Phaterpekar (music), Aarif Shaikh (editor), Avinash Arun (cinematographer) & above all Upendra Sidhye (script writer).
Performance wise it is but natural that the top most scorers are Ajay Devgn & Tabu. Their incidental & instinctive battle of histrionics is just seen to be believed. The Southern actress Shriya Saran succeeds in holding her fort amongst the 2 powerhouse performers namely Ajay Devgn & Tabu. That apart the other actors like Ishita Dutta, Rajat Kapoor, Mrinal Jadhav & Kamlesh Sawant too have acquitted themselves perfectly in their respective roles.
Tail Piece: Films like 'Drishyam' are made just once in a while. So guys just go for it at the earliest opportunity that you can avail of. Period!