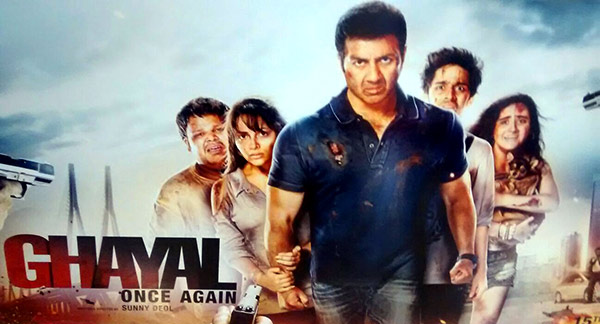 Producer: Dharmendra
Director: Sunny Deol
Star Cast: Sunny Deol, Soha Ali Khan, Shivam Patil, Aanchal Munjal, Abhilash Kumar, Diana Khan, Rishabh Arora, etc
Full marks to Sunny Deol for his excellent directorial treatment in Ghayal Once Again, which was earlier named as Ghayal Returns. In fact Sunny Deol has surpassed his own self with his earlier debut directorial movie Dillagi.
The scripted scenario of Ghayal Once Again starts off from where Ghayal had left off albeit in flashbacks. Once Ajay Mehra (Ajay Mehra) is out of jail after serving his 14 years of imprisonment he is seen under the care of his doctor Rhea (Soha Ali Khan) who helps him to fight the past demons of his life. Once cured Ajay starts his life afresh by forming his own team to help the victims of cruelty & injustice. In Ghayal Ajay Mehra was up against Balwant Rai (the late Amrish Puri) in Ghayal Once Again Ajay Mehra is up against Raj Bansal (Narendra Jha) when his son Kabir Bansal (Abhilaash Kumar) murders ACP Joe D'Souza (Om Puri) and the proof of this murder lands up in the hands of the 4 kids Rohan (Shivam Patil), Varun (Rishabh Arora), Anusha (Aanchal Munjal) & Zoya (Diana Khan) and from there on begins an action packed drama which culminates in a chilling climax.
A real treat for lovers of action genre of films with Sunny's deft directorial treatment. He even excels as an actor in the predictable role of Ajay Mehra. Another noteworthy act comes from debutant actors Shivam Patil, Rishab Arora, Aanchal Munjal & Zoya Khan not to forget other seasoned actors including Abhilash kumar in supporting roles.
Ghayal Once Again is devoid of any commercial trappings like romance, music et al barring its unlimited action.
So Ghayal Once Again is a well narrated albeit predictable story with lots of twists & turns which will be enjoyed both by the single theatre as well as the multiplex audiences.