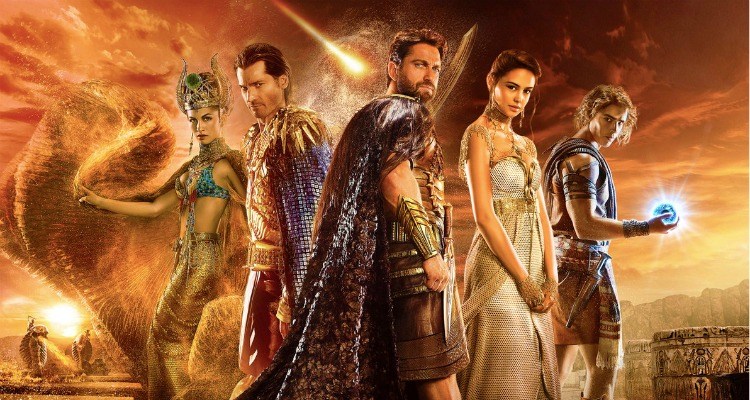 Producer: Basil Iwanyk & Alex Proyas
Director: Alex Proyas
Star Cast: Nikolaj Coster- Waldau, Brenton Thwaites, Gerard Butler, Elodie Yung, Courtney Eaton, Chadwik Boseman, Rufus Sewell, Geofrey Rush and Bryan Brown
Verdict: GOOD
Genre: Action & Adventure
Alex Proyas a well – known Australian director has really made a mark, in his decade long career, with films like The Crow, Dark City, I, Robot and Knowing and now in his 6th outing Gods of Egypt he further asserts his directorial Prowess by taking up a semi – mythological history of the real to reel Gods of Egypt.
Plot: In this spectacular action – adventure inspired by the classic mythology of Egypt, the survival of mankind hangs in the balance as an unexpected mortal hero Bek (Brenton Thwaites) undertakes a thrilling journey to save the world and rescue his true love. In order to succeed, he must enlist the help of the powerful God Horus (Nikolaj Coster –Waldau) in an unlikely alliance against Set (Gerard Butler), the merciless God of darkness, who has usurped Egypt's throne, plunging the once peaceful and prosperous empire into chaos and conflict. As their breathtaking battle against Set and his henchmen takes them into the afterlife and across the heavens, both God and mortal must pass tests of courage and sacrifice if they hope to prevail in the epic final confrontation.
Aces: The performance of the trio of male brigade of actors like Nikolaj Coster – Waldau, Brenton Thwaites and Gerard Butler, the costumes and the special effects.
Minuses: Too many sub plots and some mindless action hampers the smooth flow of the film.
Last Word: Gods Of Egypt is an entertaining film from mythological, action and adventure point of view.