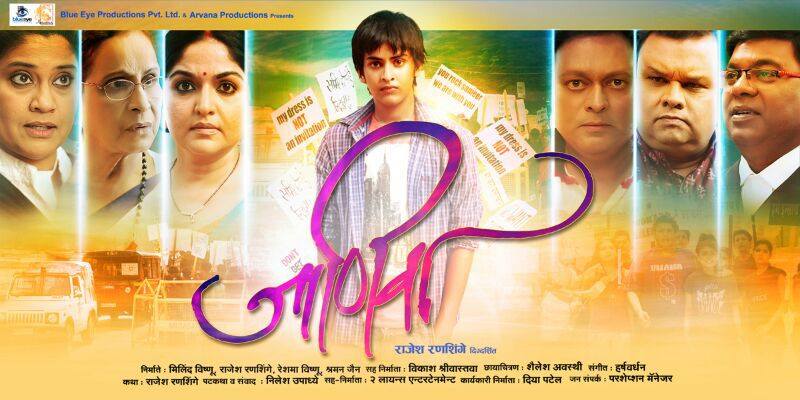 Banner: Blue Eye Productions & Angel's Production
Producer: Milind Vishnu, Arvind Kumar, Reshma Vishnu & Srman Jain
Director: Rajesh Ranshinge
Cast: Satya Manjrekar, débutantes Vaibhavi Sandilya, Anuradha Mukharjee, Devdutt Dani, Sanket Agarwal along with Kiran Karmarkar, Renuka Shahane, Atul Parchure, Indira Krishnan, Usha Nadkarni & Kishore Kadam
Director Rajesh Ranshinge, after creating ripples of successful waves on the small screen for almost a decade, has now stepped into the Marathi movies arena with a bold & meaningful film like 'Janiva' which means realisation. It underlines not only the trauma that a rape victim undergoes but also how a common boy metes out appropriate justice to the rape victim in his own way.
Sameer Deshpande, a common boy, is a tech savvy guy and always reaches out to help people in distress in his own way. He also runs a band with his 5 friends who also lives a carefree & lively life like him. Sameer gets disturbed once when he comes to know of a rape victim living a life like a vegetable since the last 3 decades. Her rapist has already served a sentence of 7 years but Sameer feels that this is not the right justice as compared to the 30 years trauma that the victim has undergone. So Sameer decides to take the law in his own hand. And then begins a long drawn out court battle.
Rajesh Ransinghe has handled the subject very sensitively displaying his directional expertise. But somewhere along the line he misses the boat precisely because the movie lacks conviction especially for the Marathi audiences who are so used to the tamasha & lavani oriented commercial trappings. He has indeed handled the court scenes brilliantly including extracting a finest performance from the senior actors like Renuka Shahane, Kishore Kadam & above veteran actress Usha Nadkarni. The lack of commercial trappings & romantic angle may not go down well with the cine goers. Yet the producers team headed by Milind Vishnu & director Rajesh Ranshinge deserves full marks for pulling a leaf out of real life and turning it into a an offbeat & a realistic film.
Performance wise it is the senior actors like Renuka Shahane & Kishore Kadam who walks away with all the honours as a defence lawyer & public prosecutor respectively. Satya Manjrekar, as the main protagonist, gives a good account of himself but he still has miles to traverse before he turns into a reliable actor. Other notable performances have been delivered by Indira Krishnan & Kiran Karmarkar as Sameer's parents and of course veteran actor Usha Nadkarni as the rape victim's Nurse & Caretaker.
Tail Piece: A good viewing for lovers of good cinema. Besides it will go down well with the festival circuit audiences.