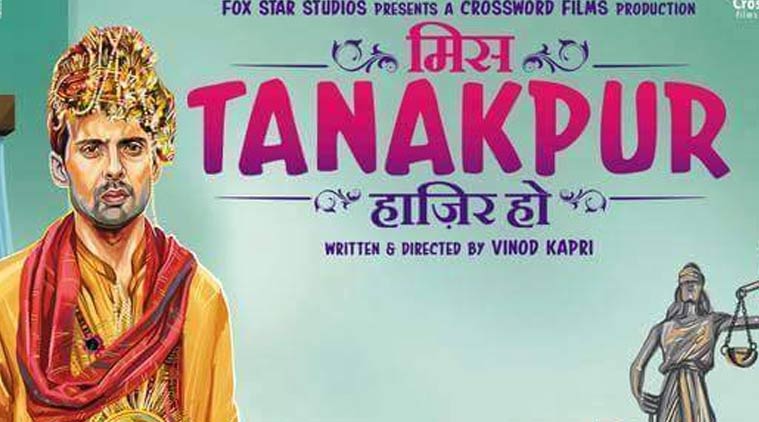 Producer: Crossword Films
Director: Vinod Kapri
Cast: Annu Kapoor, Hrishita Bhatt, Om Puri, Sanjay Mishra, Ravi Kishan & Rahul Bagga
Music: Sushmit Sen & Palash Muchal
Director Vinod Kapri in his latest offering 'Miss Tanakpur Haazir Ho' has tackled a political satire of the real life situation in a village. The film is a humorous albeit a thought provoking take, loosely based on real life incidents.
The film's scenario starts off with the summoning of 'Miss Tanakpur' (A Buffalo) by the court. Then a kaleidoscope flashback depicts that the film is set in the village of Tanakpur, which is 'headed' by Pradhaan' Sualal Gandas (Annu Kapoor), who is married to a young Maya (Hrishita Bhatt). Pradhaan is unable to keep his 'wife happy', which leads her to fall in love with a young & aspiring wannabe' policeman Arjun (Rahul Bagga). The duo never skips even a single opportunity to meet each other, something that sets Pradhaan's mind to work overtime with suspicion. Since his repeated confrontations with his wife yield no results, he takes the help of the 'multi-talented' Goswami (Sanjay Mishra), who 'engages' the dead peoples' spirits for the job of finding out the culprit. And after many attempts, when Pradhaan finds out the culprit to be Arjun, he & his henchmen beat him black & blue and get him tied down semi-naked in front of the whole village. While this leads to Arjun's sister's ongoing marriage being called off, simultaneously his father also passes away. Sensing that the villagers may get to know the 'real reason' for him to publicly humiliate Arjun, Pradhaan cooks up an impromptu story that the reason why he bashed up Arjun was because Arjun had raped his priceless buffalo, which had incidentally been crowned as 'Miss Tanakpur' at the village fair. And as a 'punishment', Pradhaan & his men order Arjun to get married to 'Miss Tanakpur'.
Everything is appealing but the biggest spoilspot turns out to be a lack of conviction from the storical point of view and also for the lack of directional skills of Vinod Kapri. The film just meanders on and ultimately tests the viewers patience to the point of no return. The weakest point of the film is that its premise itself is unbelievable.
Performance wise it is Annu Kapoor who steals the show. The next in line excellent performance is delivered by the ever dependable actor like Sanjay Mishra. While Ravi Kissen is ok to some extent. On the other hand Hrishita Bhatt is seriously miscast as the young woman married to an old man who can't satisy her at any costs. Rahul Bagga can be counted as a promising actor. That apart Om Puri hams his way to glory.
Tail Piece: 'Miss Tanakpur Haazir Ho' may appeal to the single screen vievers especially in the interiors. Hence the Multiplex cinegoers may stay away from this so called Miss Tanakpur.