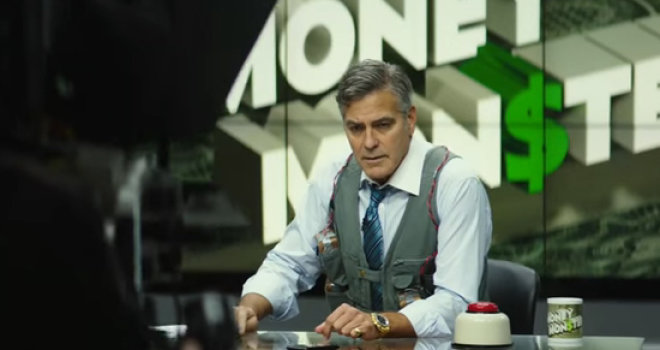 Producers: Lara Alameddine, George Clooney, Daniel Dubieki & Grant Heslov
Director: Jodie Foster
Star Cast: George Clooney, Julia Roberts, Jack O'Connell, Dominic West, Caitriona Balfe, Giancario Esposito etc.
The plotted scenario of Money Monster kick start with Lee Gates (George Clooney) who is a bombastic TV personality whose popular financial network show has made him the money wiz of Wall Street. But after he hawks a high tech stock that mysteriously crashes, an irate investor Jack Budwell (Jack O' Connell) takes Gates, his crew, and his ace producer Patty Fenn (Julia Roberts) hostage live on air. Unfolding in real time, Gates and Fenn must find a way to keep themselves alive while simultaneously uncovering the truth behind a tangle of big money lies.
This edge of the seat thriller really keeps you hooked from start to end mainly because of director Jodie Foster's excellent directorial treatment in tandem with the par excellence performance of all its major actors like George Clooney, Julia Roberts and above all Jack O'Connell as the investor who takes the entire TV crew as hostage.
The plot is convincing but the entire drama of the TV crew being taken hostage that too when the show is live on air seems too far – fetched.
Money Monster is a kind of film that can be recommended to one an all. Go watch it.