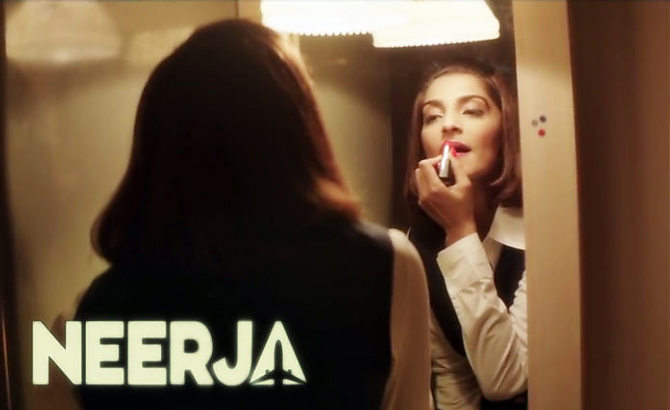 Banner: Fox Star Studios
Producers: Atul Kasbekar, Shanti Sivaram Maini, Bling Unplugged & Fox Star Studios
Director: Ram Madhvani
Star Cast: Sonam Kapoor, Shabana Azmi, Shekhar Ravjiani, Kavi Shastri, Yogendra Tiku, Abrar Zahoor, Jim Sarbh, Ali Baldiwala, Vikrant Singta & Rehan Shaikh
Music: Vishal Khurana
Director Ram Madhwani in this latest offering Neerja has made a very heart touching and real life biopic on flight purser named Neerja Bhanot. The film revolves around the Libya backed Abu Nidal Organisation's hijacking of Pan Am Flight 73 in Karachi, Pakistan on 5th Sept, 1986, specifically focusing on head purser Neerja Bhanot who thwarted the hijack attempt by preventing the plane from taking off, which resulted in the lives of 360 hostages being saved.
The plotted scenario of Neerja showcases her life's journey and opens up with a 22 year old Neerja arriving late for a house party. A die – hard fan of Rajesh Khanna who remembers all his dialogues by heart. She was the youngest and the only girl in her family that had 2 brothers. Her parents Rama Bhanot & Harish Bhanot were her pillar who taught her not to lose hope, fight injustice with courage and to stand by what she believes in. Neerja loves her job but her mother was not excited about her job. 2 days before her birthday she boarded the plane as chief purser from Mumbai to New York via Karachi. As soon as the plane makes a halt at Karachi airport it is hijacked by the Libyan Terrorists. Neerja then cleverly informs the pilots and skilfully manipulates the terrorists and saves the passengers. She could have easily escaped but she chose humanity and sacrifices her life to save little kids. Even on her death bed her last message to her mother was, "Pushpa, I hate tears" which portrayed her bravery and her love for life. She was truly a courageous woman.
Director Ram Madhvani was perhaps lost in oblivion after his debut movie named Let's Talk in 2002 had tanked miserably at the Box Office turnstiles. And now with his 2nd outing Neerja he makes a grand comeback. Needless to add that with Neerja he has proved his par excellence directorial prowess. Vishal Khurana's soulful & soothing music is another highlight of the film.
Performance wise Sonam Kapoor in the title role of Neerja is simply terrific and beyond imagination. If only Neerja was her debut film. Once again it won't be out of place to say that with Neerja, Sonam Kapoor has proved that indeed she too is the chip of the old block. Ironically speaking even her father Anil Kapoor could prove his histrionic versatility only after tucking in a couple of non -performing films under his belt. Shabana Azmi as usual is superb as Neerja Bhanot's mother Rama Bhanot. She has literally lived the role. Yogendra Tiku as Neerja's father is upto the mark. The music composer turned actor Shekhar Ravjiani does justice to his brief role. While the rest of the actor, also in their brief roles, like Kavi Shastri, Abrar Zahoor, Jim Sarbh, Ali Baldiwala, Vikrant Singta & Rehan Shaikh are adequate.
Tail Piece: Neerja is one film that should not be given a miss at any cost. In fact it's a strongly recommended movie for one & all.