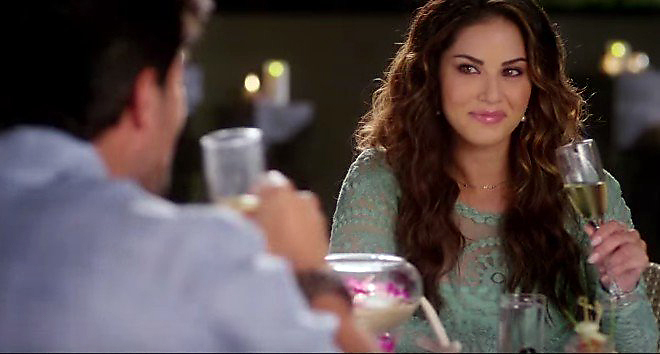 Director: Jasmine Moses – D'Souza
Star Cast: Tanuj Virwani, Sunny Leone, Nyra Bannerjee, Ninad Kamath & Khalid Siddiqui
Music: Jeet Ganguly, Meet Bros, Tony Kakkar, Vivek Kar
Debutant director Jasmine Moses – D'Souza has really made a fairly decent & engaging
film in her debut directorial offering One Night Stand but sadly enough the loose script makes the proceedings dull and obviously the cine goers may loose Interest half way through.
The plotted scenario of One Night Stand kicks off with a flashback that's being narrated by Urvil (Tanuj Virwani). It is the flashback and a series of events from his past that has defined his today. The flashback starts off with a fashion show organised by his event management agency. And after completing the event successfully, Urvil and his colleagues go drinking to celebrate. It is here that his friends challenge him to speak to a rank stranger (Sunny Leone) for a few thousand rupees. An attempt to win the bet gets him introduced to the stranger who, in turn, introduces herself as Celina. What follows after that, is unlimited liquor drinking by the 2 of them, which ultimately lands them up in bed together. But, the very next day, when Urvil gets up, he finds out that Celina has already left the room, without leaving any details of her whereabouts. And when Urvil comes back to his home in Pune, he is welcomed by his beautiful & dutiful wife Simran (Nyra Banerjee). Things are absolutely smooth between the couple, until one day Urvil accidentally spots Celina in the same mall wherein he has gone for shopping with his wife Simran. That very sight of Celina freshens up his 'one night stand' with her, which, in turn, gets translated into his desperation to meet her again. Thereafter begins his unending quest to hunt down Celina from the length & breadth of the world. Amidst all this, Urvil gets extremely busy with his company's big – budget event of a product launch. It is here where he gets introduced to his rich client and his family, which takes the daylights out of Urvil.
Jasmine Moses – D'Souza has certainly presented Sunny Leone in a different avatar much away from her stereotyped image. If only she had paid more attention on the screenplay then One Night Stand would have turned out to be more interesting romantic thriller. That apart music proves to be the main USP of the film.
Performance wise it is refreshing to see Sunny Leone in an unusal role. She carries the film entirely on her dainty shoulders. She is charming & effortlessly acts out her role putting behind her sexy siren image. Tanuj Virwani is perfect in his role but struggles in a few scenes to get his expressions correct. Nyra Banerjee is totally natural while facing the camera and is a promising discovery. Other actors like Khalid Siddiqui & Ninad Kamath are good in their respective roles.
Tail Piece: All in all One Night Stand is a kind of film which may prove good only for one time viewing.