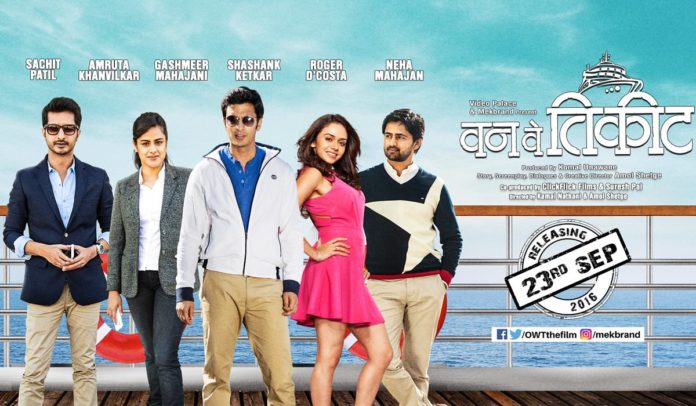 Producers: Madhu Nathani & Kamal Nathani
Director: Amol Shetge
Star Cast: Shashank Ketkar, Sachit Patil, Gashmeer Mahajani, Amruta Khanvilkar, Neha Mahajan & Roger D'Costa
Genre: Suspense Thriller
Ratings: Two and a half
Director Amol Shetge's latest offering One Way Ticket offers a novelty in that it has been shot on foreign locales like Europe (France-Italy-Spain), Thailand and Mauritius. Besides it has been shot on board a cruise ship all of which is certainly a rarity for Marathi Cinema audience.
One Way Ticket unfolds with Samar Raj (Sachit Patil) busy writing a blog with his assistant Nisha (Neha Mahajan) about their recent overseas journey on board a cruise ship and then the movie relapses into a flashback mode. Some more strangers like Aniket (Shashank Ketkar), Madhu (Amruta Khanvilkar) & Aditya Rane (Gashmeer Mahajani) also come on board the cruise ship. Once all the 5 strangers are on board, the mysterious journey begins.
The directorial skills of Amol Shetge is ok. Performance wise the best of the whole lot is Shashank Ketkar. Next in line are Sachit Patil, Neha Mahajan and Amruta Khanvilkar, but strictly not in the same order while sadly enough Gashmeer Mahajani disappoints big time that too in his new avatar.
One Way Ticket will be liked more by the classy audience of Multiplex Cinemas.