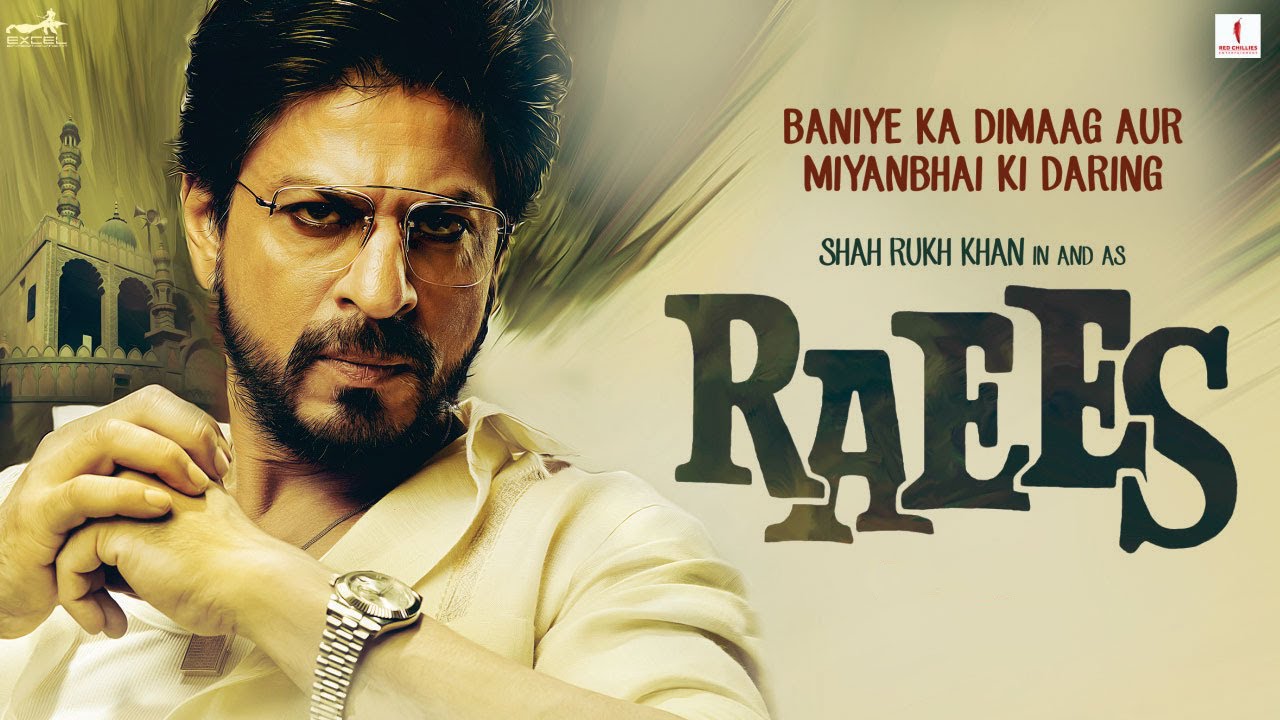 Banner: Red Chillies Entertainment & Excel Entertainment
Producers: Ritesh Sidhwani, Farhan Akhtar & Gauri Khan
Director: Rahul Dholakia
Star Cast: Shah Rukh Khan, Mahira Khan, Nawazuddin Siddiqui, Mohammed Zeeshan Ayyub, Sheeba Chaddha, Master Shubham Chintamani, Master Shubham Tukaram, Atul Kulkarni, Narendra Jha, Jaideep Ahlawat, Uday Tikekar, Pramod Pathak, Utkarsh Mazumdar, Loveleen Mishra, Anil Mange, Raj Arjun, Bhagwan Tiwari, Sunny Leone et al
Music: Ram Sampath
Director Rahul Dholakia's body of work till this date borders more on realism, and ultimately proves that he is not in the least bit a hardcore commercial filmmaker. But since Raees is the 1st big ticket cinema for Rahul he emerges victorious to a certain extent by combining both the elements namely realism as well as commercialism.
The scripted scenario of Raees is set in the 1980's period. Raees (Shah Rukh Khan) is trying to beat the system and succeed on his terms. His natural flair for entrepreneur ship and never – say – die determination while achieving his goals makes him both loved & feared. Enters Jaideep (Nawazuddin Siddiqui), a cop, who vows to eliminate crime…….and Raees' empire. In fact Raees is the fictitious story of a man named Raees, set in early 1980's to 1990's Gujarat, India. The film explores how Raees' relationships & meteoric rise helped him build an entire empire from scratch, to make him the single most powerful man in the state. Less of a gangster but more of an impresario, Raees gains popularity, a cult following and most importantly the public's trust by demonstrating entrepreneurial flair, unfettered determination to achieving his goals & ironically a heart of gold. His layered character traits encapsulate an inimitable blend of personas, making him revered, loved & feared. Always thinking ahead of the curve and using revolutionary ideas of management which were unheard of during his time, but are now doctrines for students, Raees eliminates every opposition that comes his way. However, his downfall takes place while crossing paths with the no – nonsense police officer Majumdar, whose sole reason for existence is the elimination of crime. What ensues next is a tumultuous battle between the 2, which forms a key defining element of the film's narrative.
Director Rahul Dholakia's Raees is indeed based on the story inspired by true events & on a real – life character, namely a gangster named Abdul Latif. That apart Rahul Dholakia depicts the power play and the cat & mouse chase between Raees & the honest cop Jaideep. A standing ovation goes to Rahul Dholakia for coming out of his comfort zone as recreating the bygone era is a Herculean task and the toughest part was to involve the present – day audience that's clueless about the characters and ambiance of that era. And for these a left handed complement once again goes director Rahul Dholakia in tandem with his behind the scenes team comprising of Dholakia and his team of writers which included Harit Mehta, Ashish Vashi & Niraj Shukla, Ram Sampath (music composer in lieu with the background score), K. U. Mohanan (cinematographer) & Deepa Bhatia (editor).
Performance wise it is certainly an SRK film all the way and what a performance he has delivered? Its totally unbelievable and even too good to be true. In fact SRK is the scene stealer as well as the show stealer. Nawazuddin Siddiqui matches SRK step by step and delivers a mind blowing performance. Both, SRK & Nawazuddin's performances grab your eyeballs and keeps you riveted to the screen. On the other hand Mahira Khan looks gorgeous and handles her part with confidence. But obviously one can't say to her "Welcome to Bollywood". Next in line bravura act comes from Mohammed Zeeshan Ayyub who really sinks his teeth into a solid role and indeed leaves a lasting impression. Wheras Atul Kulkarni makes his presence felt with a committed act. And last but not the least the other actors like Sheeba Chaddha, Narendra Jha, Jaideep Ahlawat, Utkarsh Mazumdar, Pramod Pathak & Uday Tikekar are picture perfect in their respective role including Sunny Leone who sizzles in the "Laila Main Laila" number. While a special mention must also be made of the 2 child artistes namely Master Shubham Chintamani, Master Shubham Tukaram, who are indeed a suprise packect.
Tail Piece: Raees is tipped to be a sure shot hit. As far as the Box Office turnstiles is concerned, there's no stopping Raees, an outright winner. Just don't miss it.