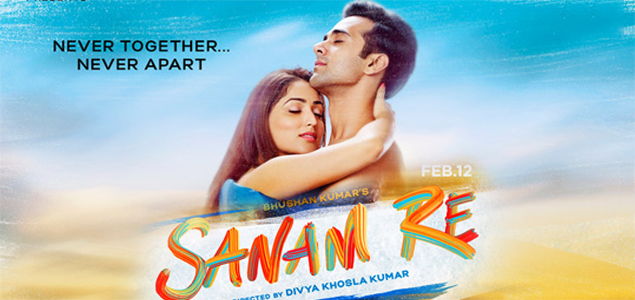 Producer: Bhushan Kumar
Director: Divya Khosla Kumar
Star Cast: Pulkit Samrat, Yami Gautam, Urvashi Routela Bharti Singh & Rishi Kapoor
Music: T-Series
Director Divya Khosla Kumar had earlier come up with a very youthful & entertaining film Yaariyaan in her debut outing. But in her 2nd outing Sanam Re is not so impressive after all.
The plotted scenario of Sanam Re entails the story of Aakash (Pulkit Samrat) who is an ambitious young man but he is always rebuked by his boss. The circumstances takes him back to his small home town amidst snowcapped hills. His dadaji (Rishi Kapoor), a photographer had been a strong influence on him during childhood but now he's old & Aakash's parents are all set to sell off the photo studio since there's no one to take care of it. The young & confused Aakash rediscovers the memories of his childhood love Shruti (Yami Gautam) whom he had dumped for a comfortable city life a few years ago. Circumstances make Aakash & Yami to meet again in the salubrious climate of Canada where they attend a Yoga Camp of a lady Yoga guru (Bharti Singh). The triangle is completed by gorgeous & sexy Mrs Pablo (Urvashi Rautela) who has to be won over by Aakash for professional reasons. The story moves forward and the professional ambitions gradually gets taken over by pure unadulterated love.
No doubt director Divya Khosla Kumar has chosen some fantastic locales in Laddakh, Canada & Himachal Pradesh. But only if she had paid more attention and made the script of Sanam Re a little more plausible & lively to keep the viewers interest intact in the film.
The only plus point of the movie is its T-Series brand of chart bursting & foot tapping music and the slow pace of the film is another big let down. But of course Sameer Arya's soothing camerawork makes the stunning locales a visual treat for the viewers.
Performance wise Pulkit Samrat has given a good account of himself. Both Yami Gautam & Urvashi Rautela look gorgeous & beautiful on screen and add to the glamour quotient and that's it. Bharti Singh. just carries forward her small screen comedian image to celluloid silver screen to raise a few laughable moments. Rishi Kapoor is picture perfect in a grandfather's role.
Tail Piece: Sanam Re is strictly recommended only for die – hard music lovers while others please stay away from this old wine in a new bottle's extremely boring fare.