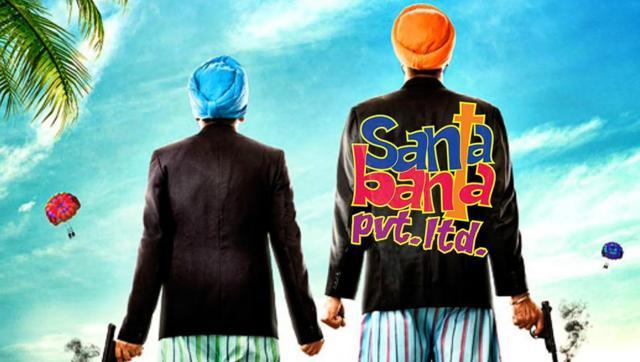 Director: Akashdeep Sabir
Star Cast: Boman Irani, Vir Das, Neha Dhupia, Lisa Haydon, Johnny Lever, Ram Kapoor, Sanjay Mishra, Ayub Khan et al
Music: Jaidev Kumar, Jassi Katyal & Nadeem -Amjad
Santa Singh & Banta Singh are the globally famed iconic characters just like the Hollywood characters Laurel & Hardy. But director Akashdeep Sabir in lieu with his writing team has made a complete mess of the lively characters of Santa & Banta. It is better to read a joke book on Santa & Banta rather than watching this completely messed up film Santa Banta Pvt Ltd.
The scripted scenario of Santa Banta Pvt Ltd starts off with the animated introduction of 2 best friends namely Santeshwar Singh Solad aka Santa (Boman Irani) & Banteshwar Singh Bolad aka Banta (Vir Das) leading their crazy but simple lives in Punjab. Meanwhile, in Fiji, the High Commissioner Shankar (Ayub Khan) suddenly gets kidnapped under mysterious circumstances, an incident that causes immense unrest amongst the RAW (Research & Analysis Wing) officials in India as well as in Fiji. The Indian RAW officials, then, plan to send 2 secret agents Santa & Banta in order to rescue Shankar. When the Indian RAW officer (Vijay Raaz) fails to track down the RAW assigned Santa & Banta, he gets petrified & scared. That's when he bumps upon the Santa – Banta namesake in the form of Boman Irani & Vir Das. The duo, then, get transported to Fiji with the sole objective of tracing Shankar. When Santa -Banta reach Fiji, what happens after that is beyond their imagination. Out there, they land up meeting Shankar's wife Kareena Roy (Neha Dhupia), Shankar's best friend Sonu Sultan (Ram Kapoor) & also Fiji's RAW agents Cutie (Lisa Haydon) & Akbar Illahabaadi (Sanjay Mishra) and the 'gang' of Kukri yielding Nepal's No. 1 Don (Johnny Lever). After their initial hiccups while 'investigating' the case, one fine day Kareena Roy meets Santa & Banta and confesses that she has a strong feeling that her husband has not been kidnapped, but, he has gone underground on his own. In the meantime, Sonu Sultan discovers the truth about Santa & Banta and engages his henchmen to bump them off.
Once again we would like to say that director Akashdeep Sabir and his writing team have failed miserably or was this just a ploy to have an entertaining wining & dining holiday in Fiji at the expense of the producer, the financer & the cinegoers all rolled into one. The poor sufferers!
Performance wise only Boman Irani & Vir Das bring a very few moments of laughter in the entire dull & routine proceedings of the film. As for the heroines Neha Dhupia & Lisa Haydon, they are nothing better than glamour doll. While Boman Irani & Vir Das hold the fort throughout the film, the rest of the cast comprising of seasoned actors like
Johnny Lever, Ram Kapoor, Sanjay Mishra, Ayub Khan et al were so busy holidaying in Fiji that they have just sleep walked through the entire film.
Tail Piece: No more comments please but if you are still keen to see Santa Banta Pvt Ltd, do so at your own risk.