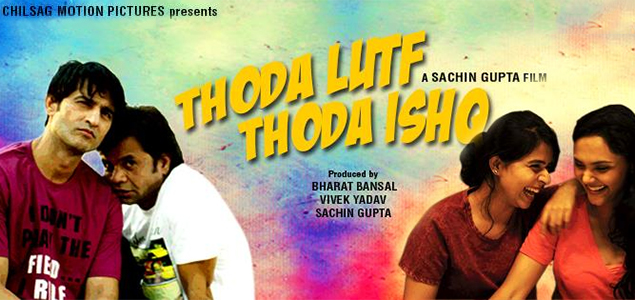 Producer: Bharat Bansal, Vivek Yadav and Sachin Gupta
Director: Sachin Gupta
Star Cast: Hiten Tejwani, Rajpal Yadav, Sanjay Misra, Neha Pawar, Bhavita Anand, Sanjana Singh & Rakesh Bedi
Genre: Comedy
Verdict: AVERAGE
Director Sachin Gupta, not to be confused with music composer Sachin Gupta, in his first outing Paranthewali Galli had made a fairly sensible film. But in his second outing Thoda Lutf Thoda Ishq, termed as romantic comedy, he is absolutely clueless leading to confusions galore.
Jhumroo (Hiten Tejwani) & Ghungro (Rajpal Yadav) are the two good for nothing boys. In fact they are the best examples of fools who keep roaming around the whole day. Their sole motive in life is to have fun, befriend girls, go to parties, get drunk and chill. They find impish ways to get in touch with girls. They are also desperate to get a job, but in their comical attempt they receive yet more embarrassment. After couple of disasters they do get a job at a newly opened beauty parlour run by two smart girls. Their dream has come true. They are around girls all the time. But this is just the beginning of their hilarious trauma and a journey full of unexpected twists.
Aces: Nothing except one romantic number.
Minuses: its start to end dialogues in Punjabi which sounds more like a Punjabi film than a Hindi film.
Last Word: A strictly avoidable film even if you have nothing better to do on this weekend.