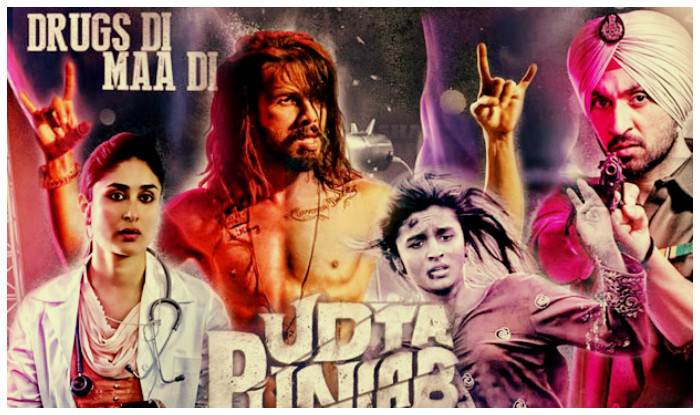 Producer: Shobha Kapoor, Ekta Kapoor, Anurag Kashyap, Vikramaditya Motwane, Aman Gill, Vikas Bahl & Sameer Nair
Director: Abhishek Chaubey
Star Cast: Shahid Kapur, Karina Kapoor Khan, Alia Bhatt, Diljit Dosanjh, Satish Kaushik et al
Music: Amit Trivedi, Benedict Taylor & Naren Chandavarkar
Director Abhishek Chaubey in his hat trick offering Udta Punjab has dealt with , a film belonging to the intensely dark & extremely serious genre, almost or more or less like his 1st outing (Ishqiya) & his 2nd outing (Dedh Ishqiya). Nevertheless the film Udta Punjab is mainly about the drugs abuse menace which is still existing in Punjab. But it looses its focus with varied sub – plots running parallel with the main plot. Besides the entire film sounds like a pure Punjabi film, because of the extensive use of the Punjabi lingo throughout the duration of the film.
The scripted scenario of Udta Punjab starts off with a scene at the India -Pakistan border wherein a Pakistani man throws a mysterious drug packet onto the Indian side. This is followed by a rocking introduction of rockstar Tommy "Gabru" Singh (Shahid Kapoor) and a glimpse into his addictive lifestyle. One day, Tommy Singh gets fired by his producers for delaying their recordings. If that wasn't enough, Tommy Singh also gets arrested by the Punjab police amidst his birthday party, on grounds of drug abuse. When he gets released from jail, despite the jitters, he somehow manages to gear up to perform before an eagerly awaiting audience. Just before the performance, he does something extremely awkward that irks a handful of audience, who, then, run after him baying for his blood. On the other hand, Pinky Kumari aka Mary Jane (Alia Bhatt) migrates from Uttar Pradesh to Punjab. Her background reveals that, she was an exceptional hockey player, who, because of lack of financial support, landed up becoming a labourer. And since then, she is trying to find her place under the sun in Punjab. One day, when she finds a 3 kg drug packet, she tries to sell it off to make a fast buck. While doing so, for reasons best known to her, she dumps the whole 3 kg of drugs into a well, thus invoking the wrath of the drug peddlers, for whom, the entire packet meant heavy profits. Angered by her action, the peddlers not just end land up raping the helpless Pinky Kumari, but also keep her as captive with them. Repeated attempts to run away from their clutches, yields no results for Pinky. The 3rd angle to the story is that of Dr. Preet Sahani (Kareena Kapoor – Khan), under whom Balli Singh, the younger brother of Inspector Sartaj Singh (Diljit Dosanjh) is getting treated for being a victim of drug overdose. Amidst the course of Balli's treatment, Sartaj Singh analyses & realises the harm that these banned substances cause to thevpeople. He, then, joins Preet Sahani in her crusade against drugs and exposing the drug mafias.
Director Abhishek Chaubey has picked up a very topical subject in Udta Punjab but mid – way he seems to have got totally confused by attempting to make amends with varied sub – plots thereby completely loosing his grip on the main plot of the substance abuse and in the process the film becomes too sluggish and just about moving with a snail's pace. That apart his directorial skills are seriously let down by his entire technical team barring all the actors who have delivered a mind blowing performances.
Performance wise Shahid Kapoor leads the brigade with his brilliant act to say the least. And he is simply outstansding in his newest avatar of a rockstar. In fact Shahid Kapur & Satish Kaushik bring in a little bit of comic relief with their humorous banter in the film at regular intervals. Alia Bhatt is just superb in her de-glam avatar of a Bihari girl, she has surpassed her own role of Highway. The next in line restrained performance comes from Kareena Kapoor – Khan. That apart debutant Punjabi star Diljit Dosanjh steals the cine goers heart by delivering a very heart warming performance. Just watch out for his comfortably sterling act in his future Bollywood movies.
Tail Piece: Lack of entertainment value is the biggest drawback of Udta Punjab thereby stamping the film totally as an art house cinema which will indeed garner a lot of critical acclaim as well as rave reviews in the global film festival circuit.