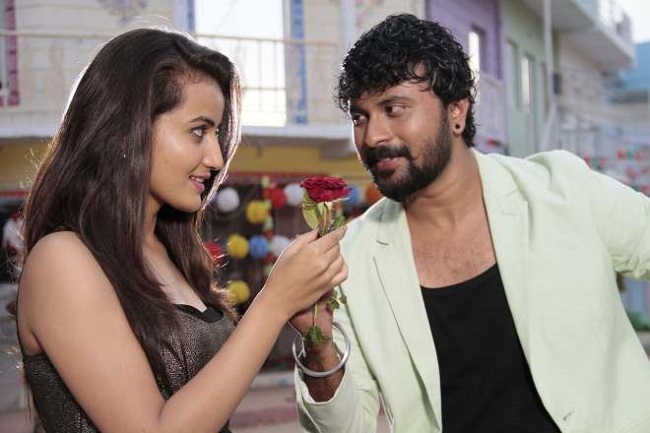 Banner: R V Creations
Producer & Director: Raghuvardhan
Cast: Shishir Shastry, Lekha Chandra, Sujoy R Hegde, Narayanaswamy, Kempegowda, Srinivasa Gowdru, Girish Jaththi, Bengaluru Nagesh, Shantha Acharya, Diamond Rajanna, Dr. Somashekhar, Ramanna et al.
Music: Manju Charan
Director Raghuvardhan makes his directorial comeback almost after a decade with his latest directorial outing namely Mr. LLB. In his 1st ever directorial outing Raghuvardhan had ended up working with big Kannada stars in films like Thimmaraya, Gunvantha & Bhadri Kannada.
Mr. LLB happens to be the story of a Land Lord Bhadra (Shishir Shastry), Swara (Lekha Chandra) & Bhadra's friend Rahul (Sujoy R Hegde). The trio of Bhadra, Swara & Rahul get involved in the varied exploits of their village including the widely canvassed Gram Panchayat elections. And in the process lots of comedy situations arise and soon enough Bhadra falls in love with Swara and before the love story could culminate in a "Happy Ending", Rahul is all set to enter into an arranged marriage with Swara. Then how this comic & action oriented romantic climax is sorted out forms the crux of Mr. LLB.
Director Raghuvardhan has dished out a decent mass entertainer with all the commercial toppings intact. But sadly enough the title Mr. LLB is totally misleading as LLB stands for Land Lord Bhadra, the protagonist Bhadra. Music by Manju Charan is notably melodious especially the numbers "Chandani" with a mix of Hindi & Kannada lyrics, and Ninna Yedege". The camerawork by Suresh Babu is eye pleasing and captures the locales of Chikkamagaluru, Madikeri, Muddur & Baba Buddhanagri beautifully.
Performance wise both Shishir Shastry as well as Sujoy R Hegde have made their respective transition from the small screen to the big celluloid silver screen perfectly. In fact Shishir Shastry has given a good account of himself in the entire comic, action as well as the romantic scenes. While Sujoy R Hegde is picture perfect in his semi – serious role. But the same cannot be said about Lekha Chandra who is not exactly up to the mark in spite of having done a couple of films with big Kannada stars earlier. She seriously needs to polish her dormant acting skills.
All said & done Mr. LLB has a decent chance of success at the Box – Office turnstiles.