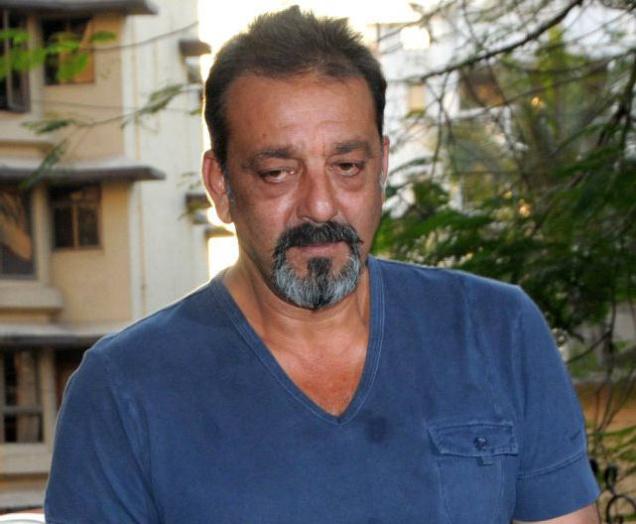 Non – Bailable Arrest Warrant Against Sanjay Dutt
Just as life was going fine & smooth for the "now – reformed" Sanjay Dutt, his past seems to have risen its ugly head yet again. The Andheri court has now issued a non -bailable arrest warrant against him for allegedly threatening the filmmaker Shakeel Noorani in the year 2002. Way back in the year 2002, Sanjay Dutt had committed to play the lead role in Shakeel Noorani's film Jaan Ki Baazi. Reports have it that, even though Sanjay Dutt had received Rs. 50 lakh for the film, he neither turned up for the shoot nor returned the said money to Shakeel Noorani. Post that, when Noorani had approached the court for justice, the Bombay High Court ordered the seizure of Sanjay Dutt's property. After that, Shakeel Noorani registered a complaint with the Andheri court, in which he had alleged that he was getting threats from the underworld at Sanjay Dutt's behest.
Salman Khan Donated Rs. 1 Lakh
We all know that the world is full of varied kinds of people. While on one hand, there are people who will do charity and go on rooftops bragging & shouting about the same, on the other hand, there are others who help selflessly and won't even utter a word about the same. It's no rocket science to decipher that Salman "Being Human" Khan falls under the 2nd category. There have been many examples in the past, where the needy & the hopefuls have been helped by Salman Khan without anyone even knowing about the same. This time round, Salman Khan showed his "Good Samaritan" side yet again by helping a news cameraman suffering from brain haemorrhage. When the family members got to know that the amount needed for their son's treatment is beyond their reach, as they had already spent more than Rs. 5 lakhs for the treatment, they decided to approach Salman Khan. The superstar Khan, then, immediately asked his "Being Human" Foundation to transfer an amount of Rs. 1 lakh to Lilavati Hospital for his treatment.
Will Manto's Daughter Come To India For Mantostan!!!
When director Rahat Kazmi started his tryst with Manto, he was just following his passion. And yet, the way things have come together, he cannot believe his stars… to begin with Manto's daughter has already reached out to him. Mantostan, is a film based on 4 of Manto's most socially debated stories. It is the 1st time ever that Indian film industry will see a film based on the man who BBC has declared the greatest literary figure. If that is not instant gratification, what is? In fact Manto's kin are looking forward to having the film release in Pakistan, while Kazmi is hoping they would also be allowed in India for the premiere.
"Tribute To Shah Rukh Khan" To Be Live Streamed From San Francisco
SRK has loyal followers all around the world. The actor has been invited to 60th San Francisco International Film Festival (SFIFF) where he will be having a conversation with Brett Ratner. The film festival will be screening My Name Is Khan in San Francisco. It will be followed by a tribute to Shah Rukh Khan which will be live streamed on Twitter. Fans all around the world will be able to join the conversation. SFFILM's Executive Director Noah Cowan said in a statement that they are thrilled to be able to share this special conversation with audiences worldwide through our partnership with Twitter. A hashtag #SRKSFFILM will let people know how many are interacting during live conversations utilizing Twitter polls & questions.
Priyanka Chopra To Be On Tribecca Film Festival Jury
Priyanka Chopra is an unstoppable force of nature. The actress has had a successful debut in the West with Quantico, walked several red carpets, featured on prestigious magazine covers and is also gearing up for her Hollywood movie debut in Baywatch. Now, Priyanka Chopra is adding another feather to her hat. Priyanka Chopra has been appointed as the jury member of the upcoming 16th edition of Tribeca Film Festival. The announcement was made recently that Priyanka Chopra will be on the jury along with filmmaker Amy Berg, actors Zachary Quinto & Willem Dafoe & TV producer Sheila Nevins. Priyanka Chopra's work will be to look after the 2017 Documentary & Student Visionary Competitions alongside Olivia Thirlby, Ryan Eggold, Brendan Fraser & Ileen Gallagher. The winners of each category will be announced at the Tribeca Film Festival Awards ceremony on 27th Apr, 2017 at BMCC Tribeca Performing Arts Center.
Lipstick Under My Burkha Now Eligible For Golden Globes
Lipstick Under My Burkha Los Angeles premiere as the opening film of the International Film Festival of Los Angeles this week was announced as an official Hollywood Foreign Press Association Screening of the film. The Hollywood Foreign Press association has chosen Lipstick Under My Burkha opening night screening at the International Film Festival of Los Angeles, to be an officially qualifying screening for the Golden Globe Awards. This is a huge honor for the film as it means that Lipstick Under My Burkha is now eligible for the Golden Globes. The Golden Globes, the prestigious film & TV awards in America, is run by the Hollywood Foreign Press Association.
Babbu Maan Nominated At Daf Bama Music Awards
"Everyone dreams of winning International recognition. It gives an artist's work a new level of recognition & legitimacy" says 4 times World Music Award winner Babbu Maan who is nominated at Daf Bama Music Awards. Described as the world's one of the most prominent & prolific singer & composer by time, his work is notable for integrating Punjabi Hindi Music with electronic music sounds, world music genres & traditional orchestral arrangements. His extensive body of work for films & stage has earned him several National & International Awards & Nominations. One such International nomination is for Daf Bama Music Awards. Singer Babbu Maan has been nominated for Daf Bama Music Awards, one of the most deserving Indian who has time & again glorified the Indian flag on International soil "I feel proud to glorify our country on International platform. Not just me. For me it's not about the win, it's about recognition & appreciation. I hope the best person wins" adds Babbu Maan. With some of the finest pieces of music work to his kitty, music icon Babbu Maan is to be nominated at Daf Bama Music Awards" This year has bought the best gift for me. I feel 2017 is a big blessing of my long journey in musical life. I thank God, my parents, my family and all my fans all over the world "
Randeep Hooda's "Broken" Horse Wins Him Medals
Randeep Hooda who is passionate about his horses as much as he is about acting, won 3 medals at the recently – concluded horse
show at the Amateur Riders' Club. What makes his win more significant is the fact that his horse, Dream Girl, is not only his 1st mare, but one of the 9 injured horses he adopted & nursed back to health. Says Randeep, "People advised me to get fancy, trained & fit horses from abroad for the races. But I wasn't keen. What's victory then? Satisfaction comes from the challenge of nursing "broken" horses and watching them make a comeback to their former glory." Talking about how he met his Dream Gir, he says, "She came to me last year with a severe hip problem and an undetectable pain in her front right leg."