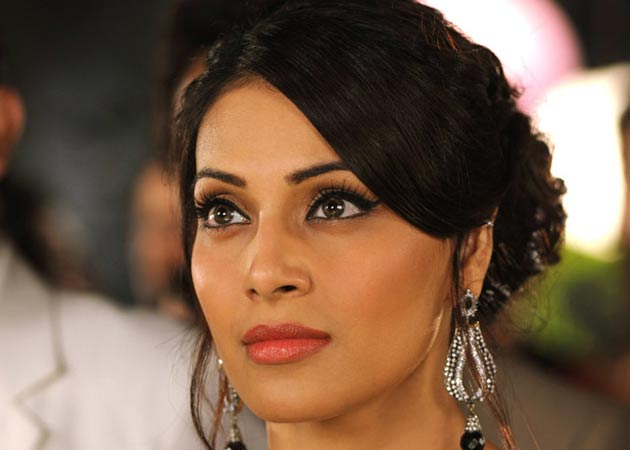 NOTHING GETS IN THE WAY OF BIPASHA BASU'S WORKOUT!
Bipasha Basu who is currently on the DaBang Tour is a complete workout junkie and hasn't let her crazy schedule get in the way of her dedication. The gorgeous actress, who is known for having one of the best physique in the industry, has been ensuring she doesn't skip a day of her workout and has even started training her staff to motivate them. Bipasha Basu who is currently in Sydney, Australia rehearses
for her acts every day, sometimes even for 14 hours a day but doesn't skip exercising. Says the fitness icon, "No matter what people say, I sleep early & wake up early to train even on days when I have a show. I never skip training. Even if I am tired, I do breathing exercises & extensive stretching. I
also regularly use ice packs to avoid injuries while performing, as I already suffer from
osteoarthritis in my knees." Bravo Bipasha!
THUMBS UP FOR 'DEAR MAYA' TRAILER
Rahul Mittra, Filmmaker & CEO, Wave Cinemas hosted a gathering to unveil the trailer of their forthcoming release
DEAR MAYA. Producers Shobhna Yadav & Sandeep Leyzell were seen in upbeat mood with director Sunaina Bhatnagar. Imtiaz Ali who was there to support the team, happily introduced all the members & unveiled the trailer. Manisha Koirala who came accompanied by her mother spoke about the film and were seen catching up with the team especially young actors Shreya Chaudhry & Rohit Saraf who were visibly excited about their maiden film. Also, present were lyricist Irshad Kamil & composer Anupam Roy. DEAR MAYA is slated to release on 2nd Jun, 2017
FATIMA SANA SHAIKH JOINS 'THUGS OF HINDOSTAN' WITH AMITABH & AAMIR
Fatima Sana Shaikh, who made an impressive debut with DANGAL, joins the star – studded cast of Yash Raj Films' forthcoming mega project THUGS OF HINDOSTAN. Cobv-starring Amitabh Bachchan & Aamir Khan, writer – director Vijay Krishna Acharya will be directing the film. This is the 2nd time Vijay Krishna Acharya (Victor) will be directing Aamir Khan after the blockbuster DHOOM 3. THUGS OF HINDOSTAN unites Amitabh Bachchan & Aamir Khan on screen for the 1st time ever and promises to be a larger than life, grand cinematic experience.
Writer – director Vijay Krishna Acharya averred, "The role of the girl is pivotal to the film so it was crucial for us to find the perfect fit. Through a rigorous round of auditions & action workshops, we found in Fatima Sana Shaikh a truly dedicated actor and a gifted performer of action. We are very happy to have found the perfect girl for our film. "The film began shooting on 1st Jun, 2017. Watch out for more details on the film in this space and keep counting the time till its release date of Diwali 2018.
AN AMERICA FILM FOR SALONY LUTHRA !!!!!
Assistant director of MUNNA BHAI MBBS and many other Hindi films, Vibha Gulati went on to Hollywood and make films like THE WAITING ROOM, THE INTERPRETER & a few more short films. Vibha has announced her next American film FORBIDDEN with Salony Luthra playing the lead. Salony Luthra is a popular face in the South Indian film industry. Vibha Gulati was looking for someone who acts well as an Indian born in America and also perform some action sequences. "I was confident with all the other required elements for the role but wanted to get the American accent right. For that, I researched & spent 3 weeks in US."​ FORBIDDEN is about a girl who goes by her heart & pays a heavy price for it. It is based on a true story and when I read it, it shocked me. This time via Skype when I was in Budapest for an international project. Once again, the makers felt that my body language suited the character but were not convinced by my accent. They offered me the role on the condition that I had to develop an accent in a stipulated time", avers Salony.​
ANNU KAPOOR IN MADHUR BHANDARKAR'S INTERNATIONAL FILM FOR BRICS
Remember Annu Kapoor playing an old man in his very 1st film EK RUKA HUA FAISLA? The versatile actor is all set to collaborate with National Award winning filmmaker Madhur Bhandarkar for an international film titled MUMBAI MIST that is a story about a beautiful bond between an old man & an orphan kid.The film will be part of "The Magnificent Five—Directors Collaboration Project for the BRICS Film Festival" where Bhandarkar is representing India, alongside globally – feted storytellers, Brazilian Walter Salles (THE MOTORCYCLE DIARIES fame), Chinese director – screenwriter Jia Zhangke, Russian storyteller Aleksey Fedorchenko & South African filmmaker Jahmil XT Qubeka.All 5 filmmakers will make 18 -minute shorts on the theme, "Where Has The Time Gone?. Chinese director Jia Zhangke will work as executive producer to put all 5 short films on the same theme, together to make a feature film that will be premiered in China this 21st Jun, 2017, while it will see theatrical release in China in Sept, 2017 followed by other countries. Madhur Bhandarkar will attend the China premiere & starts shooting for the film in a few days in Mumbai.
MILIND SOMAN BACKS ONTHERUN – A NATURAL HEALTH FOOD START UP
The health food brand Ontherun announced their association with India's ultra endurance athlete & fitness evangelist, Milind Soman over a brunch soiree in Mumbai. The affiliation will bring on the table a power packed combination of Milind's nutrition insights & the brand's core purpose of creating products that are natural & healthy and taste great! Hosted by Shilpa Phadke, Founder & Director, Stayfit Enterprize Pvt Ltd & Milind Soman, the event brought out interesting health food facts by both the health conscious enthusiasts on the forefront. Shilpa shared her experience on why she felt that creation of Ontherun was the need of the hour, Milind elaborated on how the product has been his choice of the food while on his long runs and other events. Milind Soman shared, "I have never taken any supplements or have ever succumbed to any fad diets. I do make changes to my eating regime depending on my activity & my schedule; however, I always keep it simple and most importantly natural. I believe in its core ideology, it is something I live by. Working with Ontherun, gives me an opportunity to communicate with my followers & demystify the complexity around health food".
ARVIND BABBAL TO MAKE FILMS AFTER MAKING 25 TV SERIALS
What strikes you as different in Arvind Babbal the versatile maker of TV serials like MAHAKUMB & SARASWATICHANDRA is that he is equally comfortable in making all types of television shows from historical, sci – fi, thriller, romance & drama based on relationships. Aravind Babbal has till date made as many as 25 TV serials, each belonging to a different genre. Aravind confesses that he had left directing SARASWATICHANDRA after directing 76 episodes for producer Sanjay Leela Bhansali when yet another production house took over the reins of making the serial and the subject went for a toss. Not only did Zarina Screwala ask him to make a film for UTV when he was directing CHHOTI MAA for them but also Sanjay Leela Bhansali had asked him to try his hand at making a film when he was making SARASWATICHANDRA for his production house. Aravind Babbal adds, "Kavita Barjatya also asked me to make a film for their home production but I just bade my time. I feel that the time is right now for me to make my foray into films." Right now, Arvind Babbal is busy completing 2 scripts which he will direct into films in the next 2 years.
YRF & ABU DHABI COLLABORATE ON THE BIGGEST SHOOT OF 'TIGER ZINDA HAI'
Yash Raj Films will shoot TIGER ZINDA HAI for 65 days in Abu Dhabi and this longest Hindi film will be filming in Abu Dhabi. TIGER ZINDA HAI is a sequel to the blockbuster film EK THA TIGER will be directed by Ali Abbas Zafar. TIGER ZINDA HAI starring Salman Khan & Katrina Kaif has commenced filming in Emirate on 4th May, 2017. Over 150 workers will be on site for a total of 100 days to create the film's main set, many of whom helped to build the Star Wars set in Abu Dhabi in 2013. The production will also film at several other locales around Abu Dhabi before moving onto the set. A crew of 300 is expected to work on the production, with Abu Dhabi based freelancers working alongside crew members from India, US & UK. The UAE military is providing military equipment, including choppers during the shoot. Ali Abbas Zafar averred, "A film like TIGER ZINDA HAI requires a certain scale,
which we found in Abu Dhabi." Salman Khan averred, "TIGER ZINDA HAI is a film of sizeable scale & context." Katrina Kaif averred, "TIGER ZINDA HAI shifts to different locales across the globe, and Abu
Dhabi fits in perfectly with our story."
TARZAN FAME HEMANT BIRJE'S DAUGHTER SONIA IN COMEDY DRAMA 'HELLO DARLING'
Sonia Birje, daughter of the Tarzan fame, actor Hemant Birje joins the cast of the Hindi comedy play "Hello Darling" and will rub shoulders with seasoned actors like Vindu Dara Singh, Sheeba, Payal Goga Kapoor & Shaad Randhawa. Sonia Birje, who looks like some neo – noir femme fatale en route to her next kill is vigorously rehearsing for her role of a gorgeous beauty with all the actors for the play, revolving around the relationship of a husband & wife. It is produced & directed by Yogesh Sanghvi on a script by Mir Munir. "Hello Darling" defines the sensitiveness in the relation of a couple of not being a tyrant and at the same time not to betray. Earlier she has done modeling and also featured in a film down South. Unfortunately, her debut Hindi film could not see the light of the day. Sonia, who is
playing the role of Lalsa averred, "Theatre is always helpful for an actor as it enhances the acting prowess. Unlike a film, here there is no chance of a re – take. I have signed a film which will roll in Jun, 2017. I want to play all kinds of good roles, including art films too and like to be known as a
versatile actor".
EKTA KAPOOR – KAREENA KAPOOR – SONAM KAPOOR – RHEA KAPOOR COME TOGETHER FOR 'VEERE DI WEDDING'
Refuting to all the rumours, Ekta Kapoor has taken to social media to announce her excitement about coming together with Kareena Kapoor Khan, Sonam Kapoor & Rhea Kapoor for VEERE DI WEDDING. Balaji
Motion Pictures is on board to produce one of the most – awaited films, "VEERE DI WEDDING starring the gorgeous Kareena Kapoor Khan & Sonam Kapoor. Going against the typical announcement, the producer
couldn't hold back from taking charge and gleaming with pride on her newest film and decided to put this up on her Instagram even before the official announcement was made by Ruchikaa Kapoor, Business Head of Balaji motion pictures.
SUMAN NEGI RISES LIKE A PHOENIX
Joining the bandwagon of model – turned -actresses in Bollywood, is Suman Negi, who has won the title of "Miss Meerut". Suman Negi plays the lead in the romantic, suspense drama titled as BEIMAAN AASHIQ.
The film is directed by Sandeep Kumar for producer Kiran Kumar Titoriya. The film's post – production is underway and is scheduled to release in Jun, 2017. Suman Negi completed her BA in Meerut. During her
studies itself she participated in varied modeling shows and also won the title of "Miss Meerut". During that period she got a chance to act in a Mollywood film titled as DHAKAD CHORA which was super hit. One such film titled as KISMAT EK ANOKHA MODH was screened at Cannes Film Festival. Suman Negi averrd, "I am playing a character named Riya. She is intelligent, dashing & bold who is ready to face all kinds of problem at any given stages." Many also said that she will step into their shoes once
this film hits the silver screen." Kabir Khan, Anurag Tomar, Sachin Chobe, Bhupendar Titoriya, Ramandeep Kaur, Nishant Dilip Jain etc are also in its star cast. Sameer Sen has provided the musical score rendered by Babul Supriyo, Sadhana Sargam, Tisa Nigam, Udit Narayan etc.
DIVYA DUTTA IS ON A SIGNING SPREE
Being one of the very few actresses that do not stick to one image that works for them on – screen, Divya Dutta has paved her way into the industry like the strong woman that she is. She plays around with characters and refuses to stick to one stereotypical image of an actress. Ever since the success of her
book "Me And Ma" , Divya has been on a signing spree and has signed not 1 or 2 but 8 films that are a mixture of commercial & artsy films. She will be seen working with Irrfan Khan, Nawazuddin Siddique & Arunoday Singh. She is also extremely happy to work with director Rakeysh OmPrakash Mehra. Divya will soon be seen in BABUMOSHAI BANDOOKBAAZ with Nawazuddin Siddiqui and has begun shooting for RAITA with Irrfan Khan & director Abhinay Deo.
ZEENAT AMAN SINGS FOR NIKHIL KAMATH'S TUNE
Zeenat Aman sung a foot tapping number for music composer Nikhil Kamath for the upcoming web series LOVE LIFE & SCREW UPS soon to be released by Aum Web Studio. The song "Yeh Hai Joaana" is a foot tapping retro number which also has dialogues by Zeenat Aman. She was so impressed with the composition after she heard the scratch that she herself agreed to sing the song and be a part of the song penned by VImal Kashyap. The song has a fun element and will bring the house down with its retro
beat. Zeenat Aman also praised Nikhil Kamath's title song "I'll be with you when you're happy" which is the title song of LOVE LIFE & SCREW UPS. Directed by Kapil Kaustubh Sharma & produced by Yuvraaj
Parashar the web series has already garnered over a miilion hits on you tube and is the most awaited web series to come.
ANUSHKA SHARMA TO STAR IN 'PARI'
Anushka Sharma will now star in PARI, the next co – production of her banner Clean Slate Films with KriArj Entertainment, this being their 1st from the many, they plan to do together. Bengali star Parambrata Chatterjee will co – star in the film. Clean Slate Films has promoted & empowered new talent behind the camera to make qualitative cinema. Taking that forward, PARI will be directed by debutant, Prosit Roy. The film goes on the floors in Jun, 2017. KriArj Entertainment has had a superb beginning with RUSTOM, now doing another with Akshay Kumar in TOILET EK PREMKATHA. They have surged ahead to have an
enviable line up of upcoming films like John Abraham starrer, Vishal Bhardwaj's production. Anushka averred, "At Clean Slate Films, we get to work with new talent on newer ideas & innovative concepts. PARI is a great script and I have complete faith in Prosit's vision as well as this collaboration with KriArj Entertainment." Parambrata Chatterjee added, "I was impressed with the script & team of PARI, and loved the idea of working with Anushka Sharma. This film holds great promise and I look forward to
its shoot soon." PARI will go on the floors in Jun, 2017.
HARSHVARDHAN KAPOOR PUTS MAJOR WORK INTO HIS 'BHAVESH JOSHI' TRANSFORMATION!
Gen – X star Harshvardhan Kapoor who will next be seen in Vikramaditya Motwane's BHAVESH JOSHI, has 3 distinct looks in the film – a skinny college – geek, a middle aged – bald man & a muscular vigilante and went all out to transform into each of his drastically different looks. The actor first dropped over 6 kgs through intense cardio last year to play the college boy and then sported a fake paunch & a bald patch for his middle – aged avatar. To look the part of the muscular vigilante, Harsh trained in martial arts with MMA fighter Andrew Neal, for specific sequences that included hand – to -hand combat & mixed martial arts action scenes. The young star even met with an injury while shooting, but continued training, hitting the gym even after a 14 – hour shifts. Says Harsh, "Even after long shifts, I hit the
gym as I have to try & hold on to as much muscle as possible while filming intense action scenes. I hurt my head & I even cut my arms badly in 2 places while trying a jump, but it's fine. It's all part of
acting".