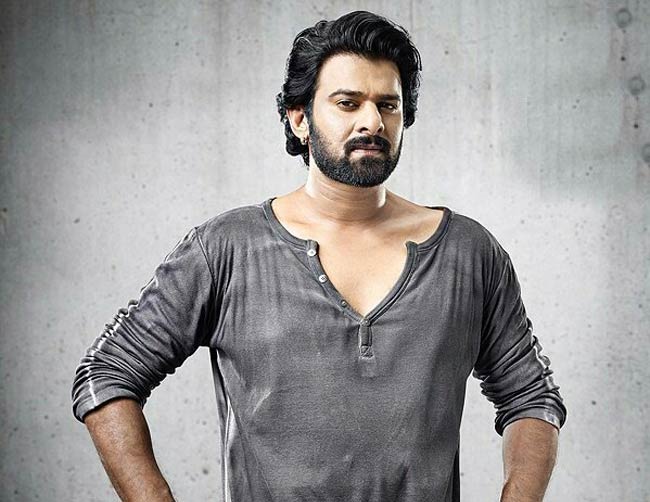 Prabhas Thanks Statement For His Fans
Prabhas is "truly overwhelmed" and wants to give a "big hug" to Baahubali fans for showering him with love. Prabhas, who dedicated 5 years to the film franchise, posted a thank you note to his admirers on his Facebook page on Sun. He wrote: "To all my fans, a big hug to each one of you for all the love you all have showered on me. I have tried my best to go through a lot of the efforts you all have put to express your affection for me from different parts of India and even overseas. I am truly overwhelmed. The journey of Baahubali has been a long one but amongst the few things that I will take away from this, is all of you. Lot's of love back to you all." He even thanked the film's director S. S. Rajamouli for "believing in me to carry off his huge vision to the masses, giving me a once – in – a – lifetime character of Baahubali and making the entire journey so special". Meanwhile, filmmaker Karan Johar, the distributor of Rajamouli's Baahubali 2: The Conclusion in Hindi, tweeted on Sun, "The biggest milestone has been reached by the biggest blockbuster of Indian cinema! Rs 1,000 crore Baahubali."
PK's Tweets About The North – South Divide
Pawan Kalyan has been raking up the North -South divide in his tweets to attack Central BJP leadership. He further went ahead & pointed fault in the decision of AP CM N Chandrababu Naidu regarding the appointment of AK Singhal as EO of TTD. He raised the same North – South issue here too. In social media, varied reasons for Pawan's fascination towards this North – South divide are being floated but 3 reasons are funny. Here are they…..1. He married his long – time lover & actress Renu Desai in 2009 but eventually divorced her due to incompatible issues. Many are wondering whether his anger against North India /Indians stems from his sour relationship with Renu Desai who happens to be a North Indian. 2. Pawan Kalyan thought of cracking the Hindi – belt with Sardaar Gabbar Singh. He gave exclusive interviews to Bollywood journalists before the release. His producers released the movie in massive manner in North India. But the movie bombed miserably in Hindi too. There were no takers for Katamarayudu in North India. Where as, Prabhas is now showing his strength in Hindi belt. Probably this could be another reason why he is frustrated with North Indians. 3. Before 2014 general elections, Pawan Kalyan was Narendra Modi's favorite friend. He played key role in NDA's win in Andhra Pradesh. But post – polls, Pawan's relations with PM Modi went downwards. Pawan must have been disappointed with Modi's ill treatment towards him and has started raising his anger against North Indians. This is one comment that is doing the rounds in social media.
Spyder To Be Postponed To Oct 2017?
Mahesh Babu & director AR Murugadoss' SPYder will be released in Oct, 2017 and not in Aug, 2017. This would be the 2nd postponement of the movie. Earlier the makers pushed the action drama from 23rd Jun, 2017 to Jul, 2017. Recently, the movie's PRO tweeted that 11th Aug, 2017 has been locked as the final release date. But industry is abuzz with the speculation that the makers are now looking for a right date in the month of Oct, 2017. Regular shoot would be wrapped up by this month end but director AR Murugadoss has shot action sequences with Blue mat to include visual effects at the time of post – production. So, the graphical team wants 3 months of time for better results. After Baahubali 2 became a mammoth hit, AR Murugadoss doesn't want to go with normal range of visual effects. He believes that these action stunts would be the main highlight of the movie. Hence, the makers are thinking of pushing it to Oct, 2017. But final call will be taken soon regarding the release date. Right now, the producers are in confusion. SPYder is being made simultaneously in Telugu & Tamil languages with Mahesh Babu & Rakul Preet Singh as the lead pair. Budget of the movie is about Rs 100 Cr.
Lavanya Says No Issues With Smooch Scenes
Lavanya Tripathi doesn't have any issues doing smooch scenes in films. Interacting with journalists, she clearly said that she is game for lip – to – lip smooch sequences provided they are shot aesthetically. "I love doing movies. I don't have objections regarding smooch scenes. I will do anything that a character in the film demands. But they should not be filmed in a sleazy manner. That is the only reservation that I have regarding smooch scenes," she averred. Lavanya will be seen next in Radha that is releasing soon. She has played Sharwanand's lover in the movie. Lavanya says she has done a mass role in it. Her recent film Mister bombed miserably but she doesn't have any regrets of doing that movie. She said that she liked the story. "Hits or flops are not in our hands. I did Mister because I liked the story that was narrated to me. Somehow, it didn't hit it off with the audiences," she reasoned. Lavanya has also started showing off skin in the movies. She also seems to be game for exposing.
Stop Bullying Urges Ileana D'cruz
Ileana D'Cruz has urged everyone to stop bullying & hating. Ileana recently took to Instagram, where she reposted a video which delves on bullying and name calling. "Stop bullying. Stop the hate. If you have nothing nice to say then say nothing. She's beautiful… Bullying needs to stop," Ileana captioned the image. On the work front, Ileana, who was last seen alongside National Award winning actor Akshay Kumar in Rustom, is busy shooting for Mubarakan. The film also stars Anil Kapoor, Arjun Kapoor & Athiya Shetty. Directed by Anees Bazmee, Mubarakan is slated to hit the celluloid silver screens on 28th Jul, 2017. It has been shot in London and is produced by Sony Pictures Networks Productions & Cine1 Studios. Anil & Arjun both play Sikhs in Mubarakan, and this is the 1st time ever that the uncle – nephew pair is acting together on the big screen.
How Is Keshava New For Nikhil?
Young hero Nikhil is on a success row. He is really picking up a variety of characters. His last few flicks like Swamy Rara, Karthikeya, Surya Vs Surya & Ekkadiki Pothavu Chinnavada were hits for some genuine storytelling & good protagonist characterizations. This time Nikhil donned a new action filled heroic role in an upcoming flick Keshava releasing on 19th May, 2017.
Director Sudheer Varma says, Keshava is a pure action revenge plot narrated on a new screenplay. Throughout the film, Nikhil sports an intense look seeking revenge against the goons for Injustice done to him & his family. Though script has entertaining comedy in parts but Nikhil will not be a part of such scenes unlike his past hits. Keshava is a bloodshed revenge action film with a raw look. Never in his career so far has Nikhil tried such intensity. Nikhil avers, "While my 1st 2 films, Swamy Rara & Dochay were crime comedies, Keshava is cent percent action in new shade.
Catherine Shows New Dubbing Talent!
Catherine Tresa been known for volcanic sex appeal and a few talented performances is clubbing a new talent to her skill set. She is playing an important female lead in Gopichand & Sampath Nandi's Gautham Nanda in post production phase. Apparently, Catherine is dubbing on her own for her character in Gautham Nanda. Despite being not so familiar & fluent at Telugu language, she is speaking very much like a Telugu girl in the dubbing studio sweetly surprising the technical team. This is 1st time ever that the hot actress is dubbing on self for a Telugu film. Many who heard her voice are suggesting on continuing as dubbing artist for all her upcoming films in Telugu. Meanwhile, Gautham Nanda finished entire talkie part & balance left is a couple of songs.
Sai Dharam Tej Denies That He Is Marrying Niharika
Sai Dharam Tej was earlier linked with heroine Regina Cassandra. But he broke up with her. Recently, reports appeared in media that mega family has arranged a match to him with his uncle Nagababu's daughter Niharika Konidela. Niharika is Sai Dharam Tej's maradalu (maternal uncle's daughter). Some media houses have reported that Sai Dharam Tej is going to tie the knots with Niharika who is also successful TV anchor & movie artiste. Niharika debuted as a female lead opposite Naga Shourya in Oka Manasu, which was a Box Office turnstiles dud. After that she has not appeared in any other movies though she continued doing TV shows & web series. On the other hand, Sai Dharam Tej issued a statement saying that she is like his sister and linking her with him is sacrilege.
Charan Teams Up With Raju Again
Ram Charan is currently busy with Sukumar's film that is expected to release for Dussera. He is yet to decide about his next project. He was supposed to do Mani Ratnam's film, but dropped it off after seeing the result of Cheliya. Meanwhile, ace producer Dil Raju is planning to make a big budget movie with Ram Charan in the lead role. Earlier Raju produced a hit film Evadu with Ram Charan. Now he is in talks with a star director for Ram Charan's film. There was a buzz about Dil Raju planning to rope in Ram Charan for Vegesna Satish's next film Sreenivasa Kalyanam. But Raju wants to make a high budget action entertainer with Charan and is looking for a young hero for Srinivasa Kalyanam. Looks like Charan will do his next for Dil Raju as he hasn't committed to any other director or producer as of now. Next schedule of Charan's film with Sukumar will commence in Hyderabad shortly.
Nara Rohith Is Hero & Villain
Nara Rohith's new love story Kathalo Rajakumari teaser is just released. Director Mahesh Surapaneni roped in a large casting of Namitha Pramod, Naga Shourya, Nanditha in top leads while maestro Ilayaraja scored music. Kathalo Rajakumari is a new interweave of love story with revenge. Rohith's voiceover briefly explains his character stuck in between lady love Namitha Pramod & revenge against the same lady. "I am the hero & I am the villain of my love story", dialogues on Rohith are written in depth. While Rohith is looking handsome as a lover boy, his beard look as villain is interrupting. Naga Shourya & Nanditha are also revealed in the 57 seconds teaser filled with Ilayaraja's soulful music. Produced on Aarohi Cinema, Aran Media works & Srihaas Entertainments jointly, Kathalo Rajakumari is tagged as love in its best form.
Dull Promotion For Sharwanand's Movie
Sharwanand has got his biggest hit to date with Shatamanam Bhavati early this year. When a hero delivers a blockbuster, the producers of his next film try to cash in on it and publicise their movie aggressively. But the makers of Sharwanand's Radha are following old methods and not indulging in any aggressive publicity. The theatrical trailer that was released recently got a good appreciation. But it has failed to attract half million views even after 2 days. Lack of promotion from the makers was the reason for such a low count of views. Sharwanand is said to be totally unhappy with the production team from long back. He even stopped the movie's shoot sometime back due to differences with them. Then the producers were forced to postpone the film to May, 2017 from March, 2017.
Gopichand & Ravi Teja To Team Up For The 3rd Time
After delivering Telugu hits such as Don Seenu & Balupu, director Gopichand Malineni & actor Ravi Teja are teaming up for the 3rd time for a yet – untitled project in the language. Ravi Teja really liked Gopichand's one – liner and has asked him to develop it into a script. The script work will take a few months & in the interim, Ravi will complete shooting for Touch Chesi Chudu & Raja The Great. The project will be as commercial & entertaining as their previous collaborations. Both Don Seenu & Balupu were known for their commercial factor & overall entertainment. Ravi Teja wants something on the same lines and wouldn't mind if the new film even supersedes the previous ones. The yet – untitled film can be expected to roll from Aug, 2017.
NTR's Dream Project Aims For Next Summer
It is a dream for Junior NTR to act under Trivikram Srinivas' direction. He has been waiting for so long to work with Trivikram and it is finally happening with #NTR28. Young Tiger is currently busy with Jai Lava Kusa that will hit the celluloid silver screen in Sept, 2017. On the other hand, Trivikram is busy with #PSPK25 that is also aiming for Sept, 2017 release. Trivikram's next with NTR will start rolling from Oct, 2017 as the script is completely ready. It will be bankrolled by S. Radha Krishna of Harika Hassine Creations. Trivikram is planning to wrap it up in 5 months & release it in Apr, 2018. The cast & the crew will be finalized soon. It is going to be a classy family entertainer in which NTR will be seen in an entirely new avatar. NTR hopes that this film would solidify his market across all the centers from overseas to rural Andhra Pradesh & Telangana regions.
Taapsee Pannu Avers That Dancing Has Been Her 1st Love
Taapsee Pannu is thrilled about grooving to the tunes of reprised version of some of the 1990's Bollywood songs in her upcoming film Judwaa 2 as she considers dancing to be her 1st love. She is currently shooting here for Judwaa 2 with Varun Dhawan. "I think it's been quite some time since I danced in a film. Last I remember doing it for one of my south films a couple of years back. Dancing has been my 1st love because I have been dancing since I was 6 years old and have taken professional training in Indian classical and a few western forms during my school & college days." She adds, "When you have some great songs like the ones in Judwaa 2, it makes it an even more wonderful experience. Varun is a good dancer…..so, I am sure it will be a lot of fun to match steps with him." Varun has stepped into superstar Salman Khan's shoes to play a double role in the remake of the 1997 film Judwaa.
Ram Charan To Spend 125 Cr
This is the time of making visual spectacles with grandeur sets, international – standard visuals & effects. If a director takes up a period historical subject, he or she should not compromise on the budget. Ordinary historical dramas are passe after Baahubali 2 has raised the bar high for Indian movies. Even Bollywood director Sanjay Leela Bhansali has decided to increase the budget of his period drama Padmavathi from Rs 160 crore to Rs 200 crore in order to match up to the high standards set by S. S. Rajamouli in production design. Taking inspiration from this, producer Ram Charan has decided to up the ante for his next production Uyyalavada Narasimha Reddy that stars his father Chiranjeevi. Ram Charan along with his father watched S. S. Rajamouli's epic drama at Prasad's Imax (Large screen) on Tues night. After this, they have taken the decision to spend more money on sets & graphics of Uyyalavada Narasimha Reddy. Only a lavish movie can survive at the Box -Office turnstiles now. The film is to be directed by Surender Reddy who until now has not made period dramas or historical movies. Ram Charan & Surender Reddy were planning to make the movie with a good budget of Rs 80 Cr but now Charan is willing to spend more than Rs 125 Cr on this to make it a spectacle.
Akhil On The Chiranjeevi Tryst
It's a case of double role reversal. When Nagarjuna was the host of Meelo Evaru Koteeswarudu, Ram Charan appeared as a guest. When Ram Charan's father is the host of the same show, Nagarjuna's son is a guest. Akhil is going to be on "MEK". The episode has been shot. Sharing a moment from the shoot, the young Akkineni tweeted saying, "Can't explain in words how much fun I had at #MEKwithMegastar he made me feel so comfortable. Thank you for the donation to blue cross!" It's notable that Akhil is sympathetic to Blue Cross, an organization with which his mother, Amala, has been passionately associated for many years.