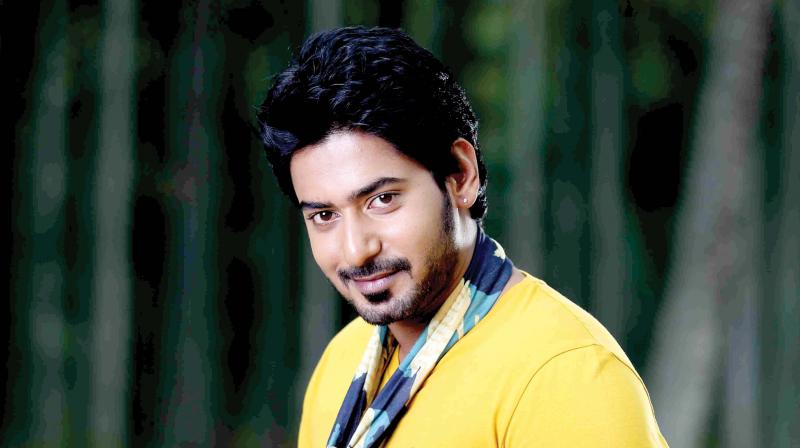 South Bengaluru woke up to a rude start on on 28th Sept, 2017, as it had witnessed a gruesome accident at South End Circle in the wee hours. Grandson of famous industrialist, Adikeshavulu, Mr. Vishnu, is allegedly involved in the accident. The accident involved 2 cars, and Vishnu was driving one of them. He has been injured along with 3 other persons from the other car. Apart from that, it is said that around 850 grams of marijuana was found in Vishnu's car. Prajwal Devaraj, who is currently in Goa, apparently got fed up by falsified news & came live on Facebook to let people know that he was in Goa, shooting for his next film. He has dismissed the false claims and has expressed his disappointment towards the news channels for spreading fake news. Prajwal while live on Facebook said, "I am not aware of the information regarding the accident but I do know a little bit. My family is shocked by this development. I feel this is done to malign my name. News channels have certain responsibilities like we do, so they should realize that & start working honestly."
Rakshit Shetty Accepts That Kirik Party Was Based On His Life!!!
Kirik Party is one of the highest grossing Kannada films of all times, having successfully run for more than 200 days in theatres. Released last year, Kirik Party was successful in drawing the youth crowd to theatres. A very few knew the fact that Kirik Party was entirely not fictional. For the uninitiated, the story of Kirik Party had a few situations that happened in Rakshit Shetty's life when he was a college going student. But, very recently, when Rakshit Shetty appeared on Super Talk Time, the actor completely opened up about his college story and how it helped make him write Kirik Party's story.
Dr. Shivarajkumar Signs On A New Film Titled Harihara!!!
Dr. Shivarajkumar is probably the busiest actor in Sandalwood, with a load of films piled up for launch. The Hattrick Hero already has a huge list of films banked upon him and has gone a step further to sign on one more. Yes, Dr. Shivarajkumar has signed on a new film titled, Harihara. The film will be helmed by Pramod Chakravarthy & will be produced by Mahadev B, Seshu Chakravarthy & Sangappa B. According to the film's director Pramod, Harihara will be an out & out commercial film with a lot of sentiment & family values. Apparently, Shivanna is touted to play 2 different shades in the movie. The film will apparently give a career facelift to the already King of Sandalwood, Dr. Shivarajkumar and will only have 2 songs in the entire movie, says the director of the film.
Mohanlal Announces Next Project After Odiyan
Mohanlal has announced his next project, after the ongoing Odiyan. The new film will be directed by Ajoy Varma & will be scripted by Saju Thomas. Produced under the banner of Moonshot Entertainment by Santhosh T Kuruvilla, the film has not been titled yet. Meanwhile, Mohanlal's Villain is gearing up for release this month. Tamil actor Vishal is playing an important role in the film, along with Manju Warrier, Hansika Motwani, Srikanth & Raashi Khanna. Mohanlal is sporting a salt "n" pepper look in Villain. In fact, the superstar had a slightly similar look in Unnikrishnan's earlier films Grandmaster & Mister Fraud as well. But in an interview, the director said that it's a sheer coincidence.
Dileep Given A Rousing Welcome Outside The jail!!!
Dileep, who is finally out of jail after being given bail by the High Court. He was given a rousing welcome by his fans, friends & family members. If the actor was booed by the crowd as he went to the jail almost 85 days back, there were huge cut -outs, crackers bursting & sweets being distributed, at the jail premises. When Dileep reached his house at Aluva, thousands of fans were waiting for him outside the house. He waved to him & they were delighted. Wife Kavya Madhavan & daughter Meenakshi welcomed the actor, who got bail in the actress' kidnapping case. Actor Dharmajan was present before the jail & he was emotional, as he shared his happiness with the TV cameras. Actor Siddique & director Nadhir Shah were present at the hero's house. Dileep has been given bail under strict conditions. There are reports that the actor's fans shouted slogans against a young hero, some news anchors & so on & so forth. Now all eyes are on the investigation team as they get ready to file the charge sheet.
Nivin Pauly's Kayamkulam Kochunni Starts Rolling
The shooting of Kayamkulam Kochunni, directed by Rosshan Andrrews, has started rolling from 1st Oct, 2017. Nivin Pauly plays the title character in the film. The hero posted pictures from the film's pooja on Facebook with the note: "It's a blessing to play on screen the life of Kerala's most celebrated Robin Hood!!! "I am keenly looking forward for it!" Kayamkulam Kochunni has been scripted by Bobby -Sanjay. There was an earlier film with the same title, directed by P A Thomas with Sathyan in the lead, which came out n 1966 about the local hero from Kerala's history, who used to rob the rich and give to the poor. A popular Malayalam TV serial was also made on Kochunni.