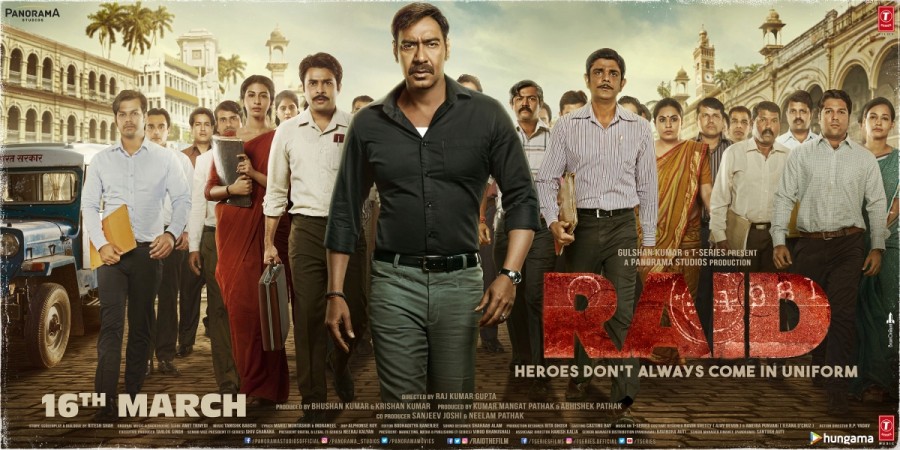 Banner: Panorama Studios & T – Series
Producers: Abishek Pathak, Kumar Mangat Pathak, Bhushan Kumar & Krishan Kumar
Director: Raj Kumar Gupta
Star Cast: Ajay Devgn, Ileana D'Cruz, Saanand Verma, Khanwilkar, Sheeba Chadha, Devas Dixit, Pravin Sisodia, Saurabh Shukla, Gayatri Iyer, Uday Veer Singh, Amit Bimrot, Amit Sial, Mukesh Singh, Akshay, Pushpa Joshi et al
Music: Amit Trivedi & Tanisk Bagchi
Of late Bollywood actors like Akshay Kumar & Ajay Devgn have started doing a yeoman's service by working & promoting meaningful & issue based films. As Akshay Kumar has done in his last outing Toilet – Ek Prem Katha & now Ajay Devgn is doing with his this week's outing Raid.
That apart director Raj Kumar Gupta is known for making critically acclaimed movies like Aamir & No One Killed Jessica. And now he is back with Raid starring Ajay Devgn.
Raid as the title itself suggests is totally self-explanatory. So the scripted scenario of Raid revolves around the no-nonsense, honest – to – the – core Income Tax officer, Amay Patnaik (Ajay Devgn), and his quest to raid all the top notch businessmen, henchmen & politicians of the country defaulting on the Income Tax.
Rameshwar Singh Aka Tauji (Saurabh Shukla), a typical greasy politician is his nemesis. Together, they begin a cat & a mouse chase kind of game which results in amazing twists & turns as the film progresses, keeping masses at the edge of their seats, waiting for more. Amay Pathak's target is to recover a whooping amount of Rs. 420 crores which Rameshwar Singh aka Tauji has hidden away in his "white house". As the film progresses, Rameshwar Singh aka Tauji mounts pressure on Amay Pathak to withdraw the raid but despite all this, Amay Pathak carries out the procedure.
Director Raj Kumar Gupta mounts the film well and has made sure that the audience's attention is not diverted from the main topic: Raid. And it actually works in his favor. He arrests our attention with all the twists in the film, especially the sequence prior to interval which can only be described as top notch. Also, he has made sure that the movie culminates beautifully towards the climax, keeping us on the edge of our seats for most of the time. This has to be his best work till date. The only hiccup is that the romance between Ajay Devgn & Illeana D'Cruz is strictly okay and the songs create slight restlessness & deviation from the main plot.
A special mention must be made of Ritesh Shah, who has written the screenplay, story & also the dialogues of Raid. The dialogue baazi is sure to be greeted with whistles & claps. While all dialogues are brilliant, one sequence is especially stellar. Somewhere in the film, Rameshwar Singh aka Tauji is having dinner at the table. He rounds the people sitting with him one by one and then asks wryly, "Vibhishan Kaun Hai?". In a dramatic style, the identity of this said Vibhishan is revealed in the end, shocking your senses.
Talking about the editing, Bodhaditya Banerjee has done a decent job keeping the thriller crisp. Its total runtime is 2 hrs 8 mins.
DOP Alphonse Roy is good as his camera moves smoothly, taking us head on through this gritty narrative. RP Yadav's action is pretty neat and whatever little scope there is for Ajay Devgn to show his expertise in the department, he does it with panache.
Ajay Devgn's choice of films deserves appreciation. He maintains a sleek balance between commercial & content-driven films with the proficiency of a seasoned performer. While he has films like Golmaal in his kitty, he also does Drishyam & a Raid and impresses us just as effortlessly.
Performance wise both Ajay Devgn & Saurabh Shukla shine through their characters. They are impactful and totally keep you hooked. Every time they appear on screen, sparks fly and you end up feeling the tension. Ajay Devgn looks strong & powerful playing the role of an honest IT officer who is not scared of anyone. He impresses every time he delivers a punch line and emotes so much through his eyes. Saurabh Shukla as the corrupt politician is equally good and gives Ajay Devgn a tough fight on screen. Ileana D'cruz, as Ajay Devgn's wife, gives depth to his character. Pushpa Joshi, who plays Saurabh Shukla's mother, has a key role in the whole film. Every time she appears on screen, her wry sense of humor releases tension and provides a good break from all the intensity.
While the leads have done justice to their characters, supporting actors, Amit Sial, Amit Bimrot & Gayathri, who play Ajay Devgn's colleagues, give an honest performance. Saurabh Shukla's family members played by Ravi Khanwilkar, Sheeba Chadha, Devas Dixit, Pravin Sisodia, amongst others stay true to their on-screen roles of flawed relatives of a corrupt politician.
Tail Piece: On the whole, Raid is a realistic, hard-hitting & entertaining thriller that keeps you hooked right till the end. A film that is sure to win accolades as well as positive word of mouth. This twisty tale is definitely a must watch movie this weekend.