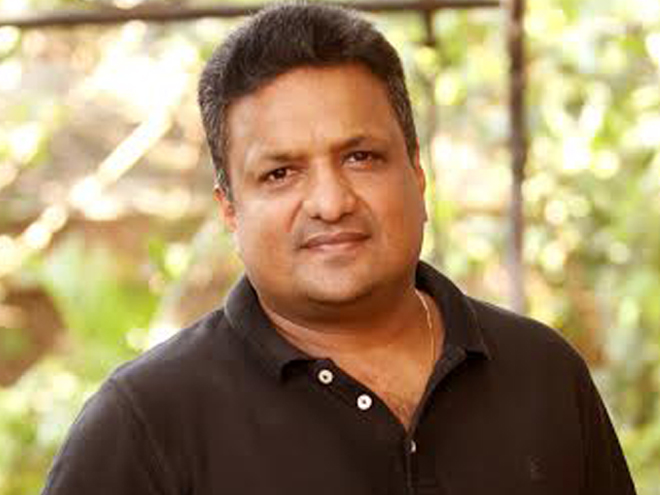 Director Sanjay Gupta was recently ordered to deposit 20 lakhs in Court.
As the court battle between Sanjay Gupta on one side & Vinod Bacchan, IFTPC & FWICE on the other culminated recently with the High Court ordering Sanjay Gupta to deposit Rupees Twenty Lakhs in the Court within a specified time period. The Court also stated that in case of default by him in the payments to the Court, the non -cooperation directive instituted against Sanjay Gupta by the JDSC of the FWICE & IFTPC would once again become operational and the amount deposited till then would be forfeit. The court granted Vinod Bacchan a certain time period to institute legal proceedings to recover the money. It may be recalled that various accusations had been made on Twitter and in the press by the IFTDA President Ashok Pandit against the FWICE President Kamlesh Pandey & General Secretary Dilip Pithva casting aspersions on their intent & character. There were also reports in the press of affiliates opposing the FWICE on this matter. On this topic Kamlesh Pandey had recently stated that on 90% of the affiliates who had earlier been made to sign a paper by Ashok Pandit opposing the FWICE decision had withdrawn their objections the very next day itself stating that they had been misguided & misled by Ashok Pandit. This verdict vindicates the impartial stand taken by the JDSC of the FWICE & IFTPC. On the other hand Dilip Pithva had stated that the new committee of the FWICE has fearlessly & impartially taken concrete action against defaulter members & producers alike and is committed to making the Film & TV industry a professional and better workplace environment.
'Teaspoon' Bags Prestigious Awards
A short film 'Teaspoon' has recently bagged several prestigious wards. Kiran Deohans & Aban Deohans' short film 'Teaspoon has received varied prestigious awards across the Globe.
The talented Cinematographer, Kiran Deohan's who has worked in many of the renowned feature films like 'Jodhaa Akbar', 'Kabhi Khushi Kabhi Ghaam', 'Agneepath' et al has recently re-created the same magic in his better half's Aban Deohan's short film 'Teaspoon'. In fact the 20 minutes short film has got enormous appreciation from all the popular short film festivals across the globe. The film has been awarded for the "Best Screenplay" in the prestigious Dada Saheb Phalke Film Festival and very recently it has also been selected for prominent Jagaran Film Festival.
'Teaspoon', which exhibits an amalgamation of various human emotions & psychological imbalances of human nature, features talented actors Sreeswara who had got recognition in 'Singham Returns' imcluding television actor and a popular face in ads Vaquar and the adorable grandfather of small screen namely Bomi Dotiwala. A simple yet unique storyline with strong performances from the starcast has made it the most loved film in all the short film festivals. The film has previously also won awards in Goa film festival, Bangalore film festival and also international film festivals like Poppy Jasper, New York Indian Film Festival, et al.
Kishore Bags 'Entertainment Visionary' Award
Kishore Lulla recently bagged the "Entertainment Visionary" Award. Eros International executive chairman Kishore Lulla has recently bagged the "Entertainment Visionary" award at the 2015 Annual Gala Dinner organized by Asia Society Southern California on 20 Jun, 2015. Kishore Lulla was recognised for being a game changer as well as for his efforts in taking Bollywood to a global platform. The gala evening honoured Lulla's quest to connect the Indian diaspora through films and bridging of cultures by introducing Bollywood to non-Indian audiences.
6th Jagran Film Festival To Open With 'Masaan'
6th Jagran Film Festival To Open With 'Masaan'. With India's high profile entry in Cannes Film Festival 'Masaan'
directed by Neeraj Ghaywan and starring Sanjay Mishra, Richa Chaddha & Shweta Tiwary, the 6th edition of Jagran Film Festival is ready to take off starting 1st Jul, 2015.
Winner of 2 prestigious awards the FIPRESCI, International Jury of Film Critics prize & Promising Future Prize in the Un Certain Regard section, 'Masaan' has received wide critical acclaim globally. A collaborative effort of Phantom Films, Drishyam, Macassar Productions, Pathe, Sikhya Entertainment & Arte Cinema, France, 'Masaan' will be presented on 1st Jul, 2015 evening by Ghaywan and the star cast of the film to the festival delegates personally.
'Dhanak' Bags Top Award at Sneakers Children's Festival, Poland
'Dhanak' has recently bagged a top award at the Sneakers Children's Festival, Poland. After bagging 2 awards for 'Dhanak' ('Rainbow') co -produced by Drishyam Films Manish Mundra and directed by Nagesh Kukunoor at the Berlinale, it has further bagged the top award at the Sneakers Children's Festival, Poland. Having won the best film award in the main category, 'Children's Feature Film Competition', the prize ceremony took place on 22 Jun, 2015 Kukunoor who couldn't attend the festival shared a recorded message thanking the festival authorities & the audiences. The film was screened at International Film Festival Los Angeles (IFFLA) and at Toronto International Film Festival (TIFF), Kids. Dhanak which stars Hetal Gada & Krrish Chhabria in the lead roles is about an 8 year old blind boy whose 10 year old sister promises him that he will get his vision back before he turns 9. The film follows the duo on a magical journey through the sand dunes of Rajasthan. The film also stars theater actors, Vipin Sharma & Vibha Chhiber in prominent roles.
Censor Board Stalls Release Of PNC's 'Mastizaade'
Censor Board has recently stalled the release of Pritish Nandy Communicatio's 'Mastizaade'. The
Central Board of Film Certification (CBFC) has recently stalled the release of Pritish Nandy Communications'
(PNC) forthcoming comedy film titled 'Mastizaade' due to its explicit content. Directed by Milap Zaveri and starring Sunny Leone in a double role, the movie also stars Tusshar Kapoor, Vir Das & Riteish Deshmukh in a special appearance. It has been co-written by Mushtaq Sheikh & Milap Zaveri. The CBFC & the Film Certification Appellate Tribunal have not cleared 'Mastizaade' so far, which was initially slated to release on 1st May, 2015. PNC has informed the Bombay Stock Exchange (BSE) that it is taking appropriate steps to resolve this issue in the quickest possible manner.
American LGBT Film Festival In Delhi featured 5 films
5 prominent American films were screened in a special LGBT (lesbian, gay, bisexual, transgender) festival which was held in the capital recently. The American Centre organized the festival, which was held from 25th to 27th Jun, 2015. The opening film is the 2001 film 'Kissing Jessica Stein' by Charles Herman Wurmfeld and stars Jennifer Westfeldt, Heather Juergensen & Tovah Feldshuh. It is about a woman out to find a perfect man, ending up finding the perfect woman instead. The other films include the 'Brokeback Mountain' (2005), which is American epic romantic drama directed by Ang Lee. It is a film adaptation of the 1997 short story of the same name by Annie Proulx. The film stars Heath Ledger, Jake Gyllenhaal, Anne Hathaway, Michelle Williams & Randy Quaid. The movie depicts the complex emotional & sexual relationship between 2 men in the American West from 1963 to 1983.
FIR Filed Against Sunny Deol For Hurting Sentiments In 'Mohalla Assi'
An FIR was recently filed against Sunny Deol for hurting sentiments in Mohalla Assi. No sooner the trailer of the Sunny Deol starrer 'Mohalla Assi' came out, it managed to raise quite a few eyebrows, courtesy its 'explicit' content. The resultant effect was that a police complaint has been filed against Sunny Deol the film's director Chandra Prakash Dwivedi, by an organization named Sarvajan Jagruti Sanstha in Varanasi for reportedly hurting religious sentiments. In their compliant, the said organization stated that the film 'Mohalla Assi' not only violated moral ethics, but also shows Varanasi in a very poor light. The complainant also said that they cannot allow such a film to be released. Meanwhile, the film's director Chandra Prakash Dwivedi clarified that the film's trailer that was 'released' was not an official one, but a leaked version. That's why he has now filed an FIR at the Oshiwara police station and also with the Cyber Cell. He added that, it was a conspiracy to malign the film's makers as well as the film. Further, he also added that the (leaked) version of the trailer has been made in such a way that it showed that the film was only about abuses and it maligned the holy city's image.
Censor Board Snips Off Nude Shot
Censor Board recently snipped off a nude shot from 'Calendar Girls'. It looks like Madhur Bhandarkar has got quite a tantalizing film lined up for release. His next feature 'Calendar Girl', which comes after the fiasco that was his last release 'Heroine' and the aborted attempt to start another film 'Madamjee' starring Priyanka Chopra, is suffused in sufficient slivers of sensationalism. Sources at the Censor Board Of Film Certification (CBFC) revealed that the film's 1st trailer was submitted for certification. And the results were…….explosive!
The trailer contained a lot of provocative & sensuous content. There was even a shot of a nude woman which the Censors had to of course snip off before granting the trailer a 'U/A' certificate. They were confused as to why Madhur Bhandarkar came to them with a trailer that contained a nude shot. In fact Madhur Bhadarkar should know that such a shot can never be passed in a trailer. The 'U/A' certificate for the trailer automatically limits its reach. It cannot be shown on television and it can only be attached to films that are certified for all ages.
Bhushan Kumar To Produce Yo Yo Honey Singh's Music Album
Yo Yo Honey Singh is all set to resuming his crooning glory with a single. He will soon be developing a new single that will be produced by Bhushan Kumar's T-Series. It will also feature a music video much like their earlier outing 'Desi Kalakar' that featured Sonakshi Sinha.
Sony Music acquires music rights for 'Brothers'
Sony Music Entertainment has acquired the music rights of Dharma Productions' action – drama film Brothers. Directed by Karan Malhotra, the film is an official remake of the 2011 Hollywood film Warrior.
After Ageneepath, this is the second time the successful team of Dharma Productions, Sony Music, Karan Malhotra, Ajay-Atul and Amitabh Bhattacharya will be working together.
Sony Music India marketing director Sanujeet Bhujabal said, "Dharma and Sony Music have always created great musical milestones and the music of this film will be another such. Composed by the multi award winning duo Ajay -Atul's who will weave in magic with their melodies and the lyrics penned by Bhattacharya, this album will a worthy follow up to the smashing soundtrack of Agneepath." Produced by Dharma Productions, Lionsgate Films and Endemol India, the film is all set to release on 14 August 2015.